Full Spectrum Dominance
A world system of financial control in private hands able to dominate the political system of each country and the economy of the world as a whole.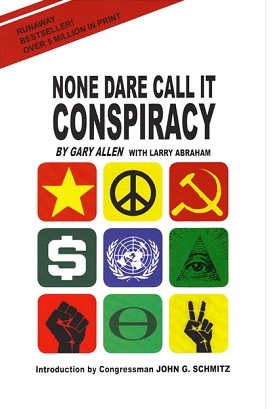 There is no other book that so clearly and concisely explains the New World Order.
---
From time immemorial, royalty, priest classes and other self-appointed elites have used any means necessary to dominate the population and keep it divided amongst itself. Alex Jones uses the games of chess, risk and monopoly to explain the classic modes of control used by rulers, representing classic warfare between two factions, world warfare with a complex conflict, and, of course, economic warfare.
Full Spectrum Evil Secrets of Global Domination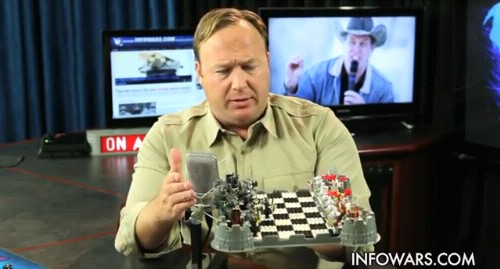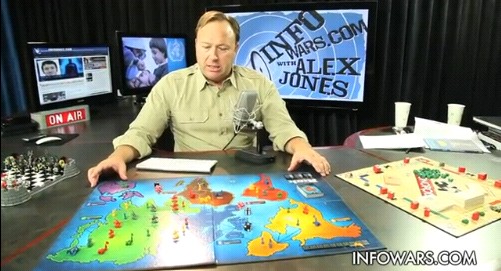 From time immemorial, royalty, priest classes and other self-appointed elites have used any means necessary to dominate the population and keep it divided amongst itself. Alex Jones uses the games of chess, risk and monopoly to explain the classic modes of control used by rulers, representing classic warfare between two factions, world warfare with a complex conflict, and, of course, economic warfare.

Now those techniques have advanced with sophistication into an era of full spectrum dominance-- where gaming the people means an attempt to control all facets of life. Under the modern scientific dictatorship, nations, individuals, economies, cultures and environments have all become pawns at the hands of hardened, evil offshore globalists bent on manipulating our world in attempt to complete their break away civilization and destroying the remains, including the great masses of humanity. They have willingly distorted our information, food, water, political systems, financial interactions and beyond with precision. Only a public aware of the scope of their designs can begin to fight against it.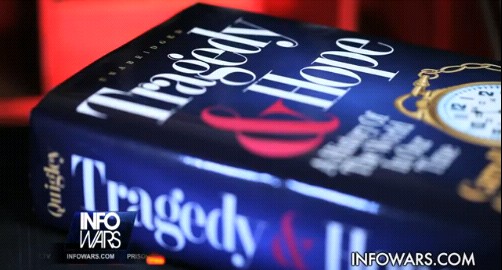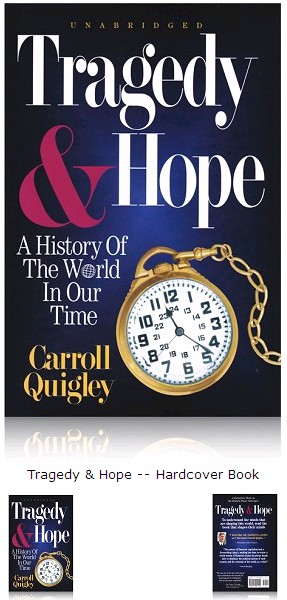 http://www.infowarsshop.com/Tragedy-Hope_p_639.html
Description :
T

ragedy & Hope: A History of the World in Our Time
by Carroll Quigley is the ultimate insider admission of a secret global elite that has impacted nearly every modern historical event. Learn how the Anglo-American banking elite were able to secretly establish and maintain their global power. This massive hardcover book of 1348 pages provides a detailed world history beginning with the industrial revolution and imperialism through two world wars, a global depression and the rise of communism.
Tragedy & Hope
is the definitive work on the world's power structure and an essential source material for understanding the history, goals and actions of the New World Order.
Author Carroll Quigley was an esteemed professor of history at the Foreign Service School of Georgetown University and also taught at Princeton and at Harvard. President Bill Clinton was a student of Quigley and named him as an important influence. As a trusted and well respected insider, Professor Quigley had access to a variety of secret papers and sources from which he did his research for
Tragedy & Hope
.
One of the key revelations Quigley reveals is a secret organization created by Englishman Cecil Rhodes. Rhodes was the founder of diamond company De Beers, ardent supporter of British colonialism and creator of the prestigious Rhodes Scholarship that has since educated so many global elite leaders. F
unded by Rhodes' estate, t
he goal of this organization was to consolidate world control into the hands of the English speaking elites. This book ties together how this secret organization of global elites has quietly steered the world towards a goal of global government using collectivism.
As an insider with access to many secret documents, Quigley was proud of the achievements of this secret organization and wrote this book from that viewpoint. The book was intended to only be read by fellow academics and other insider intellectuals that shared a similar world view. The book was quickly taken out of print when it became more widely circulated and opponents latched onto it as a confession of the global elite. As pressure mounted, the publishers relented and authorized this identical reissue edition.

This book continues to provide one of the most revealing looks into the goals and methodology of the global elite. This book is printed in limited quantities and not readily available at most mainstream bookstores. Infowars is proud to have secured a batch of

Tragedy & Hope

and to help spread this valuable history and information
.
Quotes from

Tragedy & Hope

:
"
The powers of financial capitalism had [a] far-reaching aim, nothing less than to create a world system of financial control in private hands able to dominate the political system of each country and the economy of the world as a whole. This system was to be controlled in a feudalist fashion by the central banks of the world acting in concert by secret agreements arrived at in frequent private meetings and conferences.
" -- Carroll Quigley, Chapter 20
.
"
There does exist, and has existed for a generation, an international Anglophile network.
I know of the operations of this network because I have studied it for twenty years and was permitted for two years, in the early 1960's, to examine its papers and secret records. I have no aversion to it or to most of its aims and have, for much of my life, been close to it and to many of its instruments. I have objected, both in the past and recently, to a few of its policies ... but in general my chief difference of opinion is that it wishes to remain unknown, and I believe its role in history is significant enough to be known.
" --Carroll Quigley, Chapter 65.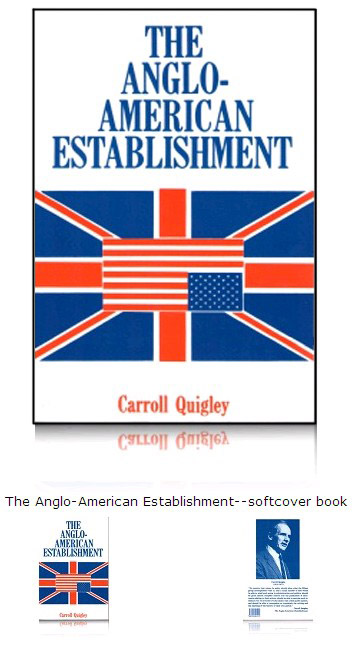 http://www.infowarsshop.com/The-Anglo-American-Establishment_p_694.html
Description
T

he Anglo-American Establishment (paperback, 354 page) is the follow-up to author Carroll Quigley's major tome

Tragedy & Hope

. In the book he specifically discusses a secret society created by the great imperialist Cecil Rhodes and how it was administered after Rhodes' death by Lord Alfred Milner. This group operated behind the scenes and gained massive influence over the world. Learn how the New World Order and global government's roots stem directly from the British Empire.

Author Carroll Quigley (1910-1977) was a highly esteemed professor at Georgetown University. The evidence he presents here is credible, the analysis brilliant. His scholarly approach and presentation of facts will appeal to both the academically-oriented person as well as the truth seeker who aspires to understand the world around us.

This quote from the book best describes what is discussed:

"

No country that values its safety should allow what the Milner group accomplished--that is, that a small number of men would be able to wield such power in administration and politics, shoud be given almost complete control over the publication of documents relating to their actions, should be able to exercise such influence over the avenues of information that create public opinion, and should be able to monopolize so completely the writing and the teaching of the history of their own period

." --Carroll Quigley,

The Anglo-American Establishment

.
How To Carve Up The World

Published on Oct 13, 2012
DOCUMENTATION: http://www.corbettreport.com/?p=5085
So you say you want to rule the world? Redraw the map to conform to your whims and move pieces around the geopolitical chessboard for your entertainment? Well this week on The Corbett Report we show you just how to do that, with some useful examples from the War to End All Wars...or was that the Peace to End All Peace?

How Big Oil Conquered the World
Published on Dec 27, 2015
TRANSCRIPT AND SOURCES: https://www.corbettreport.com/?p=16888
From farm to pharmaceutical, diesel truck to dinner plate, pipeline to plastic product, it is impossible to think of an area of our modern-day lives that is not affected by the oil industry. The story of oil is the story of the modern world. And this is the story of those who helped shape that world, and how the oil-igarchy they created is on the verge of monopolizing life itself.
Shocker: UN Admits Migrant Crisis Plan To Overthrow West
Published on Aug 13, 2016
Alex Jones breaks down how Goldman Sachs and the UN are using a wave of Islamic migrants to destroy the sovereignty of Western Nations.
Link :
Sword Of Satan Revealed
Published on Sep 19, 2016
Alex Jones exposes how the elite are using Islam to further their anti-human agenda and eventually completely destroy humanity.
Help us spread the word about the liberty movement, we're reaching millions help us reach millions more. Share the free live video feed link with your friends & family: http://www.infowars.com/show
Links:
Skull and Bones, The Order at Yale Revealed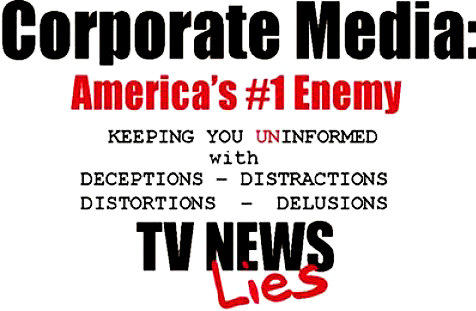 The Rulers' Angel-Evil-Making Process:
From Egypt's Hosni Mubarak to Turkey's Erdogan
Published on Aug 28, 2016
Can people turn evil overnight? Do angels become evil overnight? Were they angels in the first place? Not in the real world, but one ruled by evil forces working through their illusion-making tentacles, aka the media. Join us in this episode presenting the rulers' angel-evil-making process, and take a trip down memory lane from the rise and fall of Egypt's Hosni Mubarak to the current turmoil surrounding Turkey's Recep Erdogan.
Follow us here at Newsbud Twitter
https://twitter.com/NewsBud_
Subscribe here at BFP-Newsbud YouTube Channel
http://bit.ly/29ewTEm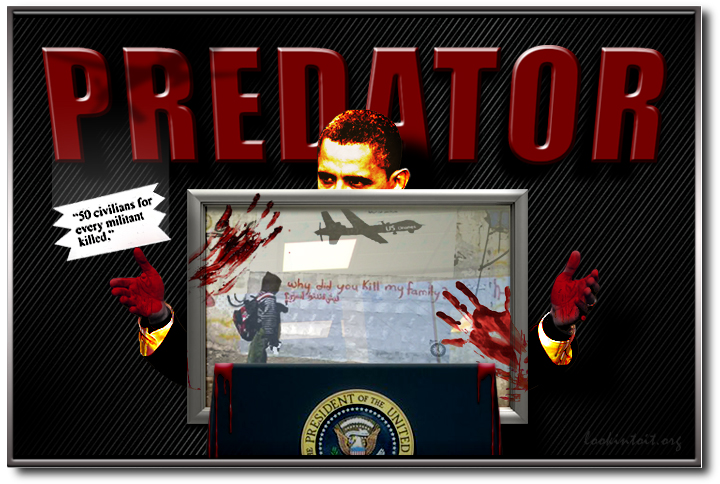 Obama

the Assassin-in-Chief

Unmanned:

America's Drone Wars

We Have to Talk

About the Boy in the Ambulance...

Newsbud Interview: Peter B. Collins presents Prof. Rebecca Gordon
Professor Rebecca Gordon comments on the July 1 White House release of estimates of civilian deaths from drone strikes targeting "militants" who pose and "imminent" threat to American interests, and concludes that most of the deaths "are almost certainly illegal" under US and international law. In this Newsbud interview, we discuss the drone programs, the precedents established under Obama, and the failure of Congress to pass any laws regulating this form of remote-control warfare

"Unmanned" investigates the impact of U.S. drone strikes at home and abroad, observing their effect on the War on Terror, the lives of individuals, and U.S. foreign policy.

I wasn't going to, but then I saw the CNN anchor pretend to cry...

Truthstream Can Be Found Here:
Website: http://TruthstreamMedia.com (under construction! Currently using Tumblr backup: truthstream-blog.tumblr.com/)
FB: http://Facebook.com/TruthstreamMedia
Twitter: @TruthstreamNews
DONATE: http://bit.ly/2aTBeeF
Amazon Affiliate Link (help support TSM with every Amazon purchase, no cost to you!): http://amzn.to/2aTARRx
Newsletter: http://eepurl.com/bbxcWX
Obama's Next Assassination Target
Sources and transcript: http://stormcloudsgathering.com/the-r...
LINKS:
Obama Orders Children Murdered!!
Propagandizing Through Video Games
Yes Your Government Can Use Armed Drones Against You
---
The Globalist, Socialist Storm is Coming
http://www.infowarsshop.com/None-Dare-Call-It-Conspiracy_p_654.html
http://www.infowarsshop.com/None-Dare-Call-It-Conspiracy_p_654.html
Alex talks with Joshua Abraham, the son of Larry Abraham who co-authored with Gary Allen the landmark book, None Dare Call It Conspiracy, available at the Infowars Store. Joshua will disclose information his father revealed to him shortly before his death in 2008.

The Globalist Agenda represents a plan to bring all of Earth's inhabitants under the control of a single, global state. There is a small, but powerful group of individuals who are the architects and instigators behind the formation and implementation of this "New World Order". Using their influence through international organizations such as the IMF, World Bank, the Royal Institute of International Affairs (RIIA), the Council on Foreign Relations (CFR), the Trilateral Commission, the Bilderberg Group, the United Nations, NATO, and hundreds of other non-governmental organizations, the objective of these internationalists is nothing less than the subjugation of everyone on the planet as servants to a one world government (servants means slaves). A government run by the same small group of elite that have ruled the masses for a very long time under various guises. These elite are the descendents of those that ruled for at least the past 2 centuries - kings and queens, bankers, robber barrons, priests, and assorted subservient oligarchs and media representatives. Their desire for a return to a one world feudal state should come as no surprise to anyone who has read a little history. It is their nature after all.

In the modern manifestation these people can be seen as kings and queens, international bankers, the military industrial complex and their servants - the corporate CEOs, scientists, professors, lawyers, heads of NGO's, politicians, and media leaders - all of whom the elite control partially or completely. Sad but true - you can buy or brainwash most national bankers, soldiers, beaurocrats, CEOs, scientists, lawyers, NGOs, politicians and journalists to say what you want them to say.

If you allow their plans to proceed, you will see how under the guise of keeping us all safe with anti-terrorist laws, the globalists will see all citizens gradually and incrementally lose their civil liberties preventing any dissent against either the government or the ruling elite who give the government their orders. The purpose of this website is to first provide a concise base of knowledge explaining the historical origins and mechanisms of the "one-world government" plan, and second, to provide avenues of resistance and methodologies for survival within the Chaos purposely imposed within this plot to enslave all of humanity.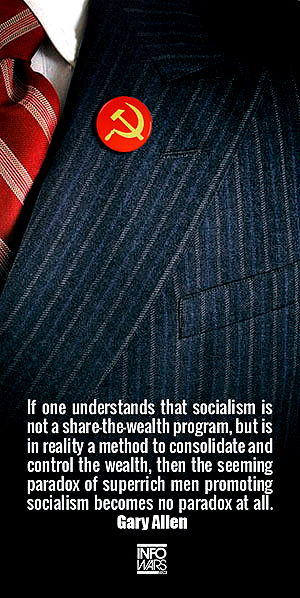 None Dare Call It Conspiracy
None Dare Call It Conspiracy was a book written in the early 1970′s by Gary Allen with Larry Abraham. The forward was written by Congressman John G Schmitz.
Gary also toured the country delivering speeches and promoting this book. The book is said to have sold over 5 million copies. It is as relevent today as it was the day it was published. In fact, the more startling and fantastic elements of the book have born out over time. So, one could say it was ahead of its day and proven by time to be very reliable.
http://www.infowarsshop.com/None-Dare-Call-It-Conspiracy_p_654.html

---
Full Spectrum Dominance: 8 Examples Of How The Government Is Attempting To Take Total Control Of Our Food, Our Health, Our Money And Even Our Dignity
By Michael Snyder
http://theeconomiccollapseblog.com/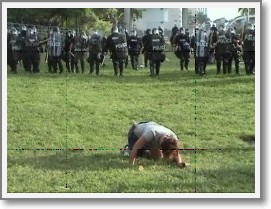 Over the past several decades, no matter which political party has been in power the government has continued to become a larger part of our lives. These days many people are speaking of the "nanny state" that we have created, but the reality is far worse than that. The truth is that the government has become a gluttonous, out of control behemoth that is gobbling up everything in sight and that is attempting to exert full spectrum dominance over our lives. Today, the government seems to have an insatiable hunger to watch us, track us and control us. Now they even want to feel our private parts before we get on an airplane. No matter what politicians we send to Washington D.C., it just seems to get worse and worse. Anyone who still believes that we live in "the land of the free" is completely and totally delusional.
It isn't just in one particular area that all of this government intrusion into our lives is so offensive. What we are witnessing is the government slowly digging its fingers even deeper into our lives in a thousand different ways. Sadly, most Americans see the government as the one who is supposed to take care of them from the cradle to the grave, as the one who is supposed to fix all of the problems in society and as the one who is their ultimate authority.
This is in direct contradiction to the concept of a "limited government" that our Founding Fathers tried so desperately to enshrine in our founding documents. The American people need a big-time wake up call. The following are 8 examples of how the U.S. government is attempting to take even more control over our lives....
---
#1 Taking Total Control Of Our Food - S. 510 "The Food Safety Modernization Act"
Gov Wants Growing Food Illegal
---
S. 510, "The Food Safety Modernization Act", is another huge power grab by the FDA and the federal government over our food supply. The bill is written so broadly and so vaguely that nobody really knows what it means. The potential for abuse of these vague new powers would be staggering. So will the government abuse these powers? Those who are in favor of the bill say that of course the government will be reasonable, but those who are opposed to the bill point to all of the other abuses that are currently taking place as evidence that we simply cannot trust the feds with vague, undefined powers.
Fortunately, the Tester Amendment has been attached to S. 510 at least for now, but big agriculture is not happy about this, and they will be doing everything they can to get it kicked out of the final version of the law. In any event, if this food safety law does get passed, tens of millions of Americans will be left wondering what they are allowed to grow in their back yards, what seeds they are allowed to save and what can and cannot be sold at farmer's markets.
In case you think this is paranoid, just consider what is already happening. It has been documented that the feds recently raided an Amish farmer at 5 AM in the morning because they claimed that he was was engaged in the interstate sale of raw milk in violation of federal law. If the feds are willing to stoop so low as to raid Amish farmers, do you think they will have any hesitation when the time comes to raid your home?
---
#2 Taking Total Control Of Air Travel - The Dehumanizing Full Body Scanners And "Enhanced Pat-Downs"
---
Totalitarian governments throughout history have always sought to dehumanize their subjects. Sadly, that is exactly what is happening in America today. If you want to get on an airplane in the United States, you will now be forced to either let TSA agents gawk at your naked body or let TSA agents grope your entire body including your genitals.
What these TSA agents are being instructed to do to ordinary Americans is so bizarre that it is hard to believe. It is being reported that in many instances TSA agents are actually reaching down the pants of male travelers and up the skirts of female travelers. One retired special education teacher was left humiliated, crying and covered with his own urine after an "enhanced pat-down" by TSA agents. Quite a number of women that have been through these "enhanced pat-downs" have used the phrase "sexual assault" to describe the experience.
So is this what America has become? A place that is so "dangerous" that we all must be treated like prison inmates? Large numbers of Americans are swearing that they will simply not fly anymore, but what happens when these "enhanced pat-downs" start showing up at our schools, our shopping centers and our sporting events someday?
---
#3 Taking Total Control Of Our Health Care - The Loss Of Our Health Freedom
---
Once upon a time, Americans had control over their own health care decisions. That is no longer true today. Thanks to major changes in our health care laws, the health care landscape in America has been dramatically changed. Americans are now forced to participate in the officially-sanctioned health care system by purchasing health insurance. But Americans cannot just get any kind of health insurance policy that they want. Our health insurance choices are now tightly constrained by thousands of regulations.
Not only that, but doctors in America no longer have the freedom to treat patients however they see fit. Only "approved" treatments are permissible, and now the federal government is going to be telling doctors which of those "approved" treatments are "cost-effective" enough. As the new health care laws are fully implemented over the next decade, the American people are going to become truly horrified not only about how much their health insurance premiums are going up, but also about how much health freedom they have actually lost.
---
#4 Taking Control Of Our Money - Multiplying Taxes
---
Whenever one tax goes down, it seems like several other taxes either go up or get invented. The truth is that Americans are being drained by the federal government, state governments and local governments in dozens upon dozens of different ways. To our various levels of government, our primary function is to serve as a revenue source. Each year it seems like they find more ways to stick it to us. In fact, it looks like 2011 is going to be a banner year for tax increases. If you doubt this, just see my previous article entitled "2011: The Year Of The Tax Increase".
---
#5 Taking Control Of Our Businesses - Thousands Of Ridiculous Regulations
---
Why would anyone in America even attempt to be an entrepreneur today? Most small businesses are literally being strangled by hordes of red tape.
Just consider how things have changed in America. The Federal Register is the main source of regulations for U.S. government agencies. In 1936, the number of pages in the Federal Register was about 2,600. Today, the Federal Register is over 80,000 pages long.
The following is just one example of how bizarre things have gotten in this country. The U.S. Food and Drug Administration is projecting that the food service industry will have to spend an additional 14 million hours every single year just to comply with new federal regulations that mandate that all vending machine operators and chain restaurants must label all products that they sell with a calorie count in a location visible to the consumer.
Do we really need to spend 14 million more hours telling Americans that if they keep eating hamburgers and fries that they are likely to get fat?
But it is not just the federal government that is the problem. One reader recently described how difficult it was to try to run a business in the state of California....
Had 10 employees, but one almost exclusively to deal with government regs, taxes, reporting etc, Received a $144 penalty for a .33 (yes, cents)error on my quarterly payroll taxes from Cal Franchise Tax Board. I called to ask if that was not a bit repressive, why level penalize someone for what was obvisouly a didminimus error? I was told "we would have penalized you if it was .03!" I said, I did not volunteer to be the income tax collector for the State and Fed government, you should be paying me to do all this work and insane paper pushing. Reply: "That is part of the PRIVILIGE of being a business owner!!!"
---
#6 Taking Control Of Our Environment - The Green Police
---
The government is using the "green movement" as an excuse to take an unprecedented amount of control over our lives. From coast to coast, communities have been given government grants to track our trash with RFID microchips. The following are just some of the communities that will now be using microchips to track what we throw away....
*Cleveland, Ohio
*Charlotte, North Carolina
*Alexandria, Virginia
*Boise, Idaho
*Dayton, Ohio
*Flint, Michigan
Not only that, but some cities are now starting to fine citizens for not recycling properly.
In Cleveland, Ohio if an RFID tracking chip signals that a recycle bin has not been brought out to the curb within a certain period of time, a "trash supervisor" will actually sort through the trash produced by that home for recyclables.
According to Cleveland Waste Collection Commissioner Ronnie Owens, trash bins that contain over 10 percent recyclable material will be subject to a $100 fine.
Does that sound like America to you?
Now we don't even have the freedom to throw out trash the way we want to.
---
#7 Taking Away Our Independence - The Exploding Welfare State
---
You don't have much freedom if you can't take care of yourself. But in America today, tens of millions of Americans have literally become completely dependent on the government for survival. Over 42 million Americans are now on food stamps. Approximately one out of every six Americans is enrolled in a federal anti-poverty program.
The number of Americans living in poverty has increased for three consecutive years, and the 43.6 million poor Americans in 2009 was the highest number that the U.S. Census Bureau has ever recorded in 51 years of record-keeping.
The more Americans that are destitute and totally dependent on the government the easier it will be for the government to control them. Today a rapidly growing percentage of Americans fully expect the government to take care of them. But this is not what our founders intended.
---
#8 Taking Away Our Patriotism - We Are Even Losing The Freedom To Be Proud Of America
Police Trained That Informed Americans Are Terrorists
---
Do you ever think things will get so repressive in America that a group of high school students will be forbidden from singing the national anthem at the Lincoln Memorial? Well, that has already happened. Do you think that areas of our nation will ever become so anti-American that they will forbid students from riding to school with an American flag on their bikes? Well, that has already happened.
Fortunately, there was such an uproar over what happened to 13-year-old Cody Alicea that it made national headlines and he ended up being escorted to school by hundreds of other motorcycles and bicycles - most of them displaying American flags as well. The school reversed its policy and now Cody can ride his bike to school every day proudly displaying the American flag.
But what if nobody had decided to stand up?
That school would have gotten away with banning the flag if the American people had allowed them to.
Our liberties and our freedoms are under attack from a thousand different directions and they are being stripped away from us at a blinding pace.
It has gotten to the point where most of us just sit in our homes and enjoy the "freedom" of digesting the "programming" that is constantly being hurled at us through our televisions. Of course the vast majority of that programming is produced by just 6 monolithic corporations that control almost everything that we watch, hear and read.
Power and money have become more highly concentrated in America today than ever before, and yet most Americans don't even realize it.
Most Americans are so busy just trying to survive from month to month that they don't even have time to think about the deeper issues. At the end of the night most of them are so exhausted from serving the system that all they can do is collapse on the sofa and turn on some programming.
But the American people desperately need to wake up. Without liberty and freedom our country cannot work. But our freedoms and liberties are being stripped away a little bit more each and every day.
The America that so many of us grew up adoring is dying right in front of our eyes. If you plan on saying something about it, you better do so before it is too late.
NATO
North Atlantic Treaty Organization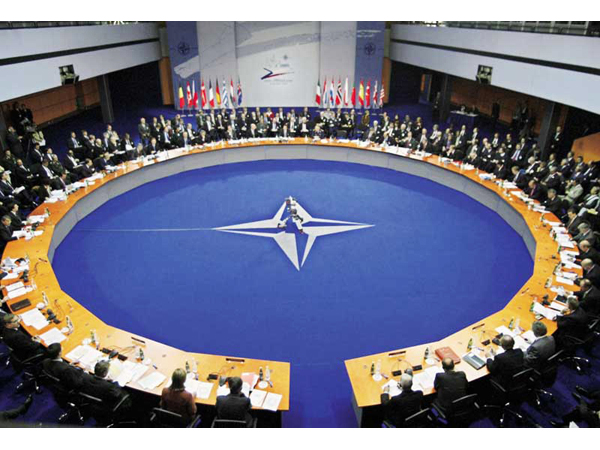 Ever since its inception there have been those who have warned that the North Atlantic Treaty Organization, far from offering a simple "collective security" pact to ensure the integrity of its member nations' borders, would in fact be used as an offensive tool of imperial adventurism and conquest. Since the NATO-led Kosovo bombing campaign of 1999 at the very least, those fears have appeared more and more justified.

Since that time, NATO has continued to take a lead role in more and more overtly offensive campaigns of aggression in theatre after theatre. By now it is commonly understood to be an extension of the Pentagon itself, a convenient international military instrument for Washington to wield whenever the pretense of an international consensus cannot be achieved at the UN Security Council. -- James Corbett
NATO is the first attempt in history to establish an aggressive global military formation, one which currently includes a third of the nations of the world either as members or partners, has members and partners on five continents and has conducted active operations on four, with the potential to expand its reach into the remaining two where it has not yet officially intruded itself...As NATO continues to expand across the globe through a series of partnerships, initiatives and dialogues, what was once a collective security agreement is increasingly becoming a global military strike force capable of bombarding, invading and occupying countries anywhere in the world.
http://rickrozoff.wordpress.com/about/
LINK :
Troops Protect Government Drug Dealing!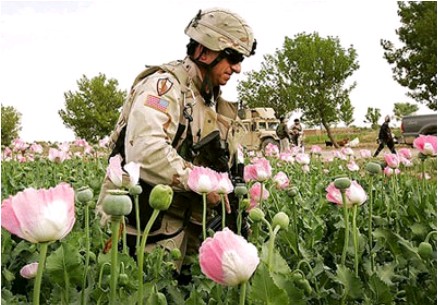 The US military is in Afghanistan for two reasons. First to restore and control the world's largest supply of opium for the world heroin markets and to use the drugs as a geopolitical weapon against opponents, especially Russia. That control of the Afghan drug market is essential for the liquidity of the bankrupt and corrupt Wall Street financial mafia. ...The second reason the US military remains in Afghanistan long after the world has forgotten even who the mysterious Osama bin Laden and his alleged Al Qaeda terrorist organization is or even if they exist, is as a pretext to build a permanent US military strike force with a series of permanent US airbases across Afghanistan. The aim of those bases is not to eradicate any Al Qaeda cells that may have survived in the caves of Tora Bora, or to eradicate a mythical "Taliban" which at this point according to eyewitness reports is made up overwhelmingly of local ordinary Afghanis fighting to rid their land once more of occupier armies as they did in the 1980's against the Russians.
LINK :
Troops Protect Government Drug Dealing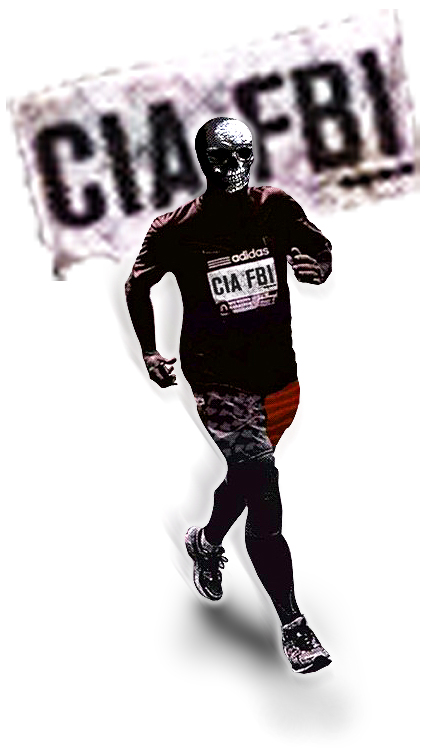 THE CIA
An independent agency of the United States government responsible for collecting and coordinating intelligence and counterintelligence activities abroad in the national interest; headed by the Director of Central Intelligence under the supervision of the President and National Security Council...There has been considerable criticism of the CIA relating to security and counterintelligence failures, failures in intelligence analysis, human rights concerns, external investigations and document releases, influencing public opinion and law enforcement, drug trafficking, and lying to Congress. In 1987, the former CIA Station Chief in Angola in 1976, John Stockwell, said the CIA is responsible for tens of thousands of covert actions and destablization programs since it was created by Congress with the passage of the National Security Act of 1947. At the time, Stockwell estimated that over 6 million people had died in CIA covert actions.
LINK : C.I.A.
THE FBI
The Federal Bureau of Investigation (FBI) is a governmental agency belonging to the United StatesDepartment of Justice that serves as both a federal criminal investigative body and an internal intelligence agency (counterintelligence). Also, it is the government agency responsible for investigating crimes on Indian reservations in the United States under the Major Crimes Act. The branch has investigative jurisdiction over violations of more than 200 categories of federal crime. The agency was established in 1908 as the Bureau of Investigation (BOI). Its name was changed to the Federal Bureau of Investigation (FBI) in 1935. The agency headquarters is the J. Edgar Hoover Building, located in Washington, D.C. The agency has fifty-six field offices located in major cities throughout the United States, and more than 400 resident agencies in lesser cities and areas across the nation. More than 50 international offices called "legal attachés" exist in U.S. embassies and consulates general worldwide.
'Federal Bureau of Investigation organizes almost all terror plots in the US' ...The report reveals that the FBI regularly infiltrates communities where they suspect terrorist-minded individuals to be engaging with others. Regardless of their intentions, agents are sent in to converse within the community, find suspects that could potentially carry out "lone wolf" attacks and then, more or less, encourage them to do so. By providing weaponry, funds and a plan, FBI-directed agents will encourage otherwise-unwilling participants to plot out terrorist attacks, only to bust them before any events fully materialize.
LINK : F.B.I.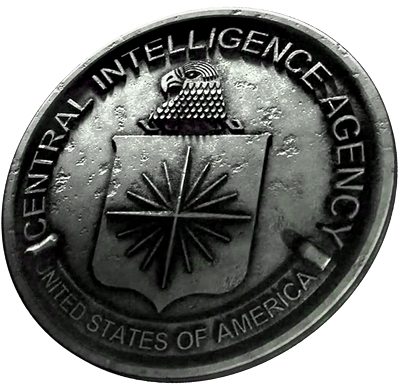 Manufactured Civil Unrest and Regime Change: Is America Next?
Published on Aug 21, 2016
Or "regime maintenance," perhaps?
"These revolutions are portrayed in the western media as popular democratic revolutions, in which the people of these respective nations demand democratic accountability and governance from their despotic leaders and archaic political systems. However, the reality is far from what this utopian imagery suggests. Western NGOs and media heavily finance and organize opposition groups and protest movements, and in the midst of an election, create a public perception of vote fraud in order to mobilize the mass protest movements to demand 'their' candidate be put into power. It just so happens that "their" candidate is always the Western US-favoured candidate, whose campaign is often heavily financed by Washington; and who proposes US-friendly policies and neoliberal economic conditions. In the end, it is the people who lose out, as their genuine hope for change and accountability is denied by the influence the US wields over their political leaders."
— Via Global Research, "Color-Coded Revolutions and the Origins of World War III" (http://www.globalresearch.ca/colour-c ...)
LINK : DIVIDE AND CONQUER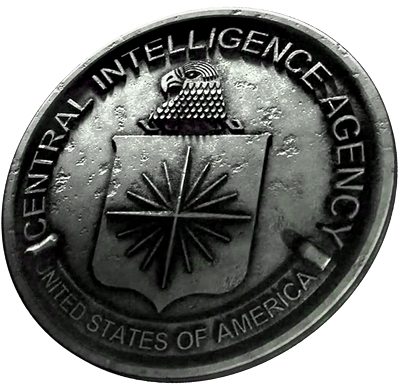 Shocking History of the CIA

Published on Jan 15, 2015
In 1933, Marine Corps Maj. Gen. Smedley Butler was approached by a wealthy and secretive group of industrialists and bankers to overthrow President FDR and establish a fascist dictatorship in the United States. The plan to install a fascist state by force was exposed when Butler blew the whistle and identified the ringleaders in a testimony given
to the U.S. House Committee on Un-American Activities.
Senator Prescott Bush went on to help finance Hitler's rise to power and continued business dealings with the Nazi's even after America entered the second World war.
At the end of WWII Operation Paperclip was launched by the OSS to smuggle Nazi war criminals into the United States.The OSS provided the perfect model for the CIA which was established in 1947. The CIA's sudden rise to power gave birth to the Military Industrial Complex. By the end of Eisenhower's presidency in 1961 it had become evident that the Federal Govt. could no longer control the agency. The CIA had gone rogue.
Search: Smedley Butler. The Business Plot. Prescott Bush. Bush Nazi Connection. Operation Paperclip. Skull and Bones. MK Ultra. The Church Committee. Sen Paul Wellstone Assassination. Gary Webb. Kill The Messenger. Bush Hinkley Connection.
Flight 455. Origins of ISIS
Links :
Martial Law Rise of The Police State
Troops Protect Government Drug Dealing
Trump Stands up to Communist China's Threats, Talks To Taiwan
Published on Dec 3, 2016
Flouting the careful diplomatic plans that the globalists have quietly laid out for the last half century, Donald Trump spoke with the President of Taiwan. This phone call was a calculated signal that the united states will no longer idly stand by as the voracious communist Chinese encroach upon the rest of the world.
Help us spread the word about the liberty movement, we're reaching millions help us reach millions more. Share the free live video feed link with your friends & family: http://www.infowars.com/show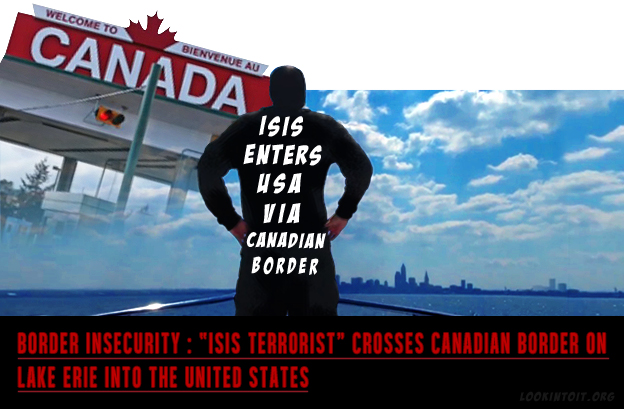 How could there be a War on Terror and actually say that we're having a war against terrorism, and leave the borders wide open? If you were the President of the United States, or I were the President of the United States, and 9/11 really happened the way they want us to believe it happened, the first thing you would do is shut down the borders, so people couldn't get in the country to harm you. But they left the borders wide open. Because the bankers want the borders open, because they want a one-world government. They want a North American Union. They don't want borders here. 9/11 was only a manifestation. It was done to create a fear in the American public, so that we will obey what they want us to do.
LINKS :
Illegal Checkpoints In America
Mobile Van Radiating the Public
Police Trained That Informed Americans Are Terrorists
The NSA (National Security Agency)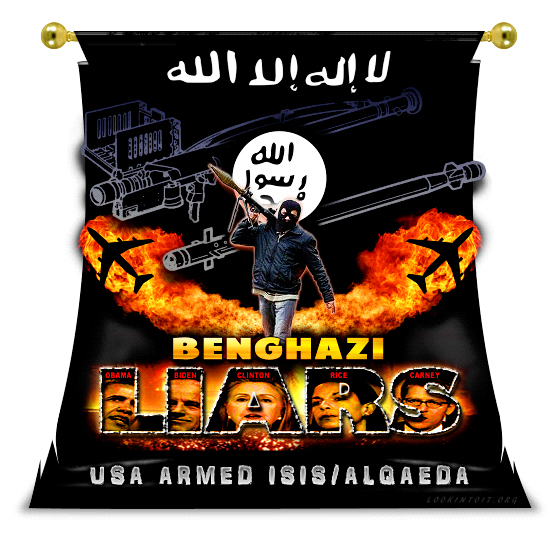 Criminal governments armed Isis/Al-qaeda with weapons, including estimated 20,000 missiles to steal, kill, and to destroy for a New World Order.
LINKS :
Obama Now Global Head of Alqaeda!
Troops Protect Government Drug Dealing
U.S. Military Killing Its Own Troops!
PSYOPS
-- Psychological Operations --
"People in general just will NOT, take their heads out of the sand!"

Psyops, or psychological operations, is a term used to describe the techniques of psychological manipulation used in warfare. These operations are used to deceive, confuse, disrupt and demoralize the enemy, with an aim toward weakening enemy resistance or even causing enemy forces to surrender and enemy populations to capitulate.
NOTES :
http://www.corbettreport.com/psyops-101-an-introduction-to-psychological-operations/
http://www.corbettreport.com/psyops-101-a-brief-history-of-fake-news/
http://www.corbettreport.com/psyops-101-psyops-on-the-homefront/
http://www.corbettreport.com/psyops-101-the-technology-of-psych-warfare/
http://www.corbettreport.com/new-world-next-week-2012111/
LINKS :
Military Illegally on American Streets
Military Training to Take on Americans
DHS Preparing For 7-Year War Against American People
Foreign Troops Training To Confiscate Guns of Americans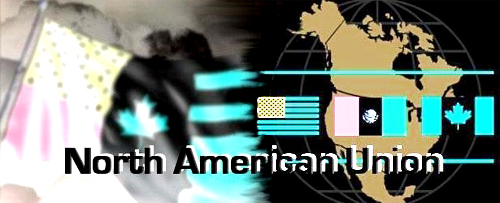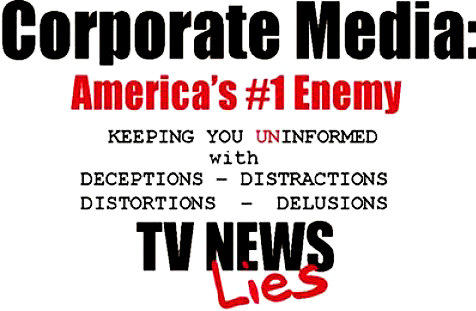 LINKS :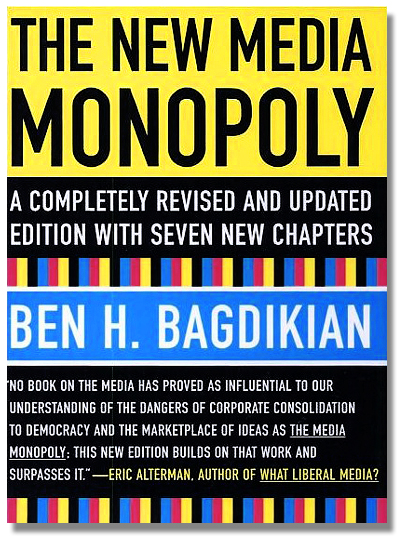 http://www.amazon.com/The-New-Media-Monopoly-Completely/dp/0807061875
When the first edition of The Media Monopoly was published in 1983, critics called Ben Bagdikian's warnings about the chilling effects of corporate ownership and mass advertising on the nation's news "alarmist." Since then, the number of corporations controlling most of America's daily newspapers, magazines, radio and television stations, book publishers, and movie companies has dwindled from fifty to ten to five.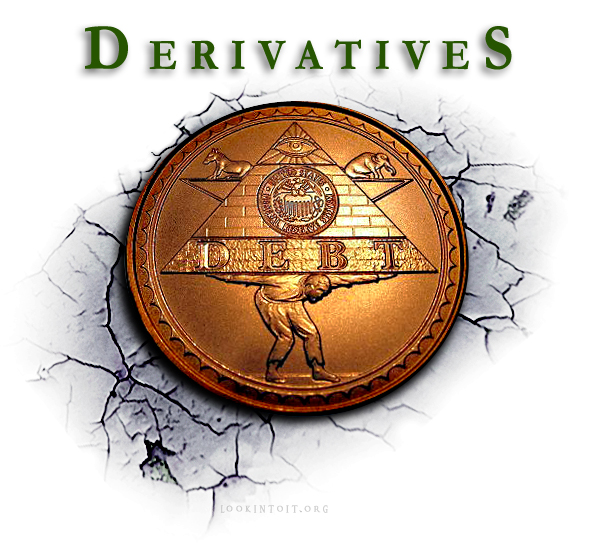 Quadrillions of Fraudulent DEBT!!
A WORLD HELD HOSTAGE BY BANKERS
-- Learn about Glass–Steagall Act in FALL OF THE REPUBLIC --
Washington is owned by the private global banking cartel that owns Wall Street. International law does not apply to this criminal cartel. They stole trillions of dollars from the American people with help from corrupt politicians over a stretch of many decades, culminating in the government bailout in 2008, and they have not been held accountable.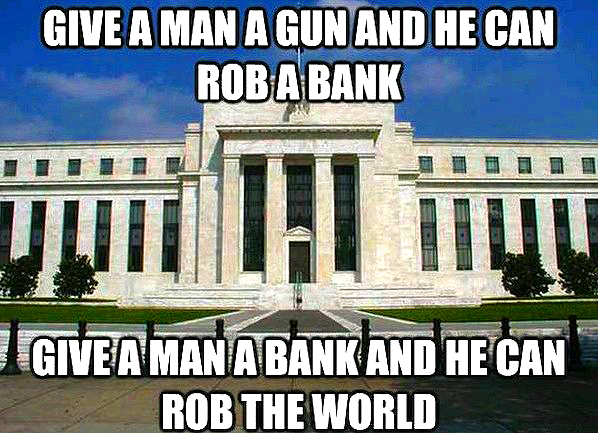 These bandits and looters could care less if America crashes and burns. In fact, they want America to die because they want to institute a private world government upon its ruins. And they're doing a fantastic job at it because they've had decades of practice in nations in Latin America, Africa, and Asia where they bought off greedy politicians, and robbed their people through the IMF/World Bank/WTO.
The entire business model of the private global banking tricksters is based on stealing the wealth of nations, and destroying national independence in order to allow lawless multinational corporations to completely take over. Read this article about how they do it.
Once nations are put into needless debt by these private global bankers, they put the squeeze on them by forcing them to pay back usurious loans that make them go bankrupt. After the inevitable mayhem that follows national collapse, they impose a military dictatorship so that the people can't resist. Damon Vrabel calls it the "death of nations." He writes:
The fact is that most countries are not sovereign (the few that are are being attacked by CIA/MI6/Mossad or the military). Instead they are administrative districts or customers of the global banking establishment whose power has grown steadily over time based on the math of the bond market, currently ruled by the US dollar, and the expansionary nature of fractional lending. Their cult of economists from places like Harvard, Chicago, and the London School have steadily eroded national sovereignty by forcing debt-based, floating currencies on countries.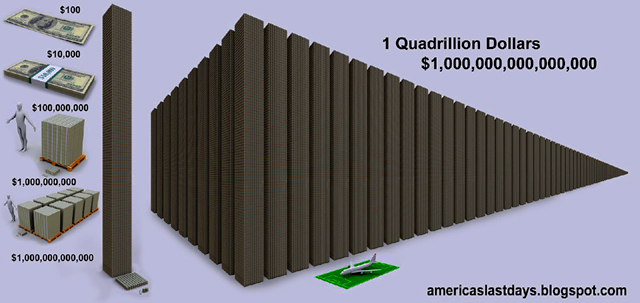 Civilized nations stand up for themselves, they don't bow down to private bankers. America can prove to the world that it is civilized, honest, and free by showing the global banking overlords the door.
The way to fight back against the global robbers at the privately owned Federal Reserve Bank/IMF/World Bank and the big banks is entirely peaceful. It is a matter of exposing their deviance and deception to the public, and then hitting the streets. An enemy can't be defeated unless it remains in the shadows, striking at will. Directing public light at the private global banking cartel's evil influence over nations that are thought to be free and independent by the people is the only way to bring an end to their crimes, and treachery against Mankind.
A new civilization based on the divine values of freedom, justice, truth, and mutual respect among nations, and private institutions, can't be born unless we all come together as global citizens and fight back against the unlawful rule of the private global banking cartel. Our countries are suffering because of their greed and ruthless control.
The austerity measures that are being called for by the banks and the elite is bringing chaos onto the streets of Europe on a scale never before seen, and it won't be long before America enters the stage. We are nearing the moment when the globalist conspirators behind the plans for a new world order will openly declare the end of America. When they do, we shall declare the end of them, and fight for the rebirth of America, and all of Mankind.
Only an order based on the rule of law and freedom should be accepted. The conspiratorial elite intend to achieve a new world order through this period of engineered chaos not by law, but by brutal force because it is the only way to impose a criminal, bank-owned government on a global scale. Despite their rhetoric, these devilish traitors are not visionary thinkers because corrupt designs for a world state isn't new in history. Their arrogance is a cover. They will fail hard. And America will be set free from bondage, along with other nations.
"This is global government, a private corporate global government, taking over every major society with the same formula. It is fraudulent, and it must be resisted, or we have no future. We cannot allow this new dark age to begin," says radio host Alex Jones in a YouTube video message entitled "It's the Bankers or Us." Watch his message, and spread it.
There is a peaceful global revolution against the private global banking cartel, and it can't be stopped. Join it and help everyone live free, or die a slave under the empire of debt.
DERIVATIVES : The Debt Bomb
The derivatives market is the Las Vegas of the world's financial super elite, worth anywhere between 2 to 8 quadrillion dollars compared to about 70 trillion dollars of world GDP. We look at the so-called financial innovations of Wall Street from Collateralized Debt Obligations to Mortgage Backed Securities.
We also look at US government's complicity; White House and Congress both vested interests not only as recipients of Wall Street largess in the form of campaign donations but as major players with criminal asymmetrical information and influence advantages.
LINKS :
U.S. Military Killing Its Own Troops!
Global Debt Crisis Simply Explained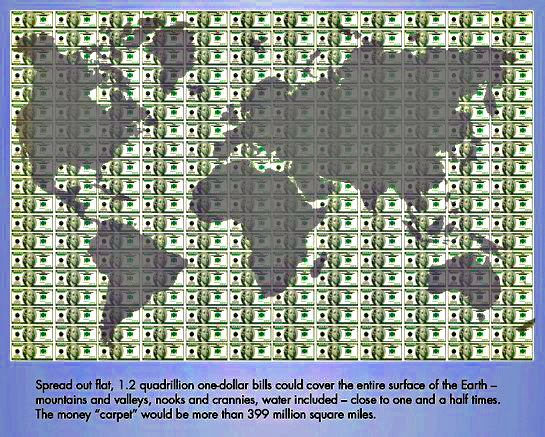 http://www.infowars.com/america-is-held-hostage-by-global-private-bankers/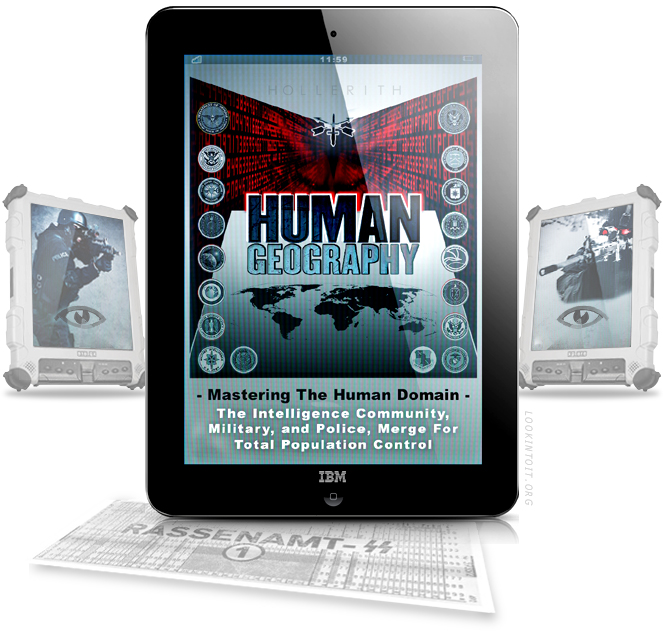 Mastering The Human Domain
Who You Are – Collected information includes names, addresses, biometrics, social media accounts .
What You Do – Travel history, communications, financial transactions and movement of physical assets.
A closer look at the upcoming Jade Helm military exercise, specifically its "master the human domain" motto, reveals a larger agenda in regards to domestic policy.
..."They're building an infrastructure of tyranny," stated Infowars David Knight. "There's a legal infrastructure with things like the NDAA, there's a technical infrastructure with things like the capability to do dragnet surveillance, and then of course there is going to be a military and law enforcement infrastructure, and those are merging."
Synopsis
Full Presentation
LINK : TOTAL POPULATION CONTROL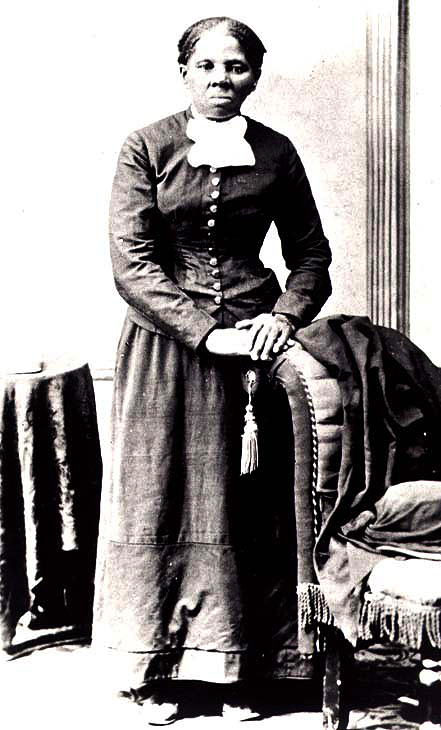 -- Harriet Tubman --
"I freed a thousand slaves; I could have freed a thousand more, if only they knew they were slaves."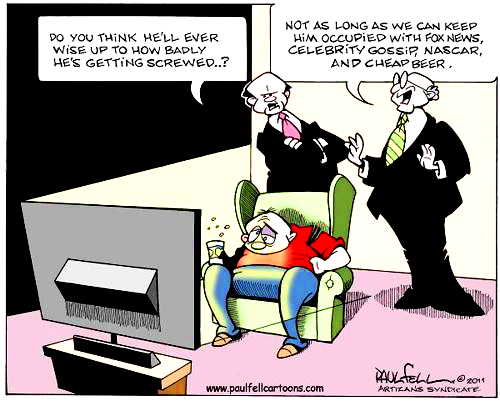 Only the vigilant can maintain their liberties, and only those who are constantly and intelligently on the spot can hope to govern themselves effectively by democratic procedures.
"A society, most of whose members spend a great part of their time, not on the spot, not here and now and in their calculable future, but somewhere else, in the irrelevant other worlds of sport and soap opera, of mythology and metaphysical fantasy, will find it hard to resist the encroachments of those who would manipulate and control it."

- Aldous Huxley -
LINK :
TOTAL SURVEILLANCE SOCIETY
LINK :
Transhumanism And The Technocratic Era

REACH OUT TO OTHERS
[Help Educate Family And Friends With This Page And The Links Below]
---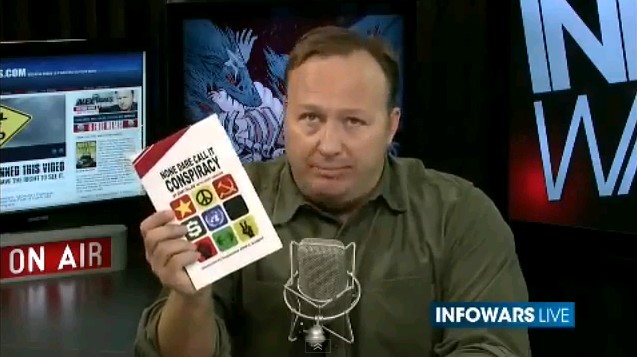 RELATED LINKS
Global Debt Crisis Simply Explained