Posse Comitatus Act Abolished, Troops on the streets of America!
U.S. Army admits troops conducting law enforcement is illegal yet it continues to happen across the country on a routine basis

Acclimating The Public To Accept Troops On The Street!
(...AND YET OUR AMERICAN BORDERS ARE WIDE-OPEN?! WAKEUP!!)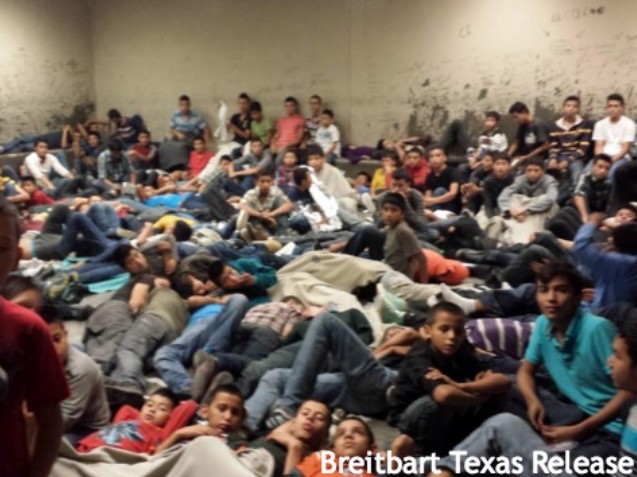 Choose an image to begin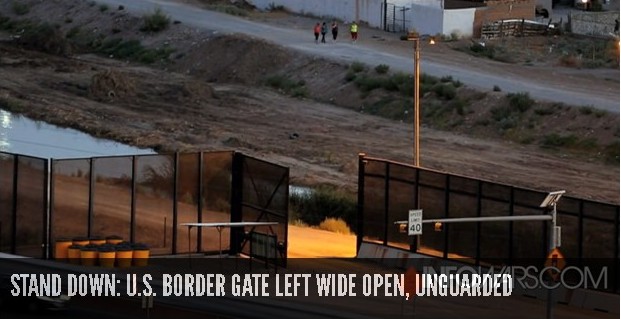 LINK :
---
Battle of Los Angeles:
Marines Train To Occupy American Cities
Published on Dec 11, 2014
Marines practice for 2 weeks to occupy American cities in The USA
CAMP PENDLETON MARINES TO CONDUCT "RAIDS" IN DOWNTOWN LA - http://www.infowars.com/camp-pendleto...
Marines to invade L.A.: Don't know where or when. But don't panic - http://www.latimes.com/local/lanow/la ...
Marine Corps Colonel Says DHS Building Domestic Army

A former Marine Corps Colonel who was stationed in Fallujah and trained Iraqi soldiers warns that the Department of Homeland Security is working with law enforcement to build a "domestic army," because the federal government is afraid of its own citizens.
Meanwhile a Virtually Crime Free County in Florida Gets MRAP Armored Vehicle.
LINK : DHS Preparing For 7-Year War Against American People
Homeland Security, Feds Swarm Small Town in Bizarre Unannounced Show of Force
School field besieged by Black Hawk chopper, SWAT vehicles
by Paul Joseph Watson | July 11, 201
Homeland Security agents, backed by police SWAT teams, armored vehicles and a Black Hawk helicopter staged a bizarre unannounced show of force in front of a school in a small Illinois town, scenes which will exacerbate concerns about the increasing militarization of U.S. law enforcement.
Residents of Livingston, IL., population 850, were shocked to see agents from Homeland Security, the US Customs and Border Patrol and local police agencies swarm a field belonging to a grade school yesterday, with one local telling news channel KTVI, "When all the armored trucks started showing up and everything it made me kind of nervous."
One child said he thought the spectacle was "pretty cool" and that agents invited the local children to check out the choppers up close, despite the presence of weapons inside the helicopters.
The school superintendent said he was not given any information about the operation beforehand, despite authorities using school land as a staging ground. The U.S. Attorney's Office refused to release any information on the purpose behind the operation.
KTVI labeled the presence of the feds a "mystery," although it subsequently emerged that the school was being used as a staging ground for a raid on a house three miles away. Authorities refused to divulge the purpose behind the raid or if anyone was taken into custody.
Reporter Roche Madden said he learned that ten police cars showed up at the house to conduct the raid, suggesting that the Black Hawk and the armored vehicles were merely on standby.
The sheer number of feds present, in addition to multiple armored vehicles, military-style choppers and other vehicles, in order to conduct a raid on a single house clearly suggests overkill and will prompt more concerns as to the increasing militarization of U.S. law enforcement.
Authorities routinely stage unannounced drills, often in the middle of the night, which terrify startled residents. Critics have asserted that Americans are being conditioned to accept military-style policing as a routine occurrence.
The purchase of armored vehicles formerly used in anti-terror operations overseas has prompted widespread concern that domestic law enforcement in the United States is becoming increasingly militarized and violent. A recent ACLU investigation into the issue decried the fact that American neighborhoods are turning into warzones as SWAT tactics become more brutal, causing an increase in deaths, injuries and property damage.
Back in May, Indiana Police Sergeant Dan Downing admitted that the militarization of domestic law enforcement was partly to deal with returning veterans who are now seen as a homegrown terror threat. A local Fox affiliate reported that the cops were now "armed for war" against such threats.
Facebook @ https://www.facebook.com/paul.j.watson.71
FOLLOW Paul Joseph Watson @ https://twitter.com/PrisonPlanet
*********************
Paul Joseph Watson is the editor at large of Infowars.com and Prison Planet.com.
Blackhawk Helicopter Descends on Spokane, Wa.

Published on Dec 19, 2014
Infowars reporter Joe Biggs breaks down the total police state takeover as he discovers a UH-60 Blackhawk helicopter flying over Spokane, Wa.
CITIZENS DEMAND ACTION OVER MILITARIZED POLICE - http://www.infowars.com/citizens-dema...
AMERICANS STAND UP TO MILITARIZED TAKEOVER - http://www.infowars.com/americans-sta...
Infowars joins Spokane protests against encroaching police state - http://www.infowars.com/live-american...
MAN ARRESTED FOR FILMING MILITARIZED POLICE RAID - http://www.infowars.com/man-arrested-...
TOP COP: MILITARIZED VEHICLES NEEDED TO DEAL WITH "ANTI-GOVERNMENT" GROUPS - http://www.infowars.com/top-cop-milit...
SPOKANE POLICE DEPARTMENT FACES PROTEST OVER SHERIFF DEPUTY'S SHOCKING COMMENTS - http://www.infowars.com/spokane-polic...
POLICE: ARMORED MILITARY VEHICLES NEEDED FOR 'CONSTITUTIONALISTS' WITH FIREARMS - http://www.infowars.com/police-armore...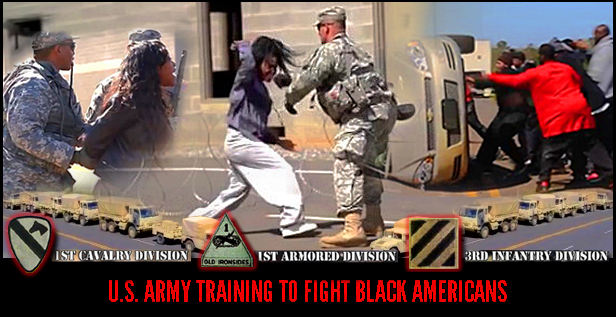 U.S. Army Training to Fight Black Americans
"Doomsday Disneyland" facility used as practice ground for civil unrest
by Paul Joseph Watson | July 17, 2014
A promotional video touting FEMA's emergency response capabilities shows U.S. National Guard troops training to detain unruly African-American citizens in prison camps before handing them over to police.
The video appears on the official YouTube channel for Guardian Centers, an 830 acre "disaster preparedness and tactical training validation center" located in Georgia which is routinely used by FEMA and other government agencies to practice emergency response procedures.
After the 2 minute mark in the clip, the scene cuts to a black woman who is struggling to escape from the clutches of a uniformed soldier. The area is surrounded by concertina wire and guarded by other troops.
The clip then shows the woman, along with another African-American, being handed over to local police before being driven away.
Described by CNN as the "doomsday Disneyland," Guardian Centers is a mock city complete with a subway station that "allow(s) a variety of responders to do a variety of drills in one location."
The sight of National Guard troops training to detain Americans in prison camps is unlikely to quell concerns that authorities are preparing for domestic disorder.
Back in 2012, we reported on FM 3-39.40 Internment and Resettlement Operations, a U.S. Army manual that describes how political activists in prison camps will be indoctrinated by specially assigned psychological operations officers. The document makes numerous references to how government agencies like the DHS, ICE and FEMA will be involved in the domestic internment of U.S. citizens during "civil support operations."
A second US Army Military Police manual that was leaked months later also outlined how military assets would be used domestically to quell riots, confiscate firearms and even kill Americans on U.S. soil during mass civil unrest.
U.S. troops and National Guard also worked with local police to incarcerate Americans in detention camps during drills Alex Jones covered in 1999 in Oakland, California.
A report produced in 2008 by the U.S. Army War College's Strategic Institute warned that the United States may experience massive civil unrest in the wake of a series of crises which it termed "strategic shock."
"Widespread civil violence inside the United States would force the defense establishment to reorient priorities in extremis to defend basic domestic order and human security," stated the report, authored by [Ret.] Lt. Col. Nathan Freir, adding that the military may be needed to quell "purposeful domestic resistance".
Rex 84, short for Readiness Exercise 1984, was established under the pretext of a "mass exodus" of illegal aliens crossing the Mexican/US border.
During the Iran-Contra hearings in 1987, however, it was revealed that the program was a secretive "scenario and drill" developed by the federal government to suspend the Constitution, declare martial law, assign military commanders to take over state and local governments, and detain large numbers of American citizens determined by the government to be "national security threats."
Despite innumerable indications that the federal government is making preparations for riots, the Department of Homeland Security denied last year that it was gearing up for domestic disorder. In 2011, DHS chief Janet Napolitano directed ICE to prepare for a mass influx of immigrants into the United States, calling for the plan to deal with the "shelter" and "processing" of large numbers of people.
In the video below, Alex Jones highlights how the Guardian Centers video is yet another startling indication that authorities in the United States are preparing for civil unrest as America increasingly begins to resemble a militarized police state.
U.S. Army Training to Fight Black Americans
Facebook @ https://www.facebook.com/paul.j.watson.71
FOLLOW Paul Joseph Watson @ https://twitter.com/PrisonPlanet
*********************
Paul Joseph Watson is the editor at large of Infowars.com and Prison Planet.com.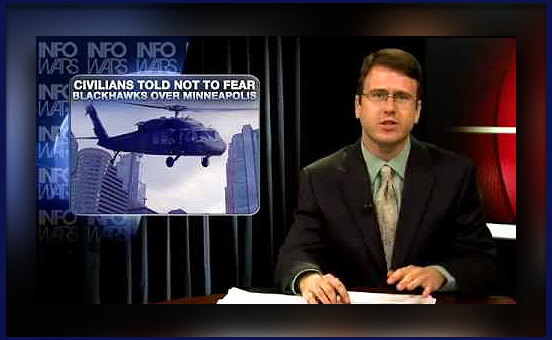 Civilians Told Not to Fear Blackhawks Over Minneapolis
Kurt Nimmo
Infowars.com
August 28, 2012
Despite the admonition of our founders about the threat of standing armies, the government is now conducting high-profile military "training exercises" around the country. The latest "training in an urban environment" is occurring in Minneapolis, Minnesota.
"If you see military helicopters flying low over Minneapolis, don't be alarmed. They're just training in an urban environment," reports WCCO in Minneapolis. "The U.S. Special Operations Command will be conducting exercises until the beginning of September. This week they're using helicopters, including Black Hawks."
It makes perfect sense the Special Operations Command is running the show. It conducts covert and clandestine missions, including psychological warfare ops. The idea is to keep the manufactured war on terror front and center and acclimate civilians to the presence of troops perpetually in their midst. Black Hawk helicopters swooping over downtown skyscrapers and mock battles on waterfronts are now spectator events.
"A standing military force, with an overgrown Executive will not long be safe companions to liberty," James Madison warned the Constitutional Convention in Philadelphia.
"Americans of the 18th century took a much dimmer view of the institution of a professional army," writes historian Christopher Hamner. "A near-universal assumption of the founding generation was the danger posed by a standing military force. Far from being composed of honorable citizens dutifully serving the interests of the nation, armies were held to be 'nurseries of vice,' 'dangerous,' and 'the grand engine of despotism.'"
Now Americans fawn over raw military power and consider war and destruction as entertainment. Instead of abhorring invasions of defenseless countries such as Iraq, unprovoked attacks and mass murder are celebrated with triumphant parades, yellow ribbons around old oak trees, self-righteously declarative bumper-stickers and other disgusting public displays. "Support our troops" has become the mindless mantra of frogs slowly boiling in the water of tyranny.
Rolling out the military every couple years for new invasions which are dutifully and reverently covered by the establishment media is not enough. Now we must be subjected to Blackhawks over our cities and armored vehicles on our roadways, to say nothing of paramilitary goons stationed at our airports and mass transit hubs. It is all part of the mass mind control and propaganda effort required to convert the nation into a military dictatorship.
Police Records Shed Light on Secret Military Training in USA...
Published on Apr 11, 2015
Public Record Media, a Minnesota-based nonprofit organization that uses freedom of information laws to obtain and publish government records, has released documents showing how the Minneapolis Police Department and the Minneapolis city government worked hand-in-hand with the Pentagon to conduct counter-terrorism training operations in the city without informing the public.
http://www.infowars.com/records-show-...
Help us spread the word about the liberty movement, we're reaching millions help us reach millions more. we all want liberty. Find the free live feed at http://www.infowars.com/watch-alex-jo...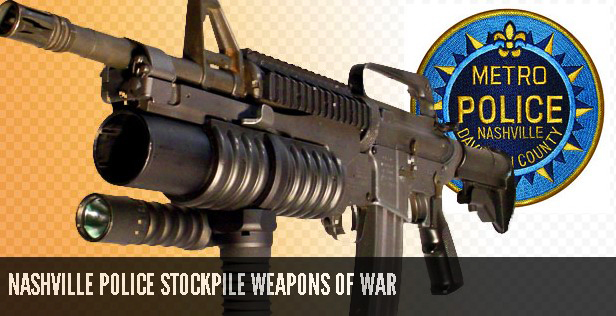 Nashville Police Stockpile Weapons Of War
Items include grenade launchers
by Ben Hall | NewsChannel5.com | July 20, 2014

NASHVILLE, Tenn. -- A massive military build-up is underway right here in Tennessee.
Local law enforcement agencies are snatching up huge amounts of weapons -- from the Department of Defense -- used in fighting in Iraq and Afghanistan.
Items include grenade launchers, mine-resistant vehicles and guns that have been deemed as surplus by the Pentagon.
The equipment is cheap or free for local law enforcement agencies to acquire.
The federal program has fueled a debate about the militarization of our police departments.
McMinn County is located in the foothills of the Appalachian Mountains. It boasts beautiful scenery, but its sheriff's department can boast something else.
The department received more military surplus guns than any other local department in the state last year.
"We actually reconfigured the whole armory to accommodate all of this," said Sheriff Joe Guy.
Sheriff Guy oversees 31 officers and investigators, but his department received 161 army rifles and pistols, including 71 M16 rifles and 71 .45-caliber pistols.
NewsChannel 5 Investigates asked, "Why does your department need all these guns?"
Sheriff Guy responded, "Well, we don't need this many. There was a little error in the order."
The Sheriff said the Army surplus program doubled his initial order, but he hasn't sent the guns back.
"They're here as our department grows. We'll have additional firearms for future officers," Sheriff Guy said.
McMinn County is not alone.
A spreadsheet obtained by NewsChannel 5 Investigates shows thousands of pieces of military equipment going to Tennessee law enforcement agencies.
Equipment used to fight in Iraq and Afghanistan is now going to local departments.
"The way this stuff is being distributed, it's kind of reckless," said author Radley Balko.
He has written a book, Rise of the Warrior Cop, that raises concerns about militarization of American police departments.
"What we've seen is just a massive transfer of gear, guns, vehicles and other weaponry," Balko said.
Law enforcement agencies can go to a website administered by the Department of Defense and look for used equipment.
On the day we went to McMinn County, the department was looking for Humvees. Sheriff Guy reviewed what was available.
"It looks good," Sheriff Guy said to an employee who was looking up a vehicle on-line.
The employee responded, "It's got 14-hundred miles on it."
"How many of those did you put in for?" Sheriff Guy asked.
"Three," his employee answered.
Sheriff Guy responded, "Three of those and one truck."
Departments pay a registration fee, then all the equipment is free. Individual departments must pay for transportation and maintenance.
"The disbursement across the country is so uneven and random and sort of based on who is good at manipulating the system," Balko said.
Thirty Tennessee departments just received mine-resistant vehicles. They were designed to protect soldiers from road side bombs in Iraq and Afghanistan.
Lebanon Public Safety, La Vergne and Hendersonville Police Departments all received MRAPS.
"This is our newest armored protective vehicle," said Mike Justice with Lebanon Public Safety.
Justice hopes Lebanon police officers never use it.
"The situations we would use this vehicle in is hostage negotiations, putting this vehicle between the bad guy and the good guys," Justice said.
He said the surplus program is critical to smaller departments. It provides equipment is not just military in nature including trucks, lawn mowers and tents.
Many small departments could not afford them on their own.
"As a taxpayer, I paid for it the first time. When I paid my federal income tax, I paid for this vehicle. So the citizens of Lebanon now get the benefit from it," Justice said standing beside the MRAP.
But Balko said the militarization of police departments comes at a price, like more SWAT raids.
"What we've done is encourage the police to become more like the military," Balko said.
"When you surround yourself with the weapons of war, with the language of war, you're going to be much less likely to look for ways of resolving disputes using the least amount of force possible," Balko continued.
Our investigation also found some departments can't keep up with the weapons they're getting.
The Tennessee Highway Patrol reported two M14s missing last year.
A TWRA park ranger had an M16 stolen from his vehicle -- it was later recovered.
And at the tiny Bean Station Police Department in East Tennessee, the police chief's son took an M16 from the program and was arrested for impersonating a police officer.
"It's concerning that this stuff is getting lost or stolen because I think it again indicates how little monitoring the Pentagon is doing once this stuff gets out of their reach," Balko said.
Sheriff Guy keeps his guns locked up and knows where each one is.
But for some, a department with five times more guns than patrol officers raises questions about the military surplus program.
"There was never any sort of public debate on this, or public discourse. It all sort of happened under the radar, and I think that's concerning," Balko said.
Late Thursday, the Department of General Services told NewsChannel 5 Investigates that it has suspended the state coordinator of the Law Enforcement Support Office (LESO).
Elbert Baker is on administrative leave with pay. The Department of General Services stated it discovered that it had given inaccurate and incomplete information to NewsChannel 5 Investigates.
We had asked for documentation involving missing weapons in the LESO program.
The state has alerted its auditors and is conducting a review of LESO files, records and internal controls, a spokesperson said. The auditors have notified the comptroller's office they are investigating a possible internal deficiency.
Finally, the Department of General Services expressed thanks to NewsChannel 5 Investigates for bringing "to light a record-keeping deficiency of which our department was previously unaware."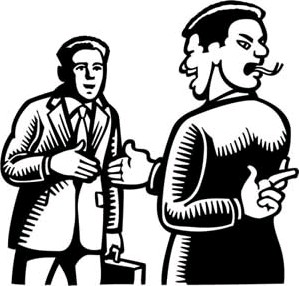 THE GOVT HASN'T LIED ABOUT AMMO PURCHASES AND HOW THEY'LL BE USED...RIGHT?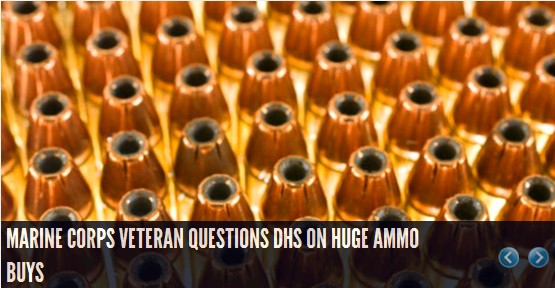 LINK:
DHS Preparing For 7-Year War Against American People
...GOVERNMENTS DON'T LIE, RIGHT?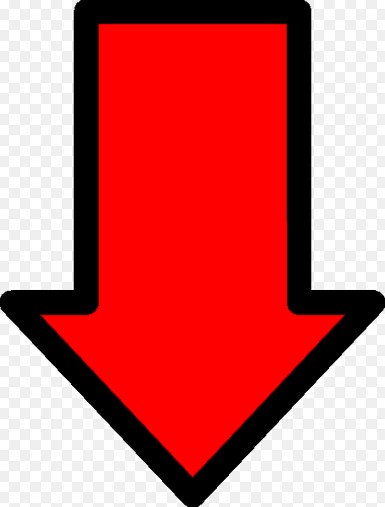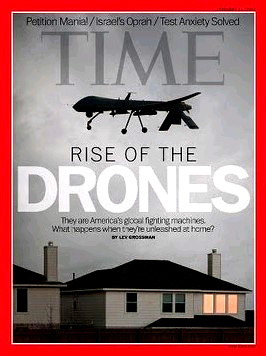 Robert Gibbs Lied to America about The Drone Program!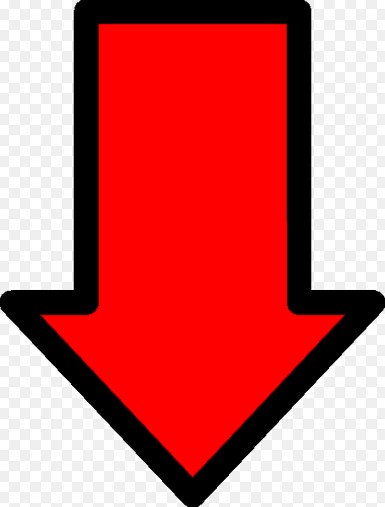 Drone Denial by Lame Stream Media
Robert Gibbs Lied to America about The Drone Prgm.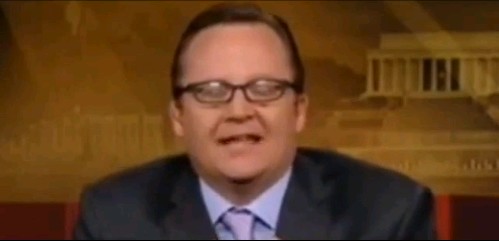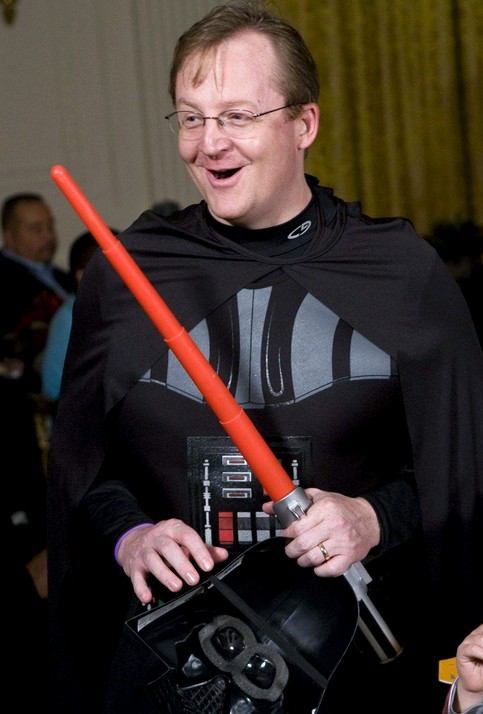 The lies are getting too ridiculous.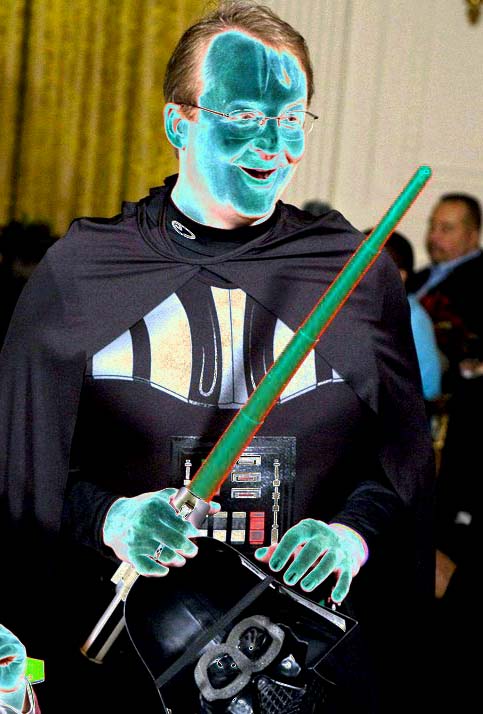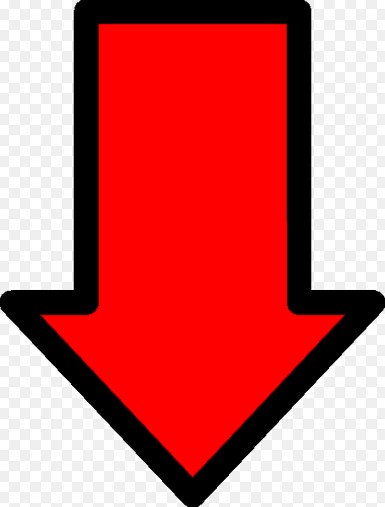 Former Obama Press Secretary Was Ordered To Act As If Drone Program Did Not Exist
The first rule of the drone program is that you do not talk about the drone program

Steve Watson
Infowars.com
Feb 25, 2013
In a rare admission, Robert Gibbs, the former White House Press Secretary under Obama, told reporters Sunday that he was ordered to act as if there was no such thing as an active US drone program.
"When I went through the process of becoming press secretary, one of the first things they told me was, you're not even to acknowledge the drone program," Gibbs said on MSNBC's "Up With Chris Hayes" this past weekend.
Gibbs said that he was told "You're not even to discuss that it exists."
Noting that the notion was "inherently crazy", Gibbs said "You're being asked a question based on reporting of a program that exists."
"So you're the official government spokesperson acting as if the entire program—pay no attention to the man behind the curtain." Gibbs, who was Press Secretary between 2009 and 2011, said.
As we have tirelessly noted, the Obama administration has been heavily criticized for blocking the release of information relating to its overseas drone assassination programme, and will not even officially acknowledge that it exists, despite countless public references to the programme and the proven existence of an official "kill list".
Gibbs stated that he expects the drone program to remain secret for the most part, despite moves in Congress to force more transparency.
"I have not talked to him about this, so I want to be careful," Gibbs said, "but I think what the president has seen is, our denial of the existence of the program when it's obviously happening undermines people's confidence overall in the decisions that their government makes."
While the program itself remains classified, it is no secret that Obama has vastly expanded the US drone war since entering office in 2009. Daily drone strikes are raining down on Yemen, Pakistan and Afghanistan, as well as Somalia.
A recent report released by Washington based think tank, The New America Foundation revealed that the number of secret US drone strikes in Yemen almost tripled in 2012, compared to 2011.
The Bureau of Investigative Journalism, has found that at least 171 civilians, including 35 children, have been slaughtered in Yemen by secret US drone strikes over the past ten years.
Communications released by WikiLeaks in 2010 revealed that the US and Yemen have repeatedly attempted to cover up the use of US warplanes to bombard Yemen.
Last week it was announced that despite the fact that drone strikes have killed thousands of innocent civilians in Yemen and Pakistan, the Pentagon is to reward drone operators with medals.
The DoD is creating a new ribbon, called the Distinguished Warfare Medal that will be awarded for "extra achievement" related to a military operation. This will encompass sitting at a computer console and pressing a button to release Hellfire missiles from Predator drones hundreds and thousands of miles away.
The medal will become the fourth-highest ranking combat decoration, placing above the Bronze Star.
Despite the official secrecy, the president has referred to the drone program several times in public, as have officials such as counter-terrorism adviser John Brennan.
Last year, the New York Times ran a major piece on the program revealing that the White House has asserted the right to carry out state-sponsored assassination anywhere in the world without having to provide any evidence or go through any legal process.
The administration merely has to state that the target is a terrorist and it doesn't matter whether they are an American citizen or not, as we saw in the case of American-born Anwar al-Awlaki and his son, who were both killed last year.
In December of last year, Obama administration lawyers reaffirmed their backing for state sponsored assassination, claiming that "U.S. citizens are legitimate military targets" and do not have the right to any legal protection against being marked for summary execution.
During a CBS 60 Minutes interview in January, Secretary of Defense Leon Panetta revealed that Obama himself personally approves the policy to kill American citizens suspected of terrorism without trial on a case by case basis.
Perhaps the real reason that the administration wants the details of the programme kept under wraps is that, as reported by Propublica recently, the programme is potentially much bigger in scope than anyone had previously thought.
The administration's figures do not add up, they are chock full of contradictions and discrepancies, and there can be little doubt that there have been many many more civilian deaths as a result of drone attacks than have been publicly acknowledged.
Experts, including UN special rapporteur on extrajudicial, summary or arbitrary executions Christof Heyns, as well as Pakistan's UN ambassador in Geneva, Zamir Akram, have described the drone assassination programme as a violation of the international legal system, saying that some attacks may constitute war crimes.
Akram, who noted that US drone strikes had killed more than 1,000 civilians in Pakistan, also said "We find the use of drones to be totally counterproductive in terms of succeeding in the 'war against terror'. It leads to greater levels of terror rather than reducing them.
Many also contend that the attacks infringe the national sovereignty of Pakistan and constitute an act of war.
In 2010, a report by Washington think tank The New America Foundation found that 32% of the more than 1,200 people killed since 2004 in Pakistan, or around 1 in 3, were innocent bystanders rather than dangerous terrorists.
—————————————————————-
Steve Watson is the London based writer and editor for Alex Jones' Infowars.com, and Prisonplanet.com. He has a Masters Degree in International Relations from the School of Politics at The University of Nottingham, and a Bachelor Of Arts Degree in Literature and Creative Writing from Nottingham Trent University.
This article was posted: Monday, February 25, 2013 at 11:00 am
Tags: drones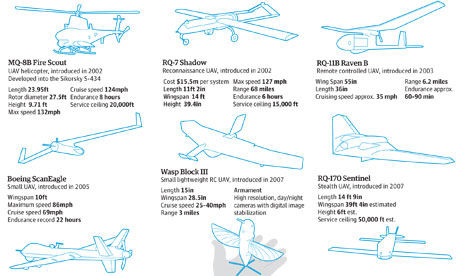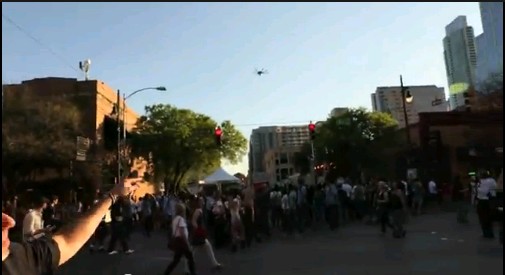 LINKS :
Yes Your Government Can Use Armed Drones Against You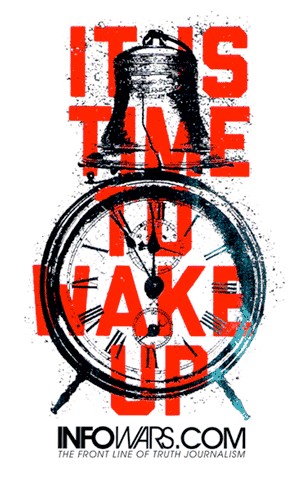 LINKS :
It's no longer Al-Qaeda, it's now supposedly your friends and neighbors. This is the prevailing meme of every tyrannical fascist regime in history.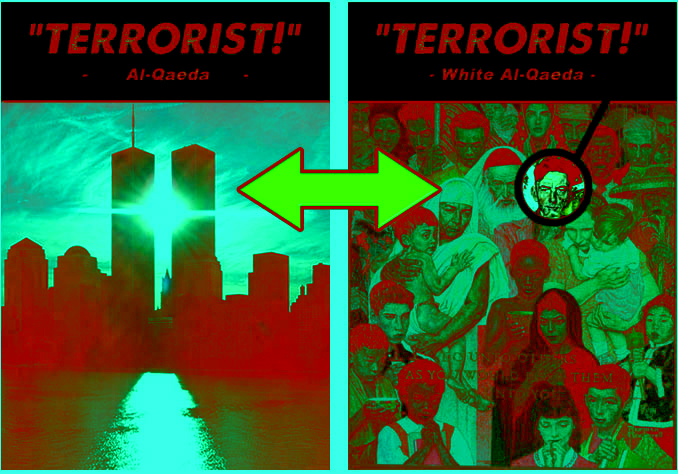 Attorney General Holder: American People Are Terrorists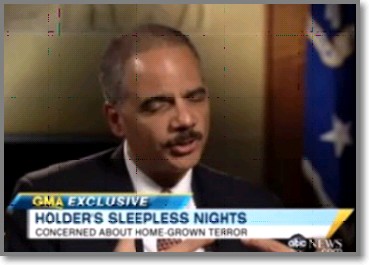 THE WAR ON TERROR IS AN ABSOLUTE FRAUD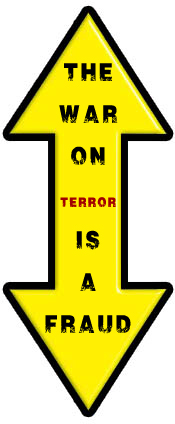 [OBAMA RELEASES MAJOR TERRORIST ORGANIZERS OF THE TALIBAN]
Could Obama Face Impeachment For Bergdahl release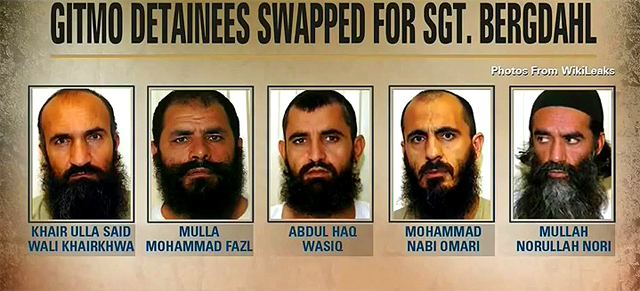 What happened in the last few weeks to change the Bergdahal situation? Was he a CIA operative, or was this a failed attempt to take the heat off the VA scandal?
Impeachment now very valid argument
http://www.infowars.com/judge-napolit...
Jay Carney 2013: we won't transfer detainess without consulting congress
http://www.weeklystandard.com/blogs/j...
Obama clearly broke the law
http://www.infowars.com/pro-obama-har...
Is this a ramp up to "White al Qaeda"
http://www.infowars.com/holder-to-cre...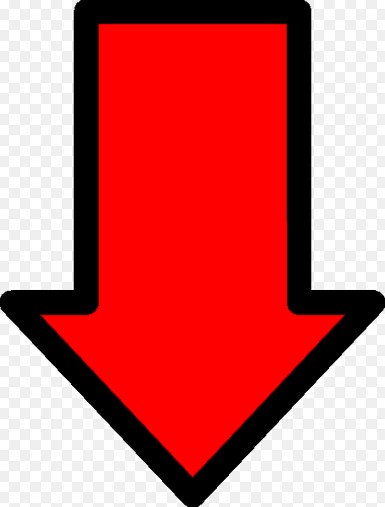 LINK : THE FAKE WAR ON TERROR!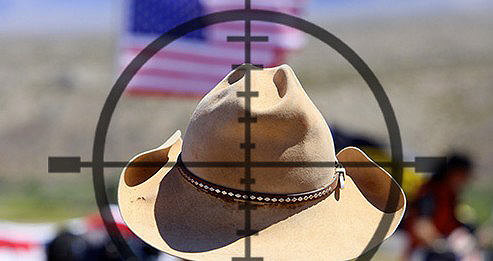 Alex Jones breaks down the bigger picture behind the move to turn the war on terror against American citizens
EVERYONE IS A TERRORIST

White House Tells Parents: Children Could Be Terrorists!
I have told you this was coming. Under the new homeland we are all the enemy in the eyes of the occupiers.
LINKS :
AGENDA 21 Cliven Bundy Case Example
Police Trained That Informed Americans Are Terrorists
Troops Ordered To Kill All Americans Who Do Not Turn In Guns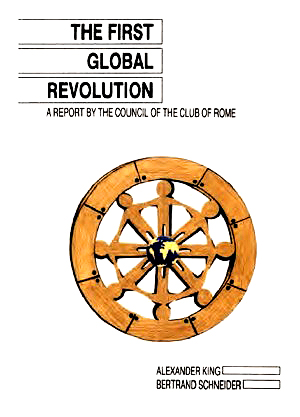 In 1991, the Club published The First Global Revolution. It analyses the problems of humanity, calling these collectively or in essence the 'problematique'. It notes (laments) that, historically, social or political unity has commonly been motivated by enemies in common: "The need for enemies seems to be a common historical factor. Some states have striven to overcome domestic failure and internal contradictions by blaming external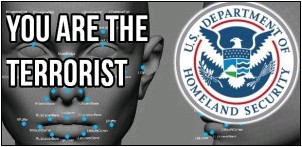 enemies. The ploy of finding a scapegoat is as old as mankind itself - when things become too difficult at home, divert attention to adventure abroad. Bring the divided nation together to face an outside enemy, either a real one, or else one invented for the purpose. With the disappearance of the traditional enemy, the temptation is to use religious or ethnic minorities as scapegoats, especially those whose differences from the majority are disturbing." "Every state has been so used to classifying its neighbours as friend or foe, that the sudden absence of traditional adversaries has left governments and public opinion with a great void to fill. New enemies have to be identified, new strategies imagined, and new weapons devised."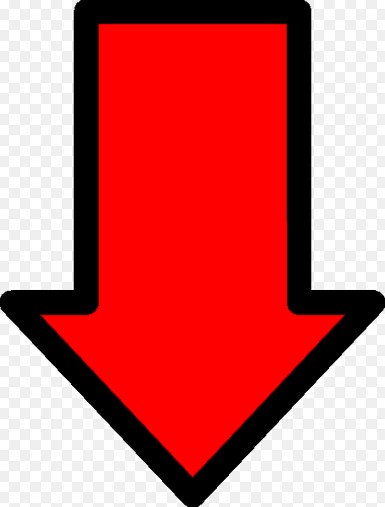 THE GLOBALISTS MOVE FROM THEIR ALQAEDA CREATION, TO FABRICATING HOMEGROWN DOMESTIC TERROR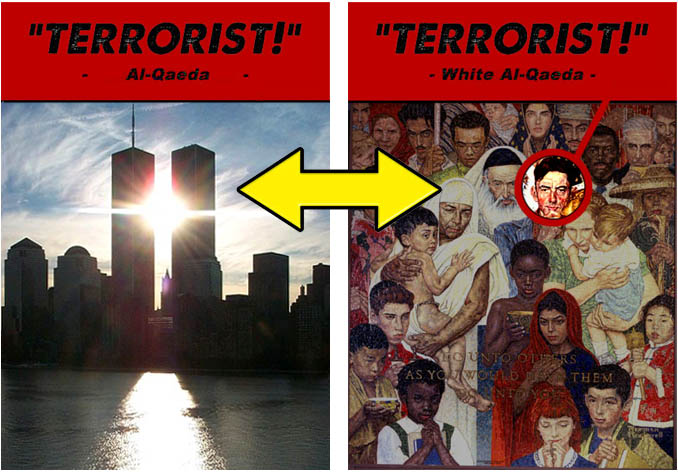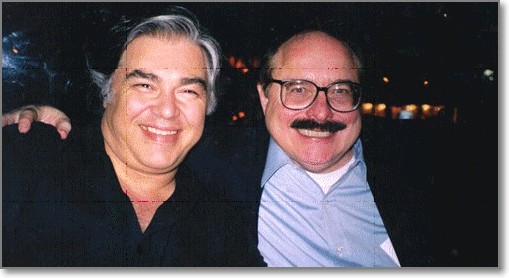 Several years ago, after his popular video "Mad As Hell" was released and Aaron Russo began his campaign to become Governor of Nevada, Russo was noticed by Nicholas Rockefeller and introduced to him by a female attorney. Seeing Russo's passion and ability to affect change, Rockefeller set about on a subtle mission to recruit Russo into the elite's CFR. Watch the full interview here: Reflections and Warnings.
Aaron Russo talks about the CFR...And The Fake War On Terror!
Aaron Russo talks about the CFR...And The Fake War On Terrorism!
LINKS :
Educational System Dismantlement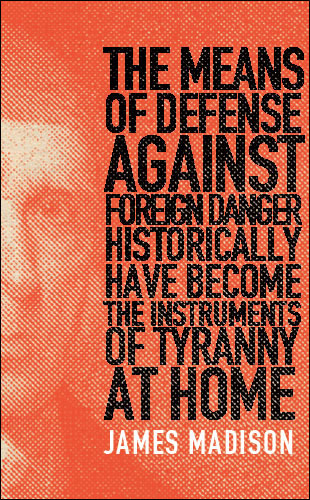 LINK : THE FAKE WAR ON TERROR

REACH OUT TO OTHERS
[Help Educate Family And Friends With This Page And The Links Below]
---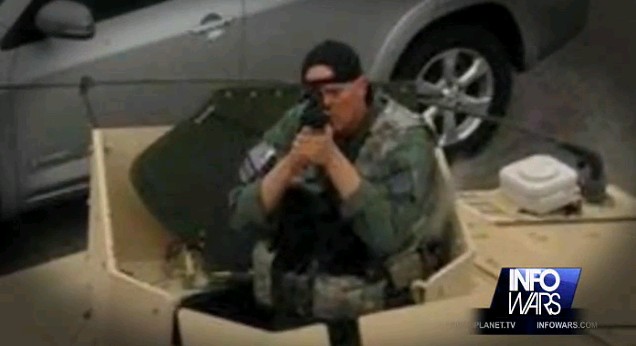 MORE:
Troops Ordered To Kill All Americans Who Do Not Turn In Guns
Law Enforcement Requested Shooting Targets of Pregnant Women
DHS Preparing For 7-Year War Against American People
Police Trained That Informed Americans Are Terrorists
Federal Government Moves to Disarm Veterans
Boy Scouts Trained To Disarm Public
Military Takeover Plans and Psyops
Martial Law Rise of The Police State
These 12 Hellholes Are Examples Of What The Rest Of America Will Look Like Soon