WAR ON TERROR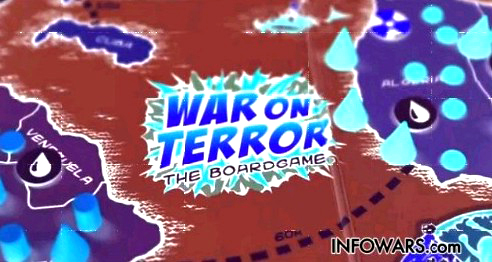 The bottom line answer is that the "war on terror" is about creating real terrorists. The US government desperately needs real terrorists in order to justify its expansion of its wars against Muslim countries and to keep the American people sufficiently fearful that they continue to accept the police state that provides "security from terrorists," but not from the government that has discarded civil liberties.
---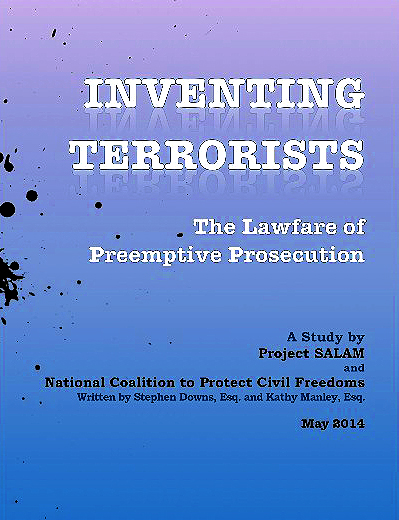 Inventing Terrorists:
US orchestrated most domestic 'terror-plots'?

We've all heard of pre-emptive strikes but what about pre-emptive prosecutions? Muslims in the US are outraged by what appears to be America's latest tactic in its war on terror - entrapping people it suspects might plan terrorist acts in the future. Marina Portnaya explains how almost 95% of convictions for this crime are the result of FBI provocation.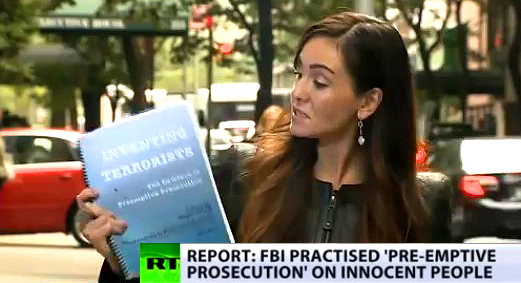 http://www.projectsalam.org/Inventing-Terrorists-study.pdf
LINK : F.B.I.
U.S. Backed Terror, Inc.

The U.S. has a deep history in dealing with terror organizations. Joe Biggs breaks down the connections between the US and terror organizations like I.S.I.S.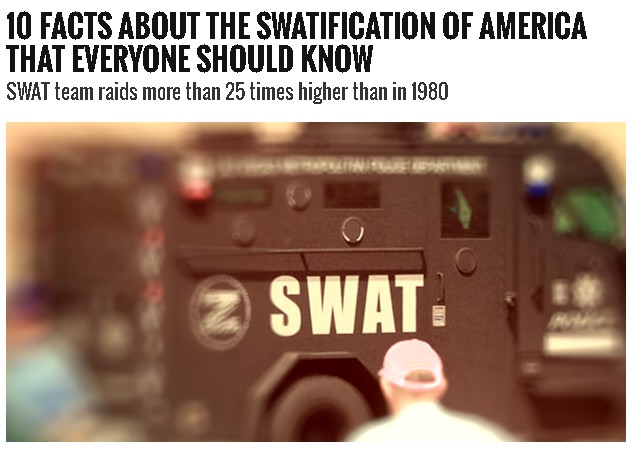 10 Facts About The SWATification Of America That Everyone Should Know
SWAT team raids more than 25 times higher than in 1980

by Michael Snyder | American Dream | June 26, 2014
T

he number of SWAT team raids in the United States every year is now more than 25 times higher than it was back in 1980.

As America has conducted wars overseas in recent years, our police forces have become increasingly militarized as well. And without a doubt, many of our cities have become much more dangerous places. Thanks torelentless illegal immigration, drug cartels are thriving and there are now at least 1.4 million gang members living in the United States. But there are many that believe that the militarization of our police forces has gone way too far. Almost weekly, SWAT team brutality somewhere in America makes national headlines. You are about to read about a couple of horrific examples of this below. Once upon a time, police in America were helpful and friendly and the public generally trusted them. But now our police forces are being transformed into military-style units that often act like they are in the middle of Iraq or Afghanistan. The following are 10 facts about the SWATification of America that everyone should know…

#1 In 1980, there were approximately 3,000 SWAT raids in the United States. Now, there are more than 80,000 SWAT raids per year in this country.

#2 79 percent of the time, SWAT teams are deployed to private homes.

#3 50 percent of the victims of SWAT raids are either black or Latino.

#4 In 65 percent of SWAT deployments, "a battering ram, boot, or some sort of explosive device" is used to gain forced entry to a home.

#5 62 percent of all SWAT raids involve a search for drugs.

#6 In at least 36 percent of all SWAT raids, "no contraband of any kind" is found by the police.

#7 In cases where it is suspected that there is a weapon in the home, police only find a weapon 35 percent of the time.

#8 More than 100 American families have their homes raided by SWAT teamsevery single day.

#9 Only 7 percent of all SWAT deployments are for "hostage, barricade or active-shooter scenarios".

#10 Even small towns are getting SWAT teams now. 30 years ago, only 25.6 percent of communities with populations between 25,000 and 50,000 people had a SWAT team. Now, that number has increased to 80 percent.

And thanks to the wars in Iraq and Afghanistan, police forces all over the nation are being showered with billions of dollars of military equipment that is coming home from overseas. The following is what a recent Time Magazine articlehad to say about this phenomenon…
As the Iraq and Afghanistan wars have wound down, police departments have been obtaining military equipment, vehicles and uniforms that have flowed directly from the Department of Defense. According to a new report by the ACLU, the federal government has funneled $4.3 billion of military property to law enforcement agencies since the late 1990s, including $450 million worth in 2013. Five hundred law enforcement agencies have received Mine Resistant Ambush Protected (MRAP) vehicles, built to withstand bomb blasts. More than 15,000 items of military protective equipment and "battle dress uniforms," or fatigues worn by the U.S. Army, have been transferred. The report includes details of police agencies in towns like North Little Rock, Ark., (pop: 62,000), which has 34 automatic and semi-automatic rifles, a Mamba tactical vehicle and two MARCbots, which are armed robots designed for use in Afghanistan.
But when you start arming the police like military units and your start training them like military units, eventually they start acting like military units and the results are often quite frightening.
For example, just check out what happened when a SWAT team in Florida raided the home of one young couple earlier this month…
At approximately 6:16 am on June 10th, 2014, Kari Edwards and her live-in boyfriend were seized upon by a SWAT team who smashed in the door and using flashbangs and armed to the teeth, swarmed upon the couple and even stripped Ms. Edwards naked in the process.

The couple says that the group entailed personnel from DHS, for whom Edwards once worked. After smashing in the door, the tactical team threw in flashbang grenades, traumatizing their cat and swarmed upon Edwards's boyfriend and Edwards who had just gotten out of the shower.

"They busted in like I was a terrorist or something," Edwards said.

"[An officer] demanded that I drop the towel I was covering my naked body with before snatching it off me physically and throwing me to the ground."

"While I lay naked, I was cuffed so tightly I could not feel my hands. For no reason, at gunpoint," Edwards said. "[Agents] refused to cover me, no matter how many times I asked."
That is the kind of thing that I would expect to happen in Nazi Germany, not the United States of America.
But this next example is even more horrifying. The following is what one mother says happened to her 2-year-old son when a SWAT team raided her home…
After the SWAT team broke down the door, they threw a flashbang grenade inside. It landed in my son's crib.

Flashbang grenades were created for soldiers to use during battle. When they explode, the noise is so loud and the flash is so bright that anyone close by is temporarily blinded and deafened. It's been three weeks since the flashbang exploded next to my sleeping baby, and he's still covered in burns.

There's still a hole in his chest that exposes his ribs. At least that's what I've been told; I'm afraid to look.

My husband's nephew, the one they were looking for, wasn't there. He doesn't even live in that house. After breaking down the door, throwing my husband to the ground, and screaming at my children, the officers – armed with M16s – filed through the house like they were playing war. They searched for drugs and never found any.

I heard my baby wailing and asked one of the officers to let me hold him. He screamed at me to sit down and shut up and blocked my view, so I couldn't see my son. I could see a singed crib. And I could see a pool of blood. The officers yelled at me to calm down and told me my son was fine, that he'd just lost a tooth.
Does that make you angry?
It should.
That young child is probably going to be disfigured for the rest of his life because of the brutality and the carelessness of that SWAT team.
Yes, we live in perilous times and many of our communities would rapidly descend into anarchy if there were no police.
But that does not mean that they have to act like Nazis. They should be able to protect us while treating us with dignity and respect at the same time.
So what do you think?
Please share your opinion by posting a comment below…
DHS Raid Leaves Florida Woman Naked In Front Yard

Two hours of pure hell" as SWAT team trashes home
Rights Come From God...Not Government!

David Knight speaks with Cheryl Chumley discussing the egregious overstepping of constitutional rights by both the federal government and local police forces across America.
http://www.infowars.com/pentagon-offi...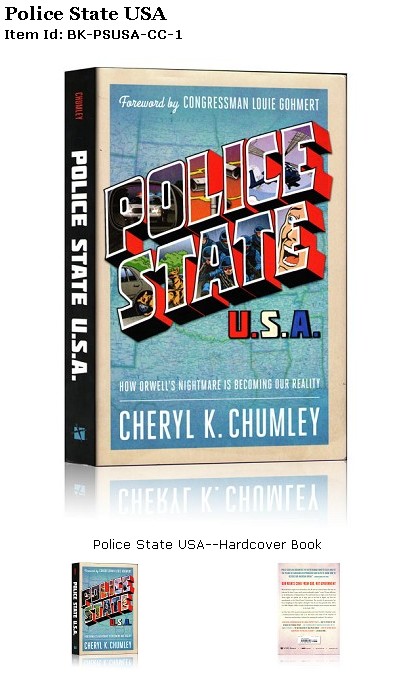 http://www.infowarsshop.com/Police-State-USA_p_1312.html
Description
How Orwell's nightmare is becoming our reality.
In five years, we will really start to wonder what happened to America. In 10 years, our kids won't know the America of our youth. And in 25 years, we won't recognize America at all.
The Constitution will be a relic, tossed on the same trash heap as the Bible. The notion of God-given rights will be replaced by government control, and privacy rights will have crumbled along with Fourth Amendment guarantees that protect us from warrantless searches of home, possessions and self.
Police State USA by Cheryl K. Chumley chronicles how America has arrived at the point of being a de facto police state. It explains what led to an out-of-control government that increasingly ignores the Constitution and exploits 9/11 security fears to justify spying on its citizens. Stunning new surveillance technology now makes it easier to keep tabs on people. The acquisition by police departments of major battlefield equipment emboldens officials to strong-arm those they should be protecting. This combined with the failure of the news media to report government violations of citizens' rights sets the stage for a very slippery slope.
Our arrival at this brave new world has been surprisingly quick. Most of the ideological changes have occurred in the past few decades, and the overreach of the NSA, the strong-arm tactics of the IRS and the militarization of the police already dominate the news.
Award-winning journalist and Washington Times writer Cheryl K. Chumley documents a problem weighing heavily on the hearts and minds of Americans. Within Police State USA she explores:
How radical environmentalism has eroded property rights.
How the Patriot Act has intruded on personal privacy.
The extended reach of American intelligence in the name of security.
The militarization of local police forces.
How the national media misrepresents the policies of security.
Plus much, much more.
Police State USA explains how America is standing on the cusp of a police state, outlines clear, common-sense solutions to the erosion of our freedoms and explains how we might reverse it. And the good news is: It's not too late to do that.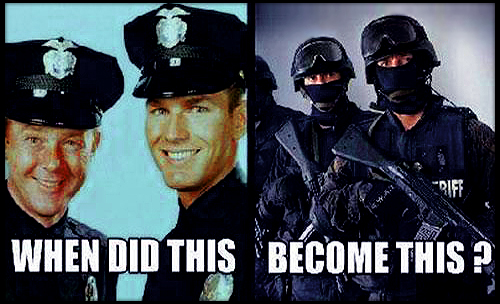 SWAT Raid Leaves Toddler With Burned Face
This is at least the third episode in which a SWAT team has burned a child during a night-time raid. http://www.infowars.com/a-country-whe...
http://capitalismisfreedom.com/swat-t...
http://www.prisonplanet.com/swat-team...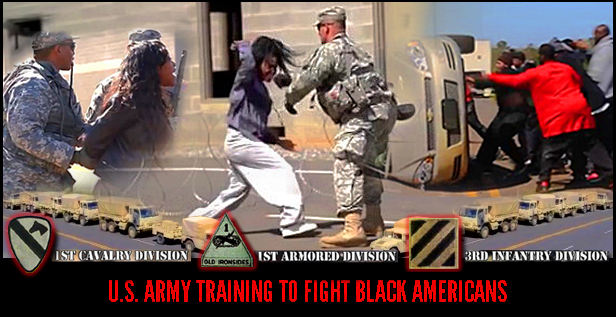 In the video below, Alex Jones highlights how the Guardian Centers video is yet another startling indication that authorities in the United States are preparing for civil unrest as America increasingly begins to resemble a militarized police state.
U.S. Army Training to Fight Black Americans
LINKS :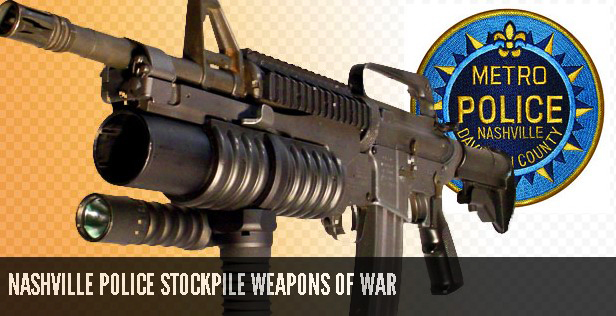 Nashville Police Stockpile Weapons Of War
Items include grenade launchers
by Ben Hall | NewsChannel5.com | July 20, 2014

NASHVILLE, Tenn. -- A massive military build-up is underway right here in Tennessee.
Local law enforcement agencies are snatching up huge amounts of weapons -- from the Department of Defense -- used in fighting in Iraq and Afghanistan.
Items include grenade launchers, mine-resistant vehicles and guns that have been deemed as surplus by the Pentagon.
The equipment is cheap or free for local law enforcement agencies to acquire.
The federal program has fueled a debate about the militarization of our police departments.
McMinn County is located in the foothills of the Appalachian Mountains. It boasts beautiful scenery, but its sheriff's department can boast something else.
The department received more military surplus guns than any other local department in the state last year.
"We actually reconfigured the whole armory to accommodate all of this," said Sheriff Joe Guy.
Sheriff Guy oversees 31 officers and investigators, but his department received 161 army rifles and pistols, including 71 M16 rifles and 71 .45-caliber pistols.
NewsChannel 5 Investigates asked, "Why does your department need all these guns?"
Sheriff Guy responded, "Well, we don't need this many. There was a little error in the order."
The Sheriff said the Army surplus program doubled his initial order, but he hasn't sent the guns back.
"They're here as our department grows. We'll have additional firearms for future officers," Sheriff Guy said.
McMinn County is not alone.
A spreadsheet obtained by NewsChannel 5 Investigates shows thousands of pieces of military equipment going to Tennessee law enforcement agencies.
Equipment used to fight in Iraq and Afghanistan is now going to local departments.
"The way this stuff is being distributed, it's kind of reckless," said author Radley Balko.
He has written a book, Rise of the Warrior Cop, that raises concerns about militarization of American police departments.
"What we've seen is just a massive transfer of gear, guns, vehicles and other weaponry," Balko said.
Law enforcement agencies can go to a website administered by the Department of Defense and look for used equipment.
On the day we went to McMinn County, the department was looking for Humvees. Sheriff Guy reviewed what was available.
"It looks good," Sheriff Guy said to an employee who was looking up a vehicle on-line.
The employee responded, "It's got 14-hundred miles on it."
"How many of those did you put in for?" Sheriff Guy asked.
"Three," his employee answered.
Sheriff Guy responded, "Three of those and one truck."
Departments pay a registration fee, then all the equipment is free. Individual departments must pay for transportation and maintenance.
"The disbursement across the country is so uneven and random and sort of based on who is good at manipulating the system," Balko said.
Thirty Tennessee departments just received mine-resistant vehicles. They were designed to protect soldiers from road side bombs in Iraq and Afghanistan.
Lebanon Public Safety, La Vergne and Hendersonville Police Departments all received MRAPS.
"This is our newest armored protective vehicle," said Mike Justice with Lebanon Public Safety.
Justice hopes Lebanon police officers never use it.
"The situations we would use this vehicle in is hostage negotiations, putting this vehicle between the bad guy and the good guys," Justice said.
He said the surplus program is critical to smaller departments. It provides equipment is not just military in nature including trucks, lawn mowers and tents.
Many small departments could not afford them on their own.
"As a taxpayer, I paid for it the first time. When I paid my federal income tax, I paid for this vehicle. So the citizens of Lebanon now get the benefit from it," Justice said standing beside the MRAP.
But Balko said the militarization of police departments comes at a price, like more SWAT raids.
"What we've done is encourage the police to become more like the military," Balko said.
"When you surround yourself with the weapons of war, with the language of war, you're going to be much less likely to look for ways of resolving disputes using the least amount of force possible," Balko continued.
Our investigation also found some departments can't keep up with the weapons they're getting.
The Tennessee Highway Patrol reported two M14s missing last year.
A TWRA park ranger had an M16 stolen from his vehicle -- it was later recovered.
And at the tiny Bean Station Police Department in East Tennessee, the police chief's son took an M16 from the program and was arrested for impersonating a police officer.
"It's concerning that this stuff is getting lost or stolen because I think it again indicates how little monitoring the Pentagon is doing once this stuff gets out of their reach," Balko said.
Sheriff Guy keeps his guns locked up and knows where each one is.
But for some, a department with five times more guns than patrol officers raises questions about the military surplus program.
"There was never any sort of public debate on this, or public discourse. It all sort of happened under the radar, and I think that's concerning," Balko said.
Late Thursday, the Department of General Services told NewsChannel 5 Investigates that it has suspended the state coordinator of the Law Enforcement Support Office (LESO).
Elbert Baker is on administrative leave with pay. The Department of General Services stated it discovered that it had given inaccurate and incomplete information to NewsChannel 5 Investigates.
We had asked for documentation involving missing weapons in the LESO program.
The state has alerted its auditors and is conducting a review of LESO files, records and internal controls, a spokesperson said. The auditors have notified the comptroller's office they are investigating a possible internal deficiency.
Finally, the Department of General Services expressed thanks to NewsChannel 5 Investigates for bringing "to light a record-keeping deficiency of which our department was previously unaware."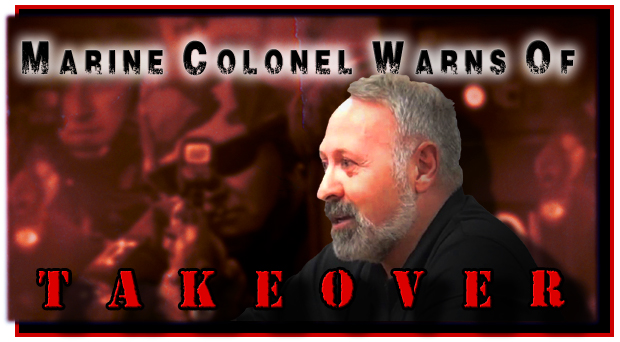 A former Marine Corps Colonel who was stationed in Fallujah and trained Iraqi soldiers warns that the Department of Homeland Security is working with law enforcement to build a "domestic army," because the federal government is afraid of its own citizens.
In this exclusive in studio interview Ret. Col Martino covers the DHS buildup and solutions our overreaching corrupt government officials.
Ret. Marine Col:
DHS Is Prepping For War With Americans
LINKS :
Police Trained That Informed Americans Are Terrorists
Doomsday Preppers Will Be Treated As Terrorists
The NSA (National Security Agency)
Tattle-Tell Squads and Surveillance
Homeland Security Agents Raid Home to Seize Land Rover For Violation of EPA Regulations
Protecting America from the deadly threat posed by vehicles which flout emission standards

by Paul Joseph Watson | July 29, 2014
In another example of how the Department of Homeland Security has expanded far outside the purview of its original function, six vehicles full of DHS agents were required to seize a Land Rover from a couple in Statesville, N.C. due to the fact that the vehicle allegedly violates EPA emission standards.
As part of its mission to "protect the Homeland," the DHS has been busy seizing imported vehicles that don't comply with safety and CO2 regulations.
Jennifer and Bill Brinkley were satisfied that their $60,000 dollar purchase of a Land Rover Defender on eBay complied with regulations because it fell into the exemption category of a vehicle 25 years or older.
However, when DHS agents turned up at the property, they compared the car's Vehicle Identification Number to a list and immediately seized the Land Rover. The couple were not given "a chance to debate the issue."
WBTV's Steve Ohnesorge said DHS agents conducted "almost like a raid to get the car."
"it's just unnerving the way they did it," said Bill Brinkley.
The feds have given the Brinkley's 35 days to appeal the seizure but refuse to tell them where the vehicle is located. The DHS has also failed to respond to media requests about the incident.
The Department of Homeland Security, created in the aftermath of 9/11, was tasked with the role of protecting America from terrorists, man-made accidents and natural disasters. However, the DHS has been turned into a national police force with a remit that extends from seizing websites for copyright infringement to confiscating fake NFL merchandise.
As the Rutherford Institute's John Whitehead explained in a widely circulated article last month, the DHS is becoming America's domestic standing army.
"The menace of a national police force, aka a standing army, vested with so much power cannot be overstated, nor can its danger be ignored," wrote Whitehead, before listing numerous examples of how the DHS is instrumental in pushing America's decline into a militarized police state.
One such example occurred earlier this month in Greenville, North Carolina, when teams of armed DHS agents showed up outside a courthouse building. There was no threat to the building – the purpose of the agents' presence was to "let people know they're in the area," while encouraging residents to snitch on their neighbors via the 'See Something, Say Something' program.
In another incident, the DHS conducted a military-style invasion of a small town in Illinois complete with armored vehicles, a Black Hawk helicopter and a phalanx of heavy duty equipment and weaponry. It subsequently emerged that the reason behind the show of force – which spooked locals – was to apprehend one man for downloading indecent images on his computer.
Given this history, the Brinkleys should probably count themselves lucky that they didn't have guns pointed at their head during the seizure of the Land Rover, which the DHS apparently sees as a bigger threat to America than the nation's porous borders and the fact that the TSA, a subdivision of the DHS, allows illegal aliens to board planes without identification.
Facebook @ https://www.facebook.com/paul.j.watson.71
FOLLOW Paul Joseph Watson @ https://twitter.com/PrisonPlanet
*********************
Paul Joseph Watson is the editor at large of Infowars.com and Prison Planet.com.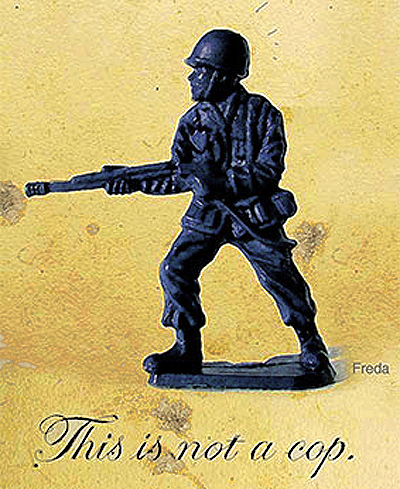 DOD Transferred Over $4.3B in Military Equipment to Local Police
August 21, 2014 - 3:57 PM
By Paul Lagarde
(CNSNews.com)
The Department of Defense transferred over $4.3 billion worth of surplus military equipment--including 345 Mine Resistant Ambush Protected vehicles (MRAPs), 205 grenade launchers and over 12,000 bayonets--to more than 17,000 state and local law enforcement agencies across the nation since 1997.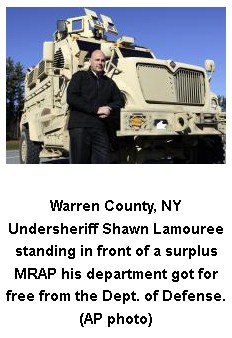 The transfers were made under the 1033 program of the National Defense Authorization Act and administered by the Defense Logistics Agency (DLA), according to a report by the American Civil Liberties Union (ACLU) entitled War Comes Home: The Excessive Militarization of American Policing.
The DLA website does not include a comprehensive list of where surplus military equipment winds up, but a spokesman for the agency told CNSNews.com that a database found on the Detroit Free Press website that lists military equipment distributed since 2006 was accurate because the data had previously been obtained from the DLA under the Freedom of Information Act.
A CNSNews.com review of the database found that some of the surplus items, such as binoculars and .45-caliber pistols, can easily transition to a civilian police setting.
But other equipment clearly intended for military use has also been sent to local law enforcement agencies. For example, in March, Wyoming's Laramie County received an MRAP from the DLA. The Laramie County sheriff's office told CNSNews.com that there have never been any recorded instances of landmines in the rural county, which has a population of just over 91,000.
Concerns over increased militarization of the police have prompted calls from both the left and the right for an end to the 1033 program.
"Militarization unfairly impacts people of color and undermines individual liberties, and it has been allowed to happen in the absence of any meaningful public discussion," the ACLU report stated.
"Dressing police officers as soldiers is dangerous because the mindset of a soldier is entirely inappropriate for a police officer," writes Tim Lynch of the Cato Institute. "Soldiers fight a military enemy; police officers deal with citizens, who are protected by the Bill of Rights."
"If the Pentagon hands local cops millions of dollars' worth of hammers, it should be no surprise when suddenly everything looks like a nail," Lynch added.
But Crisp County, GA Sheriff Bill Hancock disagrees that the 1033 program should be scrapped, pointing out the benefits for small local law enforcement agencies like his.
Hancock told CNSNews.com that Crisp County also received a MRAP in February through the 1033 program, but that the sheriff's office has removed the gun mount from the top and has not used it to date. He added that it would only be used in a hostage or shooting situation where officers' lives could be in danger.
"It's a good program," Hancock told CNSNews.com. "You take that program away and somebody my size is not going to be able to equip all their SRT [Special Response Team] members with bulletproof vests. We're not going to be able to equip them with night vision equipment. We're not going to have some small handguns that we need because you're gonna do away with the whole program."
"So let's put restrictions and guidelines on it; [but] let's don't just arbitrarily jump up and say, 'Do away with the program.'"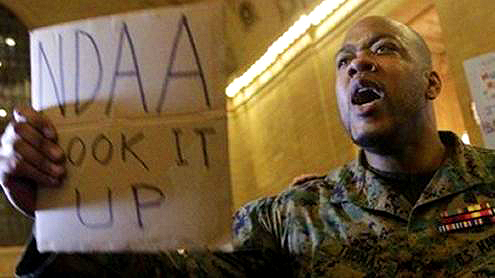 LINK : NDAA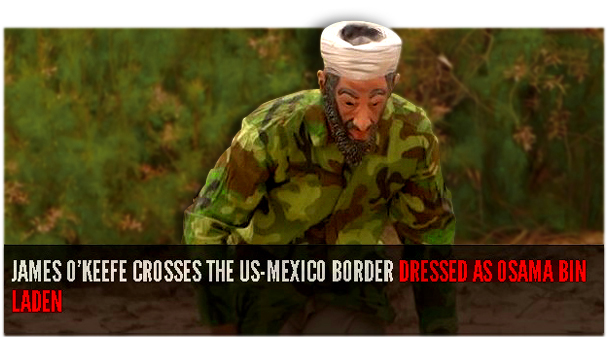 James O'Keefe Crosses The US-Mexico Border Dressed As Osama Bin Laden
O'Keefe: "I see no border patrol. I see no security."
by Patrick Howley | Daily Caller | August 11, 2014
Investigative filmmaker James O'Keefe exposes the U.S.-Mexico border's vulnerability to terrorism in his latest undercover project, obtained exclusively by The Daily Caller.
O'Keefe's Project Veritas video reminds viewers of recent statements by the president and Obama administration officials that the southern border is secure. O'Keefe then proceeds to Hudspeth County, Texas, to easily cross back and forth cross the Rio Grande wearing the costume of modern history's most recognizable terrorist.
"I see no border patrol. I see no security," O'Keefe said in the video before donning a bin Laden mask. "Thousands of people have stood in my footsteps right now. They've come from South America, Honduras, Guatemala, and they've all crossed the border. And if they can cross, anybody can cross." (RELATED: The Time Fidel Castro Snuck Into America From Mexico)
O'Keefe's work often distinguishes itself for proving taboo but accurate premises – in this case, that Islamic extremists are able to gain entry to the United States from Mexico, where drug cartels are linked to numerous terrorist organizations including Hezbollah and the Islamic State of Iraq and the Levant (ISIS), the strongest al-Qaida-like organization in the heart of the Middle East.
This summer has seen a whirlwind of terrorist activity on the southern border, with dire anecdotes pouring out of local news stations but ignored by the mainstream press. Security contractors found a Muslim prayer rug on the Arizona border, where 300 extremists affiliated with al-Qaida's Somalia syndicate al-Shabab recently entered the United States unaccounted for. Terrorist watch-list suspects were also detained trying to get into the country through California. Country music legend Charlie Daniels revealed that, "I personally spoke with an Arizona law enforcement officer who had taken four what he called 'Taliban' out of the back of an 18 wheeler."
Relevant on the contemporary merits, O'Keefe's video also makes an important symbolic point thirteen confusing years after the attacks of 9/11. The terrorists we're fighting today are more technologically savvy than their idol Osama bin Laden, the self-designed political figure who tried to fire history's loudest shot. But their motives have not changed. And they have access to the United States.
Read more: http://dailycaller.com/2014/08/11/new-video-james-okeefe-crosses-the-border-as-osama-bin-laden/#ixzz3A6QksaDG
LINKS :
Could AWOL Afghanis Become Domestic Terrorist Threat?

Published on Sep 22, 2014
Alex Jones brings former Army Staff Sergeant Joe Biggs into the studio to talk about the breaking news involving missing Afghani soldiers in Cape Cod.
http://www.infowars.com/missing-afgha...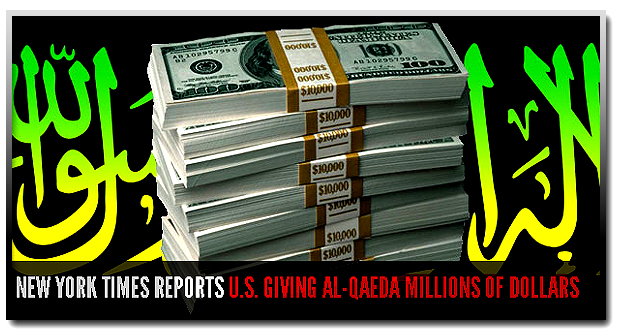 New York Times Reports U.S. Giving al-Qaeda Millions of Dollars
Staggering amount of evidence reveals terror is U.S. and Saudi creation
by Kurt Nimmo | Infowars.com | March 17, 2015
T

he U.S. government says it has given al-Qaeda millions of dollars "largely because of poor oversight and loose financial controls," reports The New York Times.

Accodding to Fox News and the corporate media it is merely another instance of graft and government mismanagement.

The money, supposedly part of a secret CIA fund to pay kidnappers, was used by al-Qaeda for operational costs and weapons.

The United States and Britain insist they do not pay ransom to terrorist groups.

Details of the money transfers supposedly showed up in the papers of Osama bin Laden who was, according to the official war on terror narrative, killed in 2010 in Pakistan by U.S. Navy SEALs. In fact, according to multiples sources, the former CIA operator who headed up the Arab Afghans in the CIA's war against the Soviet Union in Afghanistan died in late 2001, not 2010 as the government and its corporate media insist.

A fictional twist to the government story on the payment to al-Qaeda has Osama bin Laden worried the money was contaminated with radiation or poison or that it would be used to track al-Qaeda leaders and operatives.
Funding Crucial to War on Terror Operation
The recent effort to fund the enemy and thus continue unabated the highly profitable military industrial complex and government manufactured war on terror has cost over a hundred million dollars, most of it dispensed under the excuse of paying ransom, which the U.S. publicly denies paying.
In 2013 alone, the United States paid out $165 million. Since 2008, according to the Times, other countries added the following amounts to the total:
France: $58.1 Million
Qatar and Oman: $20.4 Million
Switzerland: $12.4 Million
Spain: $11 Million
Austria: $3.2 Million
Undetermined Countries: $21.4 Million
Additionally, millions of dollars ends up in al-Qaeda and Taliban coffers through contractors working in Afghanistan.
"I am deeply troubled that the US military can pursue, attack and even kill terrorists and their supporters," said John Sopko, Special Inspector General for Afghan Reconstruction, in a letter sent to Congress in 2013, "but that some in the US government believe we cannot prevent these same people from receiving a government contract."
The U.S., through its Gulf Emirate partners, has allowed millions of dollars to flow into the coffers of al-Qaeda — and now ISIS — affiliated proxy mercenary groups in Syria.
From the CIA's massive operation in Afghanistan, funding and creating the Mujahideen that would become al-Qaeda and the Taliban, to its work with other terrorist groups, including the drug-running Kosovo Liberation Army, Chechnya terrorists and the Jundullah terrorists attacking Iran, there is plenty of evidence the United States government and its partners are engaged in supporting terrorist groups for political gain.
As Sam Muhho notes, it is not religious sectarianism or the Wahhabist drive to execute apostates under the banner of ISIS that is the problem, but rather it "is the hegemonic and imperialist designs of the NATO governments who have on-record worked with Saudi Arabia and Qatar to use Islamic extremists throughout the Middle East as their 'Swiss army knife of destabilization' in order to reorient the Middle East per their interests."
As Robert Dreyfuss (Devil's Game: How the United States Helped Unleash Fundamentalist Islam) and others (namely Peter D. Goodgame: The Globalists and the Islamists: Fomenting the "Clash of Civilizations" for a New World Order) have eloquently and exhaustively documented, the United States, Britain and their Saudi and Qatari partners are responsible for Islamic terrorism routinely exaggerated for propaganda purposes by the corporate media. This support includes direct funding and, more recently hands-on military training of ISIS terrorists by the U.S. military in Jordan.
The ISIS phase of the clash of civilizations, as plotted by the neocons and the globalist think tanks, is designed to make the war on terror a permanent feature. It not only enriches the military industrial complex and a burgeoning national and homeland security industry, but also aimed at threatening the designs of China and Russia in the Middle East and Africa, supporting the "imperial geostrategy," as Zbigniew Brzezinski described it, and thus "prevent collusion and maintain security dependence among the vassals, to keep tributaries pliant and protected, and to keep the barbarians from coming together."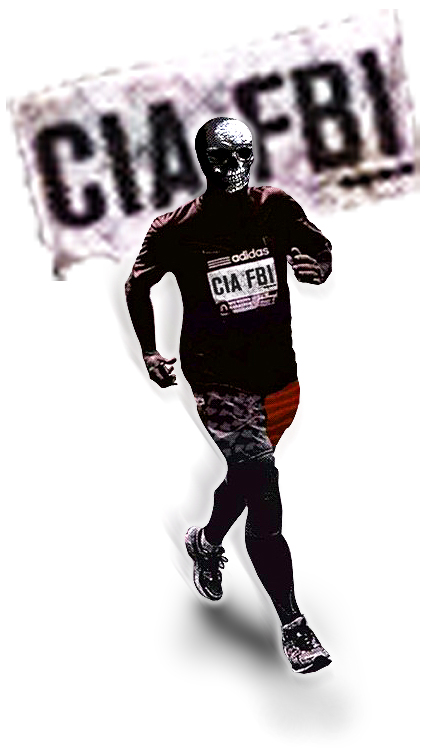 THE CIA
An independent agency of the United States government responsible for collecting and coordinating intelligence and counterintelligence activities abroad in the national interest; headed by the Director of Central Intelligence under the supervision of the President and National Security Council...There has been considerable criticism of the CIA relating to security and counterintelligence failures, failures in intelligence analysis, human rights concerns, external investigations and document releases, influencing public opinion and law enforcement, drug trafficking, and lying to Congress. In 1987, the former CIA Station Chief in Angola in 1976, John Stockwell, said the CIA is responsible for tens of thousands of covert actions and destablization programs since it was created by Congress with the passage of the National Security Act of 1947. At the time, Stockwell estimated that over 6 million people had died in CIA covert actions.
LINK : C.I.A.
THE FBI
The Federal Bureau of Investigation (FBI) is a governmental agency belonging to the United StatesDepartment of Justice that serves as both a federal criminal investigative body and an internal intelligence agency (counterintelligence). Also, it is the government agency responsible for investigating crimes on Indian reservations in the United States under the Major Crimes Act. The branch has investigative jurisdiction over violations of more than 200 categories of federal crime. The agency was established in 1908 as the Bureau of Investigation (BOI). Its name was changed to the Federal Bureau of Investigation (FBI) in 1935. The agency headquarters is the J. Edgar Hoover Building, located in Washington, D.C. The agency has fifty-six field offices located in major cities throughout the United States, and more than 400 resident agencies in lesser cities and areas across the nation. More than 50 international offices called "legal attachés" exist in U.S. embassies and consulates general worldwide.
'Federal Bureau of Investigation organizes almost all terror plots in the US' ...The report reveals that the FBI regularly infiltrates communities where they suspect terrorist-minded individuals to be engaging with others. Regardless of their intentions, agents are sent in to converse within the community, find suspects that could potentially carry out "lone wolf" attacks and then, more or less, encourage them to do so. By providing weaponry, funds and a plan, FBI-directed agents will encourage otherwise-unwilling participants to plot out terrorist attacks, only to bust them before any events fully materialize.
LINK : F.B.I.
TERROR STORM FINAL CUT (Full Movie)
Description
TerrorStorm: Special Edition DVD – Re-Mixed + Re-Mastered
Shocking uncovered video evidence and new interviews that reveal undeniable proof that governments plan and carry out false-flag events to manipulate the geo-political structure to their advantage

New footage from the historic 5th Anniversary 9/11 Truth rally at Ground Zero in New York City

Smoking gun evidence that mainstream media was staging news coverage on 9/11 – including false-start reports that Building 7 had totally collapsed over an hour before it fell

Powerful analysis of Transportation Secretary Norman Mineta's testimony before Congress that VP Cheney was clearly in control of the air defense stand down on 9/11

Learn how the mainstream media is covering up the fact that the majority of living 9/11 victims and their families believe September 11th was an inside job

New interviews and perspectives on false-flag terror and much more
Throughout history, criminal elements inside governments have carried out terror attacks against their own populations as a pretext to enslave them. TerrorStorm reveals how, in the last hundred years, western leaders have repeatedly murdered their own citizens while posing as their saviors.

In TerrorStorm you will discover that September 11th, the attacks of 7/7 in London, and many other terrorist events were self-inflicted wounds. You will witness British Special Forces troops caught in the act of staging terror attacks in Iraq and see official U.S. government documents laying out plans to hijack passenger planes by remote control. You will learn how the Reichstag fire, the Gulf of Tonkin and the U.S.-backed Iranian coup of 1953 are all interconnected false-flag terror events.
Support The Film Makers & Spread The Word : HQ Version
http://www.infowarsshop.com/TerrorStorm-Second-Edition-A-History-of-Government-Sponsored-Terrorism_p_12.html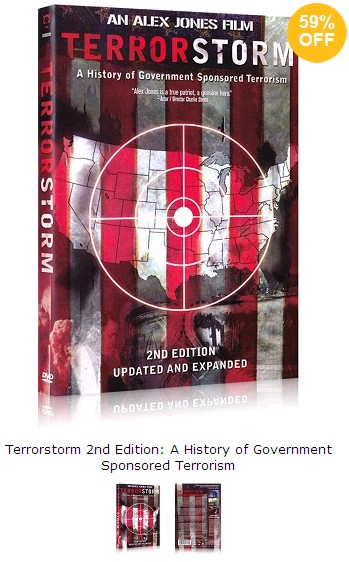 REACH OUT TO OTHERS
[Help Educate Family And Friends With This Page And The Links Below]
---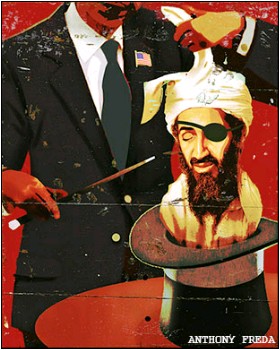 LINKS :
Obama Now Global Head of Alqaeda!
Proof: Bin Laden Death Another Gov't Lie
CIA Admit Making Fake Bin Laden Videos
Witness to Government False Flag : Kurt Haskell
Educational System Dismantlement
Tattle-Tell Squads and Surveillance
Post Office Trucks Stasi Data Collection Nodes
Twenty-Five Rules of Disinformation