You Are Being Targeted


It can no longer be denied that military and local law enforcement crosshairs have gradually been realigned from targeting phantom terrorists overseas to targeting domestic "extremists," a broad, all-encompassing term that accommodates anyone generally challenging or questioning the status quo
---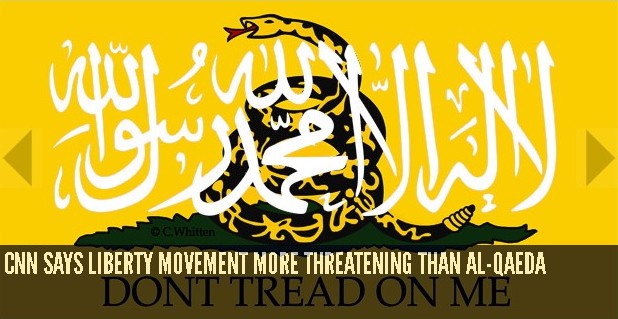 CNN Says Liberty Movement Bigger Threat Then Al-Qaeda
LINKS :
Obama Now Global Head of Alqaeda!

Jerad Miller exploited to jumpstart rightwing extremist meme
http://www.infowars.com/cnn-says-libe...
Vegas Shooter Conveniently Interviewed by MSM Last Month
http://www.infowars.com/coincidence-l...
Daily Mail calls Vegas Shooters "White Supremacist"
http://www.dailymail.co.uk/news/artic...
Sheriff: US is a Warzone, that's why We Need Military Equipment
http://www.infowars.com/indiana-sheri...
THE UN AGENDA : CIVILIAN DISARMAMENT
WATCH THE FULL PRESENTATION HERE: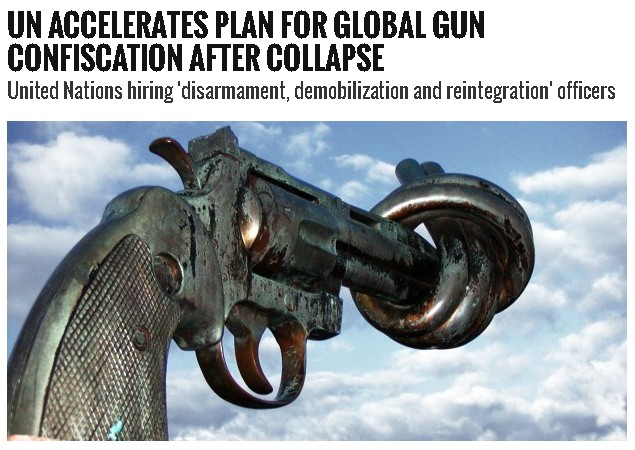 UN Accelerates Plan For Global Gun Confiscation After Collapse
United Nations hiring 'disarmament, demobilization and reintegration' officers
The United Nations is gearing up for gun confiscation in the event of a societal collapse in numerous countries by hiring "disarmament, demobilization and reintegration" officers who will be trained to seize guns "from the civilian population."
A posting on the United Nations Career Opportunities page announces a vacancy for the position of "Disarmament, Demobilization and Reintegration Officer" under the UN's Department of Peacekeeping Operations based out of New York.
UN Publicly Prepares For Gun Confiscation In US
We know they have been planning it for years, and the documents are legion. Now they are preparing to go operational.
The UN's page on DDR operations explains what role the DDR officer will be expected to undertake;
Disarmament is the collection, documentation, control and disposal of small arms, ammunition, explosives and light and heavy weapons from combatants and often from the civilian population.

Demobilization is the formal and controlled discharge of active combatants from armed forces and groups, including a phase of "reinsertion" which provides short-term assistance to ex-combatants.

Reintegration is the process by which ex-combatants acquire civilian status and gain sustainable employment and income. It is a political, social and economic process with an open time-frame, primarily taking place in communities at the local level.

The objective of the DDR process is to contribute to security and stability in post-conflict environments so that recovery and development can begin. DDR helps create an enabling environment for political and peace processes by dealing with security problem that arises when ex-combatants are trying to adjust to normal life, during the vital transition period from conflict to peace and development.
Although the posting prompted feverish speculation that the UN was about to embark on a mass gun confiscation program within the United States, it's important to note that the DDR program is only currently active in countries like the Democratic Republic of the Congo, Ivory Coast and Haiti.
However, concerns are understandable given the acceleration in anti-Second Amendment rhetoric and executive action on behalf of the Obama administration since the 2012 Sandy Hook massacre.
During a town hall event last week, Hillary Clinton asserted that gun control opponents should not be allowed to hold an opinion that "terrorizes" America.
Earlier this month, President Barack Obama also cited Australia's draconian gun confiscation program as an example to be followed by the U.S.
"It's no secret that the US government has been preparing riot gear, guns, ammunition, and detention centers for a major calamity that will likely involve violence and widespread civil unrest," writes Mac Slavo. Should such an event ever take place the first order of business will include a declaration of martial law. And just as we saw during Hurricane Katrina, when the U.S. Constitution has been suspended gun confiscation is soon to follow."
Since the 1990′s, Alex Jones and Infowars reporters have attended numerous urban warfare training drills inside the United States, many of which included exercises based around disarming American citizens. Foreign troops were also present at many of these drills.
Infowars first became aware of this story a week ago having been contacted by active duty military officials who saw the advertisement before it was posted publicly and we are currently working on a deeper angle that promises to provide further insight.
For anyone who still doubts that domestic gun confiscation would be plausible in the aftermath of a catastrophe, watch the short documentary below which highlights how authorities exploited Hurricane Katrina to seize firearms, including those belonging to residents who weren't even affected by the disaster.
Facebook @ https://www.facebook.com/paul.j.watson.71
FOLLOW Paul Joseph Watson @ https://twitter.com/PrisonPlanet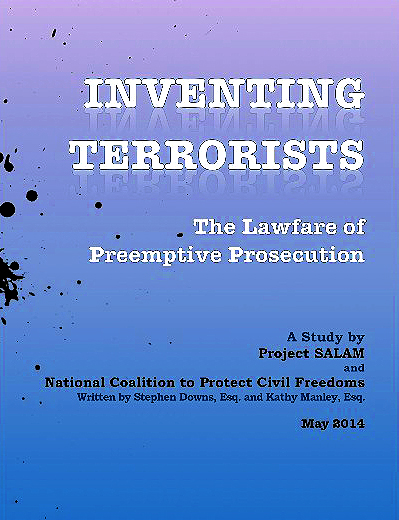 Inventing Terrorists:
US orchestrated most domestic 'terror-plots'?

We've all heard of pre-emptive strikes but what about pre-emptive prosecutions? Muslims in the US are outraged by what appears to be America's latest tactic in its war on terror - entrapping people it suspects might plan terrorist acts in the future. Marina Portnaya explains how almost 95% of convictions for this crime are the result of FBI provocation.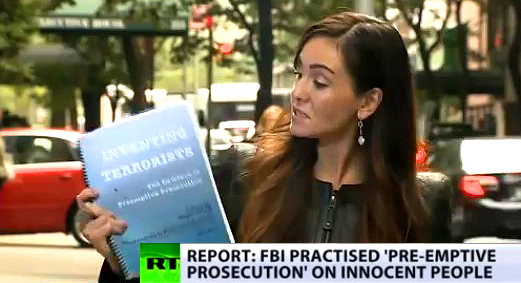 http://www.projectsalam.org/Inventing-Terrorists-study.pdf
LINK : F.B.I.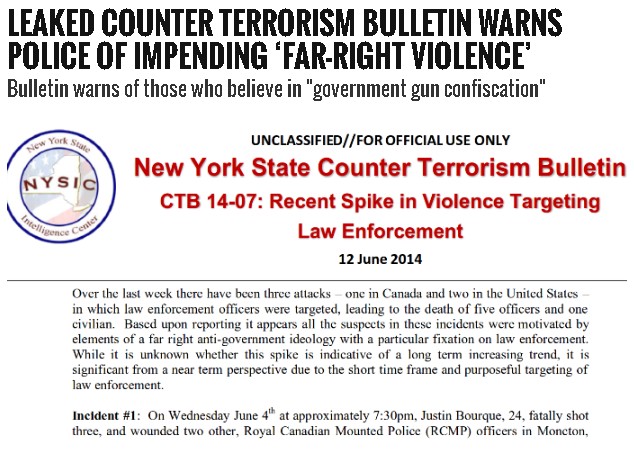 Leaked Counter Terrorism Bulletin Warns Police of Impending 'Far-Right Violence'

CTB 14-07 Recent Spike InViolence Targeting Law Enforce
Published by the New York State Intelligence Center, the document, entitled "CTB 14-07: Recent Spike in Violence Targeting Law Enforcement," details several recent shootings while warning police to be on the look out for people displaying anti-government viewpoints.
"Over the last week there have been three attacks – one in Canada and two in the United States – in which law enforcement officers were targeted, leading to the death of five officers and one civillian," the bulletin states. "Based upon reporting it appears all the suspects in these incidents were motivated by elements of a far right anti-government ideology with a particular fixation on law enforcement."
The bulletin mentions data from a New America Foundation study that claims 37 deaths since 9/11 were perpetrated by the "far right," repeating the meme that those within the liberty movement are more dangerous than Al Qaeda. The bulletin also references a study by the Anti-Defamation League (ADL) that argues that far right extremists have been killing law enforcement at an "increasing rate in recent years."
While law enforcement should always remain vigilant, the bulletin illustrates the federal government's never ending attempt to tie anyone with basic conservative beliefs to incredibly rare events carried out by deranged and psychotic killers.
The bulletin goes on to cite a study by the Countering Terrorism Center at West Point, a think tank that labels supporters of individual freedoms as extremist, as proof of the danger New York State faces. Law enforcement are warned that New York is ranked second in the number of far-right attacks nationwide.
"Since 2011, there have been ten submission/tips to the NYSIC regarding anti-government related suspicious activity, two of which were adopted by the JTTF," the bulletin states.
Incredibly, one of the alleged suspicious events investigated by the state's Joint Terrorism Task Force (JTTF) was a case surrounding a citizen journalist with a degree in criminal justice. Matthew Grunert, who spoke with Storyleak last month, was visited at his home by a police investigator and asked if he was a member of the "Sovereign Citizens Nation" for simply gathering content for a story outside a police building.
"My father spent twenty four years serving this country in the U.S. Army. I was raised with a healthy respect for the law that turned into fascination when I was in grade school," Grunert told said. "It is personally insulting and offensive to me that I would be associated with the Sovereign Citizen movement merely for exercising my constitutional rights. I am not a sovereign citizen; I am a citizen of the United States of America and I love my country."
The bulletin even attempts to label those who believe the government is interested in gun confiscation as "far right" conspiracy theorists, ironically only one day after President Obama publicly endorsed the "success" of Australia's gun confiscation program.
The recent passage of the NYSafe Act, gun control legislation that has been rejected by more than 84 percent of New York counties, is also mentioned as a likely lightning rod for "militia and sovereign citizens."
Several groups receive special mention including the New York Mutual Assistance Group (NYMAG), Oath Keepers, and the III Percent Patriots. The bulletin incorrectly claims that the latter of the groups believes in the "need to use violence against the government" despite no indication that the group supports offensive violence.
"The recent attacks serve to highlight a trend of growing violence by far right extremists that is likely to continue in the near term," the bulletin says in closing. "While attacks by lone offenders or small groups, common amongst far right extremists, are often difficult to detect and can occur with little or no warning, law enforcement should remain vigilant to any indicators or suspicious activity related to the persistent far right extremist threat."
Interestingly, the aforementioned shootings, one of which the media ridiculously tied to Alex Jones, occurred only days after Attorney General Eric Holder unveiled a new Justice Department task force focused on "homegrown" terrorism.
Although the bulletin asks law enforcement to differentiate between law-abiding citizens and potential extremists, the federal government's definition of extremism has vastly expanded in recent years.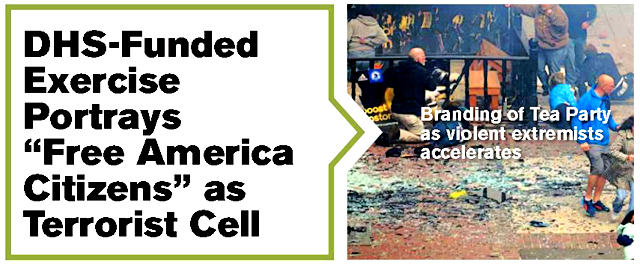 DHS-Funded Exercise Portrays "Free America Citizens" as Terrorist Cell
Branding of Tea Party as violent extremists accelerates
Paul Joseph Watson
Infowars.com
June 12, 2013
A Homeland Security-funded training exercise in Boston dubbed "Operation Urban Shield" that was delayed due to April's marathon bombing revolved around a terrorist cell dubbed "Free America Citizens," another indication of how the DHS is characterizing liberty-loving Americans as domestic extremists.
"Months of painstaking planning had gone into the exercise, dubbed "Operation Urban Shield," meant to train dozens of detectives in the Greater Boston area to work together to thwart a terrorist threat. The hypothetical terrorist group was even given a name: Free America Citizens, a home-grown cadre of militiamen whose logo would be a metal skull wearing an Uncle Sam hat and a furious expression," reports the Boston Globe.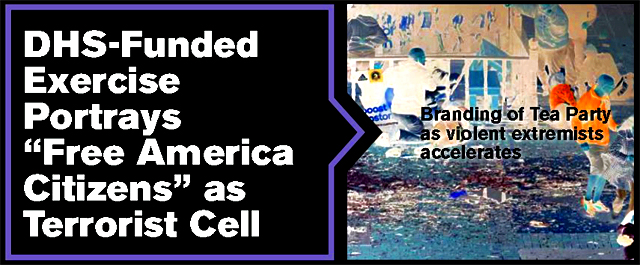 The drill, which was funded with the aid of a $200,000 Department of Homeland Security grant and was set to involve DHS officials along with other federal authorities, centered on the scenario of domestic terrorists leaving explosive-filled backpacks at locations around the city. The exercise was due to take place this weekend but was postponed in response to the Boston bombings and is now expected to go ahead early next year.
The exercise, many details of which remain confidential, has been crafted to test the investigative skills of detectives involved who will be tasked with finding out the motivation behind the "Free America" terrorists.
The drill was planned before the Boston bombings and officials from a dozen agencies have been meeting for months to plan the scenario. The exercise bore "eerie similarities" to the real attack in that police were tasked with identifying terrorists from street surveillance camera footage.
Over the course of the last five years, the DHS has been criticized for its involvement in numerous training exercises and the production of material which demonizes conservatives and libertarians as domestic extremists, putting them in the same league as violent terrorists.
In March, Arkansas State Fusion Center Director Richard Davis admitted that the federal agency spies on Americans deemed to be "anti-government," noting that the DHS concentrates on, "domestic terrorism and certain groups that are anti-government. We want to kind of take a look at that and receive that information," so-called threats which included people, "putting political stickers in public bathrooms or participating in movements against the death penalty."
Last year, a DHS-funded study produced by the National Consortium for the Study of Terrorism and Responses to Terrorism at the University of Maryland characterized Americans who are "suspicious of centralized federal authority," and "reverent of individual liberty" as "extreme right-wing" terrorists.
The DHS also stoked controversy in 2011 when it released a series of videos to promote the See Something, Say Something campaign in which almost all of the terrorists portrayed in the PSAs were white Americans.
A mock DHS news report which emerged last month depicted gun owning Americans as dangerous terrorists.
A DHS-funded exercise in Seattle last month portrayed "angry" parents who homeschooled their children as terrorists.
The 2009 MIAC report, published by the Missouri Information Analysis Center and first revealed by Infowars, also framed Ron Paul supporters, libertarians, people who display bumper stickers, people who own gold, or even people who fly a U.S. flag, as potential terrorists.
*********************
Paul Joseph Watson is the editor and writer for Infowars.com and Prison Planet.com. He is the author of Order Out Of Chaos. Watson is also a host for Infowars Nightly News.
Marine Corps Colonel Says DHS Building Domestic Army

A former Marine Corps Colonel who was stationed in Fallujah and trained Iraqi soldiers warns that the Department of Homeland Security is working with law enforcement to build a "domestic army," because the federal government is afraid of its own citizens.
Meanwhile a Virtually Crime Free County in Florida Gets MRAP Armored Vehicle.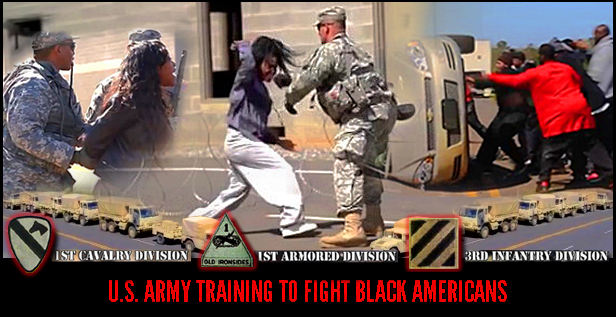 U.S. Army Training to Fight Black Americans
"Doomsday Disneyland" facility used as practice ground for civil unrest
by Paul Joseph Watson | July 17, 2014
A promotional video touting FEMA's emergency response capabilities shows U.S. National Guard troops training to detain unruly African-American citizens in prison camps before handing them over to police.
The video appears on the official YouTube channel for Guardian Centers, an 830 acre "disaster preparedness and tactical training validation center" located in Georgia which is routinely used by FEMA and other government agencies to practice emergency response procedures.
After the 2 minute mark in the clip, the scene cuts to a black woman who is struggling to escape from the clutches of a uniformed soldier. The area is surrounded by concertina wire and guarded by other troops.
The clip then shows the woman, along with another African-American, being handed over to local police before being driven away.
Described by CNN as the "doomsday Disneyland," Guardian Centers is a mock city complete with a subway station that "allow(s) a variety of responders to do a variety of drills in one location."
The sight of National Guard troops training to detain Americans in prison camps is unlikely to quell concerns that authorities are preparing for domestic disorder.
Back in 2012, we reported on FM 3-39.40 Internment and Resettlement Operations, a U.S. Army manual that describes how political activists in prison camps will be indoctrinated by specially assigned psychological operations officers. The document makes numerous references to how government agencies like the DHS, ICE and FEMA will be involved in the domestic internment of U.S. citizens during "civil support operations."
A second US Army Military Police manual that was leaked months later also outlined how military assets would be used domestically to quell riots, confiscate firearms and even kill Americans on U.S. soil during mass civil unrest.
U.S. troops and National Guard also worked with local police to incarcerate Americans in detention camps during drills Alex Jones covered in 1999 in Oakland, California.
A report produced in 2008 by the U.S. Army War College's Strategic Institute warned that the United States may experience massive civil unrest in the wake of a series of crises which it termed "strategic shock."
"Widespread civil violence inside the United States would force the defense establishment to reorient priorities in extremis to defend basic domestic order and human security," stated the report, authored by [Ret.] Lt. Col. Nathan Freir, adding that the military may be needed to quell "purposeful domestic resistance".
Rex 84, short for Readiness Exercise 1984, was established under the pretext of a "mass exodus" of illegal aliens crossing the Mexican/US border.
During the Iran-Contra hearings in 1987, however, it was revealed that the program was a secretive "scenario and drill" developed by the federal government to suspend the Constitution, declare martial law, assign military commanders to take over state and local governments, and detain large numbers of American citizens determined by the government to be "national security threats."
Despite innumerable indications that the federal government is making preparations for riots, the Department of Homeland Security denied last year that it was gearing up for domestic disorder. In 2011, DHS chief Janet Napolitano directed ICE to prepare for a mass influx of immigrants into the United States, calling for the plan to deal with the "shelter" and "processing" of large numbers of people.
In the video below, Alex Jones highlights how the Guardian Centers video is yet another startling indication that authorities in the United States are preparing for civil unrest as America increasingly begins to resemble a militarized police state.
U.S. Army Training to Fight Black Americans
Facebook @ https://www.facebook.com/paul.j.watson.71
FOLLOW Paul Joseph Watson @ https://twitter.com/PrisonPlanet
*********************
Paul Joseph Watson is the editor at large of Infowars.com and Prison Planet.com.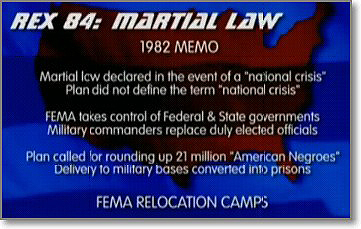 LINK : REX 84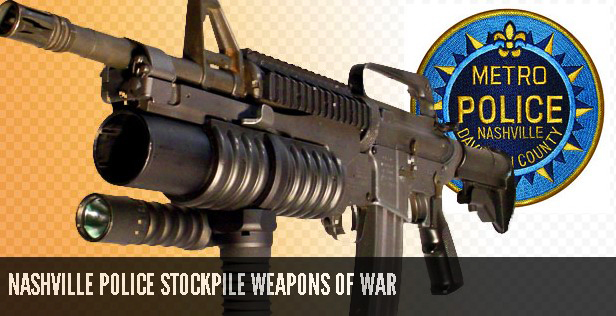 Nashville Police Stockpile Weapons Of War
Items include grenade launchers
by Ben Hall | NewsChannel5.com | July 20, 2014

NASHVILLE, Tenn. -- A massive military build-up is underway right here in Tennessee.
Local law enforcement agencies are snatching up huge amounts of weapons -- from the Department of Defense -- used in fighting in Iraq and Afghanistan.
Items include grenade launchers, mine-resistant vehicles and guns that have been deemed as surplus by the Pentagon.
The equipment is cheap or free for local law enforcement agencies to acquire.
The federal program has fueled a debate about the militarization of our police departments.
McMinn County is located in the foothills of the Appalachian Mountains. It boasts beautiful scenery, but its sheriff's department can boast something else.
The department received more military surplus guns than any other local department in the state last year.
"We actually reconfigured the whole armory to accommodate all of this," said Sheriff Joe Guy.
Sheriff Guy oversees 31 officers and investigators, but his department received 161 army rifles and pistols, including 71 M16 rifles and 71 .45-caliber pistols.
NewsChannel 5 Investigates asked, "Why does your department need all these guns?"
Sheriff Guy responded, "Well, we don't need this many. There was a little error in the order."
The Sheriff said the Army surplus program doubled his initial order, but he hasn't sent the guns back.
"They're here as our department grows. We'll have additional firearms for future officers," Sheriff Guy said.
McMinn County is not alone.
A spreadsheet obtained by NewsChannel 5 Investigates shows thousands of pieces of military equipment going to Tennessee law enforcement agencies.
Equipment used to fight in Iraq and Afghanistan is now going to local departments.
"The way this stuff is being distributed, it's kind of reckless," said author Radley Balko.
He has written a book, Rise of the Warrior Cop, that raises concerns about militarization of American police departments.
"What we've seen is just a massive transfer of gear, guns, vehicles and other weaponry," Balko said.
Law enforcement agencies can go to a website administered by the Department of Defense and look for used equipment.
On the day we went to McMinn County, the department was looking for Humvees. Sheriff Guy reviewed what was available.
"It looks good," Sheriff Guy said to an employee who was looking up a vehicle on-line.
The employee responded, "It's got 14-hundred miles on it."
"How many of those did you put in for?" Sheriff Guy asked.
"Three," his employee answered.
Sheriff Guy responded, "Three of those and one truck."
Departments pay a registration fee, then all the equipment is free. Individual departments must pay for transportation and maintenance.
"The disbursement across the country is so uneven and random and sort of based on who is good at manipulating the system," Balko said.
Thirty Tennessee departments just received mine-resistant vehicles. They were designed to protect soldiers from road side bombs in Iraq and Afghanistan.
Lebanon Public Safety, La Vergne and Hendersonville Police Departments all received MRAPS.
"This is our newest armored protective vehicle," said Mike Justice with Lebanon Public Safety.
Justice hopes Lebanon police officers never use it.
"The situations we would use this vehicle in is hostage negotiations, putting this vehicle between the bad guy and the good guys," Justice said.
He said the surplus program is critical to smaller departments. It provides equipment is not just military in nature including trucks, lawn mowers and tents.
Many small departments could not afford them on their own.
"As a taxpayer, I paid for it the first time. When I paid my federal income tax, I paid for this vehicle. So the citizens of Lebanon now get the benefit from it," Justice said standing beside the MRAP.
But Balko said the militarization of police departments comes at a price, like more SWAT raids.
"What we've done is encourage the police to become more like the military," Balko said.
"When you surround yourself with the weapons of war, with the language of war, you're going to be much less likely to look for ways of resolving disputes using the least amount of force possible," Balko continued.
Our investigation also found some departments can't keep up with the weapons they're getting.
The Tennessee Highway Patrol reported two M14s missing last year.
A TWRA park ranger had an M16 stolen from his vehicle -- it was later recovered.
And at the tiny Bean Station Police Department in East Tennessee, the police chief's son took an M16 from the program and was arrested for impersonating a police officer.
"It's concerning that this stuff is getting lost or stolen because I think it again indicates how little monitoring the Pentagon is doing once this stuff gets out of their reach," Balko said.
Sheriff Guy keeps his guns locked up and knows where each one is.
But for some, a department with five times more guns than patrol officers raises questions about the military surplus program.
"There was never any sort of public debate on this, or public discourse. It all sort of happened under the radar, and I think that's concerning," Balko said.
Late Thursday, the Department of General Services told NewsChannel 5 Investigates that it has suspended the state coordinator of the Law Enforcement Support Office (LESO).
Elbert Baker is on administrative leave with pay. The Department of General Services stated it discovered that it had given inaccurate and incomplete information to NewsChannel 5 Investigates.
We had asked for documentation involving missing weapons in the LESO program.
The state has alerted its auditors and is conducting a review of LESO files, records and internal controls, a spokesperson said. The auditors have notified the comptroller's office they are investigating a possible internal deficiency.
Finally, the Department of General Services expressed thanks to NewsChannel 5 Investigates for bringing "to light a record-keeping deficiency of which our department was previously unaware."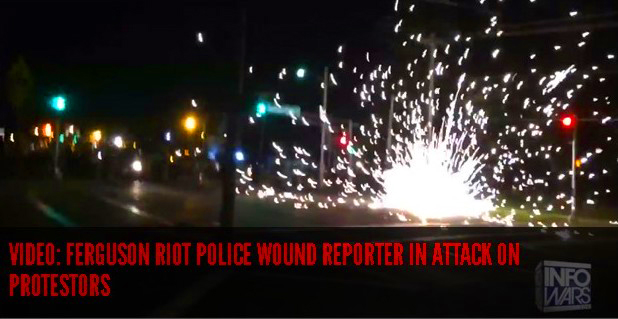 http://www.infowars.com/photos-ferguson-police-train-weapons-laser-sights-on-peaceful-protesters/
http://www.infowars.com/ferguson-riot-police-wound-reporter-in-attack-on-protestors/
http://www.infowars.com/cops-shoot-pastor-in-ferguson/
http://www.infowars.com/former-seattle-police-chief-ferguson-military-gear-an-act-of-provocation/
http://www.infowars.com/video-police-tell-reporters-to-turn-off-cameras-before-attacking-crowd/
http://www.infowars.com/shock-video-ferguson-police-deliberately-tear-gas-journalists/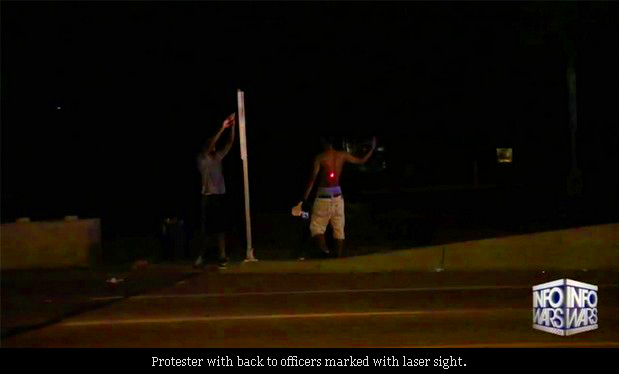 LINKS :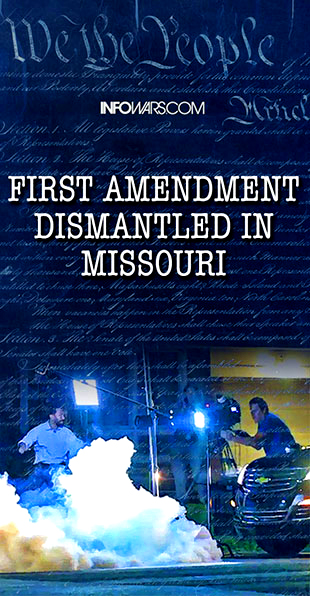 LINK :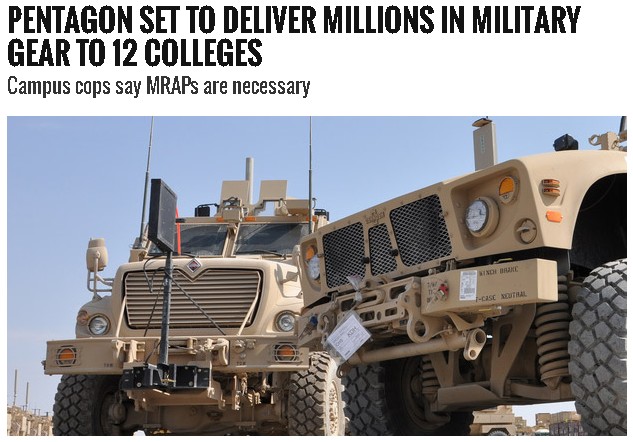 http://www.infowars.com/pentagon-set-to-deliver-millions-in-military-gear-to-12-colleges/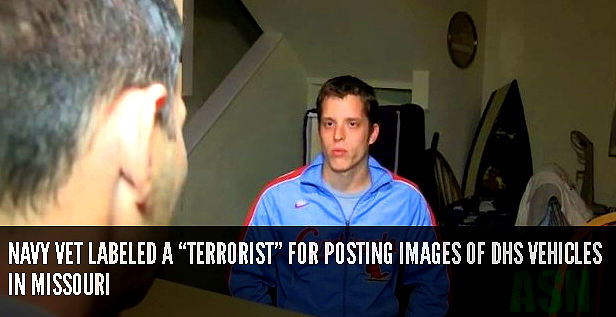 Navy Vet Labeled a "Terrorist" For Posting Images of DHS Vehicles in Missouri
Hotel staffer asked if vehicles were linked to impending Ferguson unrest
by Paul Joseph Watson | November 17, 2014
A Navy veteran was labeled a "terrorist" and fired from his job as a Houseman at the Drury Plaza Hotel in Chesterfield, Missouri after he posted a video of dozens of Homeland Security vehicles and asked if they were linked to impending civil unrest in Ferguson.
he chain of events began when 28-year-old Mark Paffrath saw dozens of DHS vehicles in the parking garage of the hotel on Thursday evening. He took photos and video footage of the vehicles before uploading them to Facebook alongside the words, "I wonder if it has anything to do with Ferguson" along with the hashtags #Ferguson and #NoJusticeNoPeace. Drury Plaza Hotel in Chesterfield is located 25 miles southwest of Ferguson.
The following day, Paffrath was ordered to remove the photos by his boss Jeff Baker, the General Manager of the hotel. Paffrath complied with the demand and immediately removed the images, but the next day he was called in to a meeting with Jim Bohnert, Director of Security for Drury Hotels Company, LLC.
Bohnert, who previously worked for the Secret Service, told Paffrath that his actions had jeopardized a $150,000 dollar contract the hotel had with the DHS and that the Navy veteran had committed an action of terrorism by posting the photos.
"You're a terrorist and you have dishonorably served your country by posting the photos and video," Bohnert told Paffrath, adding that if Paffrath re-posted the photos and video he will, "have the federal government knocking on your door and you will be incarcerated."
Paffrath subsequently re-posted the photographs on Facebook before commenting, "so apparently, I'm a terrorist lol."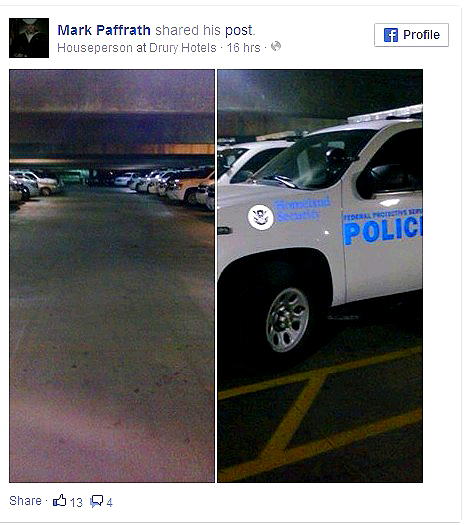 Argus Streaming News' Christopher Gagne said he drove through the parking garage and that around 100 Homeland Security vehicles were still situated there. Gagne attempted to get a comment from a hotel manager on the incident but none was forthcoming.
According to a report published today, as many as 80 Homeland Security agents may be in place to protect federal buildings in St. Louis.
As we have documented, police departments and National Guard units from across the country are making preparations for domestic disorder in the aftermath of the Grand Jury verdict in the shooting death of Michael Brown, a decision likely to be announced this week.
Facebook @ https://www.facebook.com/paul.j.watson.71
FOLLOW Paul Joseph Watson @ https://twitter.com/PrisonPlanet
*********************
Paul Joseph Watson is the editor at large of Infowars.com and Prison Planet.com.
LINK : Prisons for American Veterans
Police: Armored Military Vehicles Needed for 'Constitutionalists' with Firearms
"We've got a lot of constitutionalists... a lot of people that stockpile weapons"
by Mikael Thalen | Infowars.com | December 14, 2014
S

hocking video provided exclusively to Infowars shows a Washington state sheriff's deputy proclaiming that law enforcement officers need armored military vehicles because of "constitutionalists" with firearms.

The footage, recently captured in Spokane Valley, begins with a local resident asking two deputies why police would need vehicles specifically designed for warfare abroad.

"I mean, we've got a lot of constitutionalists and a lot of people that stockpile weapons, lots of ammunition," one deputy says. "They have weapons here locally."

The startling admission not only points to active surveillance of legal gun owners, but of those who support the country's founding document, further solidifying concerns among law-abiding citizens that police are receiving military equipment and training in order to target conservative Americans.

The deputy's specific mention of "constitutionalists," a broad term covering millions of Americans, as opposed to criminals in general, also indicates a clear training mindset linked to the FBI and Homeland Security, two groups which have absurdly labeled "liberty-lovers" as terror threats.

Such clear talking points are unsurprising given reports that Spokane County sheriffs have received training from the Southern Poverty Law Center, a group that ludicrously compares mainline conservative Americans to racist hate groups.

Infowars was unable to reach the Spokane County Sheriff's Office for comment at the time of publishing, but did speak with Spokane Valley Republican Representative Matthew Shea, who was appalled when presented with the footage.

"Will law abiding citizens who love the Constitution and Rule of Law be hunted down with MRAPs?" Shea asked. "Constitutionalism is fundamental to being an American. To hate the Constitution and those who support it means you are a traitor to this country."

"This is spitting in the face of all those heroes that fought, bled, and died so we might live free. The question should be, why aren't you a Constitutionalist? Why don't you believe in the rule of law? Why don't you believe that the Constitution means what it says?"

Incredibly, the Spokane County Sheriff's Office is not the first to cite patriotic Americans as reasoning for military hardware.

A police sergeant in Morgan County, Indiana admitted just last May that his department had obtained an armored vehicle in part because of returning military veterans, deemed domestic terror threats by Homeland Security in 2009.

In August of 2013, Concord, New Hampshire Police Chief John Duval secretly contacted Homeland Security and demanded an armored vehicle due to the alleged "threat" posed by peaceful libertarians.

A New York State Counter Terrorism Bulletin leaked to Infowars by concerned police that same year attempted to label anyone concerned with government gun confiscation as "far right" conspiracy theorists, even as admitted gun confiscation programs are used against law abiding citizens in states such as California.

The MIAC Report, a federal training document famously presented to Missouri police in 2009, went as far as falsely tying supporters of former Presidential Candidate Ron Paul and the Constitution to "extremist groups" as well.

Despite a massive drop in police officer deaths, gun homicide and violent crime in the last 2o years, government agencies across the board continue to adopt military tactics in order to fight anything that represents traditional America.

Luckily for Americans, peace officers who still respect their oath continue to serve throughout the United States.

Facebook @ https://www.facebook.com/mt.examiner
Follow Mikael Thalen @ https://twitter.com/MikaelThalen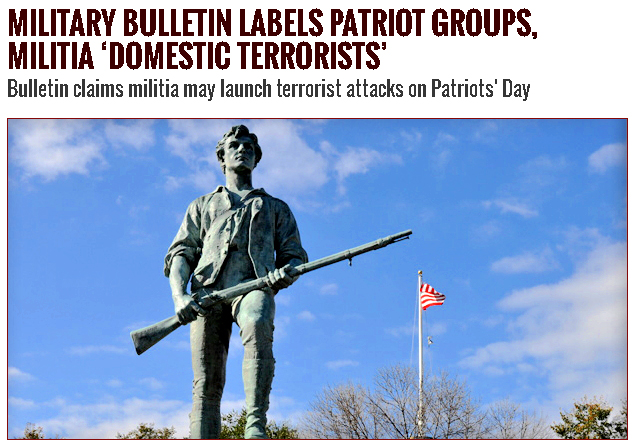 Military Bulletin Labels Patriot Groups, Militia 'Domestic Terrorists'
Bulletin claims militia may launch terrorist attacks on Patriots' Day

by Kit Daniels | Infowars.com | April 16, 2015
A

military bulletin called patriot groups and the militia "domestic extremists" who may launch terrorist attacks, a claim which follows a trend by the government to demonize libertarians and constitutionalists.

The bulletin, an e-mail from a U.S. Coast Guard command security officer which was leaked to Infowars, lumped militia members and patriots with "white supremacists" and claimed they may launch terror attacks on April 19th because it is a "significant date to domestic extremists."

"Members of the patriot and militia movements, sovereign citizens and white supremacists recall April 19th as the date that the battles of Lexington and Concord started the American Revolution," the bulletin read. "Citing (incorrectly) Title 10 USC references to the 'unorganized militias' and the constitutional right to bear arms, these groups believe that they are legally obligated to oppose the government should it become tyrannical."
The person who shared the bulletin with Infowars described it as unprecedented.
The bulletin only adds to the growing concern over the military training to take on American citizens while the government continues to demonize libertarians and constitutionalists as "racists" and "extremists."
Over the past weekend, for example, the National Guard performed "civil unrest" drills in Richmond, Calif., which featured role players screaming right-wing rhetoric.
"Why in the course of a drill for a dirty bomb, would an actor claim to be a sovereign citizen?" Keith Johnson asked, who filmed the footage. "The San Francisco Bay Area is not known for its sovereign citizen militia population and hearing this shouted during a mock terrorist scenario was disturbing."
Similarly, Operation Jade Helm, an upcoming military drill in the American Southwest, sparked controversy after Texas and Utah were labeled "hostile" territory in leaked documents related to the exercise.
The operation will even feature soldiers operating undetected in various U.S. cities, large and small, to see if they can infiltrate the local population without being noticed.
"They're going to set up cells of people and test how well they're able to move around without getting too noticed in the community," Roy Boyd, chief deputy with the Victoria County Sheriff's Office, said. "They're testing their abilities to basically blend in with the local environment and not stand out and blow their cover."
Notably, the Department of Homeland Security, which has long considered libertarians and constitutionalists "domestic extremists," recently purchased 62 million rounds of AR-15 ammunition, adding to federal ammo stockpile of 2.1 billion rounds, enough to wage a 32-year-long war with the same intensity as U.S. military operations in Iraq.
Follow on Twitter:
@RealAlexJones | @KitDaniels1776
LINK : Military Takeover Plans and Psyops

REACH OUT TO OTHERS
[Help Educate Family And Friends With This Page And The Links Below]
---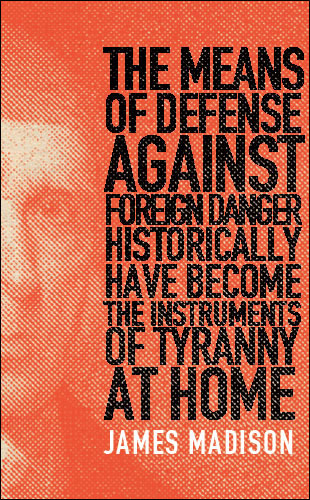 LINKS :
Indefinite Detention and Torture
Yes Your Government Can Use Armed Drones Against You
Police Trained That Informed Americans Are Terrorists
Doomsday Preppers Will Be Treated As Terrorists
Law Enforcement Requested Shooting Targets of Pregnant Women
Foreign Troops Training To Confiscate Guns of Americans