EUGENICS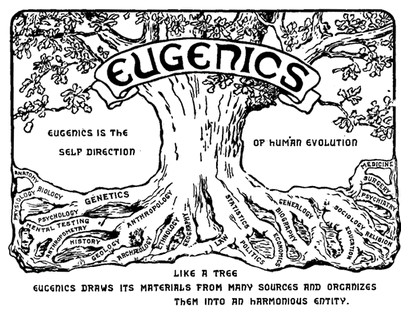 In the first three decades of the 20th Century, American corporate philanthropy combined with prestigious academic fraud to create the pseudoscience eugenics that institutionalized race politics as national policy. The goal: create a superior, white, Nordic race and obliterate the viability of everyone else.
How? By identifying so-called "defective" family trees and subjecting them to legislated segregation and sterilization programs. The victims: poor people, brown-haired white people, African Americans, immigrants, Indians, Eastern European Jews, the infirm and really anyone classified outside the superior genetic lines drawn up by American raceologists. The main culprits were the Carnegie Institution, the Rockefeller Foundation and the Harriman railroad fortune, in league with America's most respected scientists hailing from such prestigious universities as Harvard, Yale and Princeton, operating out of a complex at Cold Spring Harbor on Long Island. The eugenic network worked in tandem with the U.S. Department of Agriculture, the State Department and numerous state governmental bodies and legislatures throughout the country, and even the U.S. Supreme Court. They were all bent on breeding a eugenically superior race, just as agronomists would breed better strains of corn. The plan was to wipe away the reproductive capability of the weak and inferior.
Ultimately, 60,000 Americans were coercively sterilized — legally and extra-legally. Many never discovered the truth until decades later. Those who actively supported eugenics include America's most progressive figures: Woodrow Wilson, Margaret Sanger and Oliver Wendell Holmes.
American eugenic crusades proliferated into a worldwide campaign, and in the 1920s came to the attention of Adolf Hitler. Under the Nazis, American eugenic principles were applied without restraint, careening out of control into the Reich's infamous genocide. During the pre-War years, American eugenicists openly supported Germany's program. The Rockefeller Foundation financed the Kaiser Wilhelm Institute and the work of its central racial scientists. Once WWII began, Nazi eugenics turned from mass sterilization and euthanasia to genocidal murder. One of the Kaiser Wilhelm Institute doctors in the program financed by the Rockefeller Foundation was Josef Mengele who continued his research in Auschwitz, making daily eugenic reports on twins. After the world recoiled from Nazi atrocities, the American eugenics movement — its institutions and leading scientists — renamed and regrouped under the banner of an enlightened science called human genetics.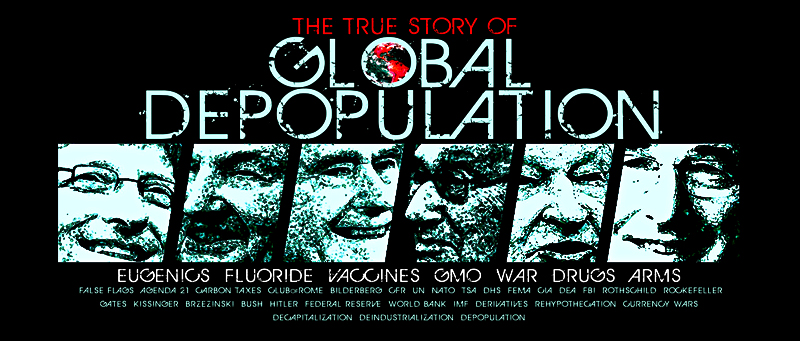 Globalists' Extermination List Exposed
1
2
In a Special Infowars Report, researcher Aaron Dykes exposes the global population database apparatus used by eugenicists to target populations for reduced births, soft kill and extermination. From the IBM-developed Hollerith punchcards used in the 1890 U.S. census, to race-mixing studies for Cold Springs Harbor and concentration camps in Rockefeller-funded Nazi Germany, eugenicists have long tabulated vital statistics in order to attack subtly and with precision.

Now they are targeting our food supplies, water, air and environment in attempt to shut off our future. How will elites utilize the human genome code, blood samples and DNA they've spent decades compiling? Why do foundations of the rich spend so much on the 3rd World population reduction? Aaron Dykes reports on the New World Order's obsession with eugenics and population control.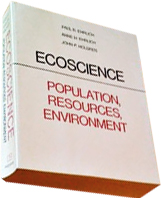 In this interview, Dr. Tarpley reviews the writings of John P. Holdren, the current White House science advisor. This interview conclusively exposes scientific elite's true agenda, world-wide genocide and the formation of a global government to rule.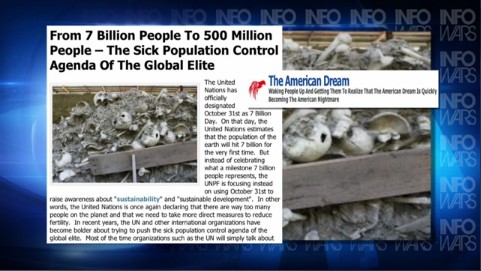 Vampiric Bloodlines of the royal family / Georgia Guidestones of Death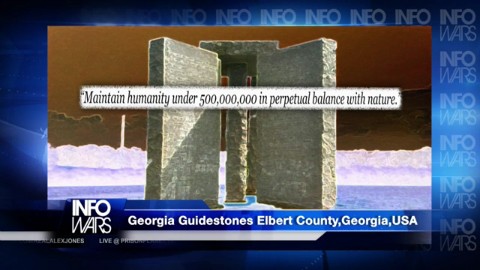 Children Baptized into Earth First Death Cult
Alan Watt continues to divulge his fascinating in-depth insights into how culture is created from the top down and used by the elite to manipulate and pervert natural human instincts towards their own ends. Every change in culture, right down to fashion and music, points out Watt citing Plato, had to be authorized and promoted from the top. This science of mass mind control is still taught today by the insiders and mediums such as television are used as weapons of social control to prevent humanity from ever realizing its full potential.

Watt talks about how the elite technocrats plan for the long term, in 50, 100 and even 150 year cycles in which to implement the different aspects of their agenda, and how each cultural shift was deliberately timed to be implemented at a certain time. The current cultural bombardment surrounds the emergence of neo-eugenics, with big foundations and organizations like the Optimum Population Trust pushing the idea that humans are superfluous, virus-like, and therefore worthless.

please visit Alan Watt's site and support him:
http://www.cuttingthroughthematrix.com
Published on [VIDEO-date>Mar ]
Melissa Melton looks at the on going population control plan in India
THE SOVIET STORY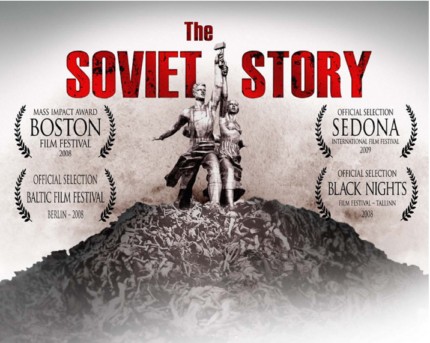 "The Soviet Story" is a story of an Allied power, which helped the Nazis to fight Jews and which slaughtered its own people on an industrial scale (look closely at the picture above). Assisted by the West, this power triumphed on May 9th, 1945. Its crimes were made taboo, and the complete story of Europe's most murderous regime has never been told. Until now…
The Eugenicist & George Bernard Shaw
1
2
This documentary depicts the U.S. Eugenic legislation throughout the early 20th Century and chronicles the compulsory sterilization faced by many Americans. "War on the Weak" continues to analyze negative eugenics by discussing the U.S. Supreme Court case of Buck v. Bell. Furthermore, the parallels present among U.S. and Nazi ideologies on the nature of eugenics are presented, along with an exposition on the affinity Nazi scientists had for U.S. eugenics laws. The documentary concludes with a look at modern genetic research and leaves the viewer with the hopeful message of a society free of ailments but warns of the dangers on science that is not kept in check with the moral values of humanity.
The Illuminati Depopulation Agenda - Catherine Austin Fitts
CONGO GENOCIDE!
Africa is one of several targets of the globalists as they move to grab vital natural resources, consolidate power and unleash their monetary enslavement and world totalitarian government end game around the world. Remarkably, the self-destructive hubris of the elite is revealing itself as they attempt to accomplish overly ambitious goals in the Middle East, Central and South Asia, and Africa.
Abortion is Eugencis, Designed to Destroy Black Americans
Corporate philanthropies launched a national campaign of ethnic cleansing in the United States, helped found and fund the Nazi eugenics of Hitler and Mengele — and then created the modern movement of "human genetics."




---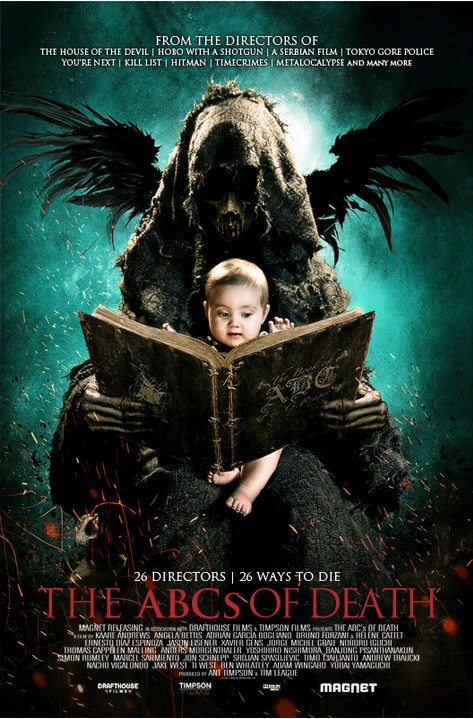 Bill Maher - "We Need To Promote Death."
'The planet is too crowded – let's kill the right people'
Paul Joseph Watson
Infowars.com
October 11, 2012
During a recent appearance on the StarTalk Radio Show, Real Time host Bill Maher expressed his desire to see more people killed via abortion, suicides and the death penalty because "the planet is too crowded and we need to promote death."
Asked by host Neil deGrasse Tyson what he thought about the death penalty and abortion, Maher re-affirmed his support for both, remarking, "The Pope is consistently pro-life, I am consistently pro-death."
Expressing how he was pro-death penalty, Maher said, "my motto is let's kill the right people."
"I'm pro-choice, I'm for assisted suicide, I'm for regular suicide, I'm for whatever gets the freeway moving – that's what I'm for," said Maher, adding, "It's too crowded, the planet is too crowded and we need to promote death."
Explaining how he knew many people who felt the same, Maher went on to say that "people who've earned it" deserved to die, remarking, "kill the right people."
The HBO host emphasized how he disagreed with the notion that all life is precious, referring to an argument made by Rick Santorum that prenatal testing should not be covered by the government because it encourages people to have abortions.
"I don't think there's anything wrong with that," said Maher, expressing his support for abortion and noting, "It's not that hard to create life, it's teeming everywhere, it's something a dog can do."
Maher's eugenicist views are shared by many liberals and others who consider themselves to be part of the elite.
As we highlighted in a separate article today, a biotech scientist who works for a well known company recently contacted health blogger Anthony Gucciardi to express his joy at how genetically modified food causes infertility.
"If this **** causes infertility… Awesome!!" wrote the scientist, adding, "The world is over-populated, and people need to stop having children. This is one of earth's largest problems….This is why GMO is actually saving the planet."
Maher's overpopulation schtick is not only highly offensive – it is completely inaccurate.
The UN Population Division's own figures show that by 2020, that population is set to stabilize in 2020 and then drop dramatically after 2050 and indeed that underpopulation is going to be the real long term issue. As the Economist reported, "Fertility is falling and families are shrinking in places— such as Brazil, Indonesia, and even parts of India—that people think of as teeming with children. As our briefing shows, the fertility rate of half the world is now 2.1 or less—the magic number that is consistent with a stable population and is usually called "the replacement rate of fertility". Sometime between 2020 and 2050 the world's fertility rate will fall below the global replacement rate."
Meanwhile, in coutnries like Russia, the government is having to incentrivise and beg its citizens to have children in a desperate effort to head off a "frightening" population decline.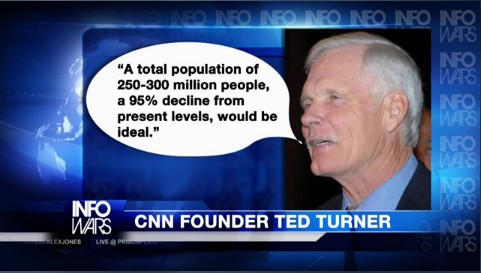 CNN Founder Ted Turner Supports Population Reduction To 2 Billion!!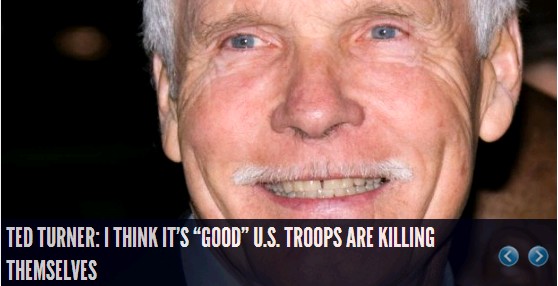 During an appearance on CNN's Piers Morgan Tonight, Ted Turner said he thinks it's "good" that U.S. soldiers are killing themselves because it shows humanity has evolved a distaste for war.
CNN founder advocates UN take role as global policeman
Paul Joseph Watson
Infowars.com
October 25, 2012
During an appearance on CNN's Piers Morgan Tonight, Ted Turner said he thinks it's "good" that U.S. soldiers are killing themselves because it shows humanity has evolved a distaste for war.
Asked what he thought about the fact that more American soldiers commit suicide than are killed in combat, host Morgan said it was "shocking," but Turner responded, "No, I think it's good."
Turner went on to argue that it was time for people to start acting "enlightened" and that this was why it was "good" U.S. soldiers are committing suicide in such large numbers because it shows an aversion to war.
At first, Turner smirked and appeared as if he was about to say it's "terrific" that U.S. soldiers are killing themselves, before using the word "good" instead and adopting a sterner facial expression.
As the New York Times reported earlier this year, U.S. soldiers are killing themselves at a rate of nearly one per day and the figure continues to rise. Reasons for the suicides include the stress caused by such a high number of deployments as well as the horrors troops have witnessed in Iraq and Afghanistan.
A recent poll of soldiers who had tried to commit suicide found that the top reason for them attempting to take their own life was "intense emotional distress."
Turner was also asked by the host who he thought should replace the United States as the world's policeman, to which he responded, "the United Nations."
Some have argued that Turner is expressing his satisfaction at U.S. troops killing themselves because it indicates that humanity is starting to spiritually evolve a distaste for war.
However, Turner has repeatedly voiced his wish to see billions of people wiped off the planet via population reduction programs.
Ted Turner's satisfaction at U.S. troops committing suicide takes on a different context when you understand that Turner is a neo-eugenicist who routinely advocates massive population reduction.
"A total population of 250-300 million people, a 95% decline from present levels, would be ideal," Turner stated in 1996.
In the third world, Turner has contributed a billion dollars to fund population reduction, namely through United Nations programs.
While asserting that the rest of the world should impose China's brutal one-child policy to 'save the planet', Turner himself has 5 children and owns no less than 2 million acres of land. He is the largest private landowner on the planet, falling short of only the royal families of Europe.
Turner's call for the United Nations to become a dictatorial body under the banner of global peacekeeping is suspect given that the UN itself admitted responsibility for failing to act during the 1994 Rwanda genocide during which 800,000 people were killed.
The United Nations is also riddled with corruption and has tried to impose mass gun control by stealth under the guise of its Small Arms Treaty.
*********************
Paul Joseph Watson is the editor and writer for Prison Planet.com. He is the author of Order Out Of Chaos. Watson is also a regular fill-in host for The Alex Jones Show and Infowars Nightly News.
---
The globalist master plan is mass extermination of you and your family. They think we are so stupid they openly write books about it bragging . And one last point, they enjoy hurting people. No one will be safe until humanity awakens to this blackest of perils.
---
Maafa 21: will take those who have sat on the sidelines of the abortion fight and drive them to the streets. This powerful DVD is about eugenics, racial agendas, and elitism. It exposes the ties between the Nazis, the American eugenics movement, Planned Parenthood, and a plan to create "racial purity" that began over 150 years ago.


ENDGAME: Blueprint For Global Enslavement, explains how for the New World Order, a world government is just the beginning. Once in place they can engage their plan to exterminate 80% of the world's population, while enabling the elites to live forever with the aid of advanced technology. For the first time, crusading filmmaker Alex Jones reveals their secret plan for humanity's extermination: Operation ENDGAME.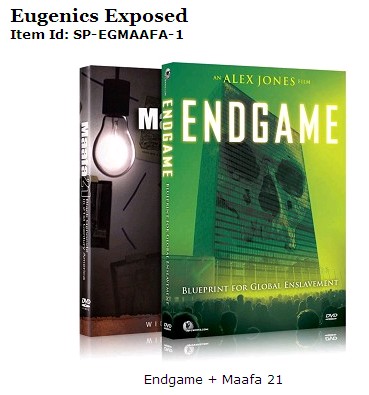 ---
EUGENICS QUOTES
(By no means exhaustive)
Infowars Wordpress
December 7, 2009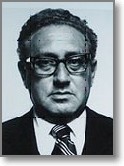 "World population growth is widely recognized within the Government as a current danger of the highest magnitude calling for urgent measures.... There is a major risk of severe damage [from continued rapid population growth] to world economic, political, and ecological systems and, as these systems begin to fail, to our humanitarian values." henry kissinger
"Natural selection must be replaced by eugenical artificial selection. This idea constitutes the sound core of eugenics, the applied science of human betterment."
- Theodosius Dobzhansky. Heredity and the Nature of Man. 1964


"There is no permanent status quo in nature; all is the process of adjustment and readjustment, or else eventual failure. But man is the first being yet evolved on earth which has the power to note this changefulness, and, if he will, to turn it to his own advantage, to work out genetic methods, eugenic ideas, yes, to invent new characteristics, organs, and biological systems that will work out to further the interests, the happiness, the glory of the God-like being whose meager foreshadowings we the present ailing creatures are."
- Herrman J. Muller, 1935 (an associate of Sir Julian Huxley)

"The first century or two of the new millennium will almost certainly be a golden age for Eugenics. Through application of new genetic knowledge and reproductive technologies…the major change will be to mankind itself…[T]echniques…such as…genetic manipulations are not yet efficient enough to be unquestionably suitable in therapeutic and eugenic application for humans. But with the pace of research it is surely only a matter of time, and a short time at that."
- Glayde Whitney, Reproduction Technology for a New Eugenics, paper for The Galton Institute conference Man and Society in the New Millennium, September 1999

"There is NO DENYING the natural world would be a better place without people - ALL people! Not a selective bunch. Get it straight."
- Rebecca Calisi, student of Eric Pianka

"In order to stabilize world population, we must eliminate 350,000 people per day. It is a horrible thing to say, but it is just as bad not to say it."
- Jacques Cousteau, 1991 UNESCO courier

"Society has no business to permit degenerates to reproduce their kind.... Any group of farmers who permitted their best stock not to breed, and let all the increase come from the worst stock, would be treated as fit inmates for an asylum.... Some day we will realize that the prime duty, the inescapable duty of the good citizens of the right type is to leave his or her blood behind him in the world; and that we have no business to permit the perpetuation of citizens of the wrong type. The great problem of civilization is to secure a relative increase of the valuable as compared with the less valuable or noxious elements in the population... The problem cannot be met unless we give full consideration to the immense influence of heredity..."
- Theodore Roosevelt to Charles B. Davenport, January 3, 1913, Charles B. Davenport Papers, Department of Genetics, Cold Spring Harbor, N.Y.

"I wish very much that the wrong people could be prevented entirely from breeding; and when the evil nature of these people is sufficiently flagrant, this should be done. Criminals should be sterilized and feebleminded persons forbidden to leave offspring behind them... The emphasis should be laid on getting desirable people to breed..."
Roosevelt, "Twisted Eugenics," in The Works of Theodore Roosevelt, op. cit., National Edition, XII, p. 201.

"Political unification in some sort of world government will be required... Even though... any radical eugenic policy will be for many years politically and psychologically impossible, it will be important for UNESCO to see that the eugenic problem is examined with the greatest care, and that the public mind is informed of the issues at stake so that much that now is unthinkable may at least become thinkable."
- Sir Julian Huxley, UNESCO: Its Purpose and Its Philosophy.

"I do not pretend that birth control is the only way in which population can be kept from increasing... War... has hitherto been disappointing in this respect, but perhaps bacteriological war may prove more effective. If a Black Death could be spread throughout the world once in every generation survivors could procreate freely without making the world too full... The state of affairs might be somewhat unpleasant, but what of that? Really high-minded people are indifferent to happiness, especially other people's... There are three ways of securing a society that shall be stable as regards population. The first is that of birth control, the second that of infanticide or really destructive wars, and the third that of general misery except for a powerful minority..."
- Bertrand Russell, THE IMPACT OF SCIENCE ON SOCIETY 1953

"Problem-makers reproduce in greater percentage than problem-solvers, and in so doing cause the decline of civilization… In short, if capable, intelligent people had most babies, society would see its problems and solve them."
- Elmer Pendell, from Sex Versus Civilization, 1967

"Out of the full spectrum of human personality, one-fourth is electing to transcend…One-fourth is ready to so choose, given the example of one other…One-fourth is resistant to election. They are unattracted by life ever-evolving. One-fourth is destructive. They are born angry with God…They are defective seeds…There have always been defective seeds. In the past they were permitted to die a 'natural death'…We, the elders, have been patiently waiting until the very last moment before the quantum transformation, to take action to cut out this corrupted and corrupting element in the body of humanity. It is like watching a cancer grow…Now, as we approach the quantum shift from creature-human to co-creative human—the human who is an inheritor of god-like powers—the destructive one-fourth must be eliminated from the social body. We have no choice, dearly beloveds. Fortunately you, dearly beloveds, are not responsible for this act. We are. We are in charge of God's selection process for planet Earth. He selects, we destroy. We are the riders of the pale horse, Death. We come to bring death to those who are unable to know God…The riders of the pale horse are about to pass among you. Grim reapers, they will separate the wheat from the chaff. This is the most painful period in the history of humanity…"
Futurist Barbara Marx Hubbard (who wanted to create a Dept. of Peace)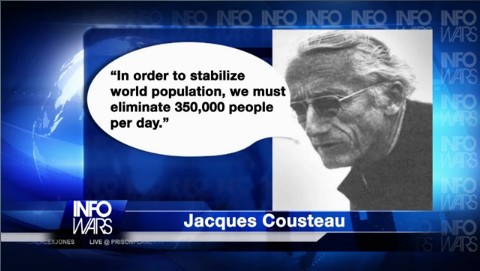 "If I were reincarnated I would wish to be returned to earth as a killer virus to lower human population levels."
– Prince Philip, Duke of Edinburgh, patron of the World Wildlife Fund
"There are some reports, for example, that some countries have been trying to construct something like an Ebola Virus, and that would be a very dangerous phenomenon, to say the least. Alvin Toeffler has written about this in terms of some scientists in their laboratories trying to devise certain types of pathogens that would be ethnic specific so that they could just eliminate certain ethnic groups and races; and others are designing some sort of engineering, some sort of insects that can destroy specific crops. Others are engaging even in an eco- type of terrorism whereby they can alter the climate, set off earthquakes, volcanoes remotely through the use of electromagnetic waves.So there are plenty of ingenious minds out there that are at work finding ways in which they can wreak terror upon other nations. It's real, and that's the reason why we have to intensify our efforts, and that's why this is so important."
- Secretary of Defense William S. Cohen, April 28, 1997, Testimony before Congressional Committee

"And advanced forms of biological warfare that can "target" specific genotypes may transform biological warfare from the realm of terror to a politically useful tool."
- The Project for a New American Century, Rebuilding America's Defenses, p. 60

"IN THE 1920s and 1930s, scientists from both the political left and right would not have found the idea of designer babies particularly dangerous - though of course they would not have used that phrase. Today, I suspect that the idea is too dangerous for comfortable discussion, and my conjecture is that Adolf Hitler is responsible for the change.

Nobody wants to be caught agreeing with that monster, even in a single particular. The spectre of Hitler has led some scientists to stray from "ought" to "is" and deny that breeding for human qualities is even possible. But if you can breed cattle for milk yield, horses for running speed, and dogs for herding skill, why on Earth should it be impossible to breed humans for mathematical, musical or athletic ability? Objections such as "these are not one-dimensional abilities" apply equally to cows, horses and dogs and never stopped anybody in practice.

I wonder whether, some 60 years after Hitler's death, we might at least venture to ask what the moral difference is between breeding for musical ability and forcing a child to take music lessons. Or why it is acceptable to train fast runners and high jumpers but not to breed them. I can think of some answers, and they are good ones, which would probably end up persuading me. But hasn't the time come when we should stop being frightened even to put the question?"
- Richard Dawkins

MARGARET SANGER QUOTES, Founder of the Birth Control League (which later became Planned Parenthood)

"No woman shall have the legal right to bear a child… without a permit for parenthood."
- Margaret Sanger (founder of Planned Parenthood) in her proposed The American Baby Code, intended to become law.

"The most merciful thing that a family does to one of its infant members is to kill it."
- Margaret Sanger (editor). The Woman Rebel, Volume I, Number 1. Reprinted in Woman and the New Race. New York: Brentanos Publishers, 1922.

"Birth control must lead ultimately to a cleaner race."
- Margaret Sanger. Woman, Morality, and Birth Control. New York: New York Publishing Company, 1922. Page 12.

"We should hire three or four colored ministers, preferably with social-service backgrounds, and with engaging personalities. The most successful educational approach to the Negro is through a religious appeal. We don't want the word to go out that we want to exterminate the Negro population. and the minister is the man who can straighten out that idea if it ever occurs to any of their more rebellious members."
Margaret Sanger's December 19, 1939 letter to Dr. Clarence Gamble, 255 Adams Street, Milton, Massachusetts. Original source: Sophia Smith Collection, Smith College, North Hampton, Massachusetts. Also described in Linda Gordon's Woman's Body, Woman's Right: A Social History of Birth Control in America. New York: Grossman Publishers, 1976.

"Eugenic sterilization is an urgent need ... We must prevent multiplication of this bad stock."
- Margaret Sanger, April 1933 Birth Control Review.

"Eugenics is … the most adequate and thorough avenue to the solution of racial, political and social problems."
- Margaret Sanger. "The Eugenic Value of Birth Control Propaganda." Birth Control Review, October 1921, page 5.

"Birth control itself, often denounced as a violation of natural law, is nothing more or less than the facilitation of the process of weeding out the unfit, of preventing the birth of defectives or of those who will become defectives."
[no source available at this time...]

"As an advocate of birth control I wish ... to point out that the unbalance between the birth rate of the 'unfit' and the 'fit,' admittedly the greatest present menace to civilization, can never be rectified by the inauguration of a cradle competition between these two classes. In this matter, the example of the inferior classes, the fertility of the feeble-minded, the mentally defective, the poverty-stricken classes, should not be held up for emulation.... On the contrary, the most urgent problem today is how to limit and discourage the over-fertility of the mentally and physically defective."
- Margaret Sanger. "The Eugenic Value of Birth Control Propaganda." Birth Control Review, October 1921, page 5.

"The campaign for birth control is not merely of eugenic value, but is practically identical with the final aims of eugenics."
Margaret Sanger. "The Eugenic Value of Birth Control Propaganda." Birth Control Review, October 1921, page 5.

"Our failure to segregate morons who are increasing and multiplying ... demonstrates our foolhardy and extravagant sentimentalism ... [Philanthropists] encourage the healthier and more normal sections of the world to shoulder the burden of unthinking and indiscriminate fecundity of others; which brings with it, as I think the reader must agree, a dead weight of human waste. Instead of decreasing and aiming to eliminate the stocks that are most detrimental to the future of the race and the world, it tends to render them to a menacing degree dominant ... We are paying for, and even submitting to, the dictates of an ever-increasing, unceasingly spawning class of human beings who never should have been born at all."
- Margaret Sanger. The Pivot of Civilization, 1922. Chapter on "The Cruelty of Charity," pages 116, 122, and 189. Swarthmore College Library edition.

"The undeniably feeble-minded should, indeed, not only be discouraged but prevented from propagating their kind."
- Margaret Sanger, quoted in Charles Valenza. "Was Margaret Sanger a Racist?" Family Planning Perspectives, January-February 1985, page 44.

"Give dysgenic groups [people with 'bad genes'] in our population their choice of segregation or [compulsory] sterilization."
- Margaret Sanger, April 1932 Birth Control Review.

"As we celebrate the 100th birthday of Margaret Sanger, our outrageous and our courageous leader, we will probably find a number of areas in which we may find more about Margaret Sanger than we thought we wanted to know..."
- Faye Wattleton, Past-president of Planned Parenthood

Margaret Sanger, Founder of Planned Parenthood, proposed the Population Congress with the aim, "...to give certain dysgenic groups in our population their choice of segregation or sterilization."
"Men are generally more careful of the breed of their horses and dogs than of their children."
- William Penn. Some fruits of solitude, in reflections and maxims relating to the conduct of human life. 1693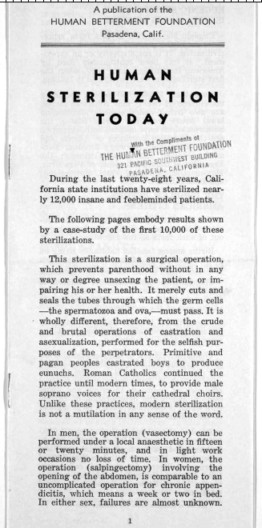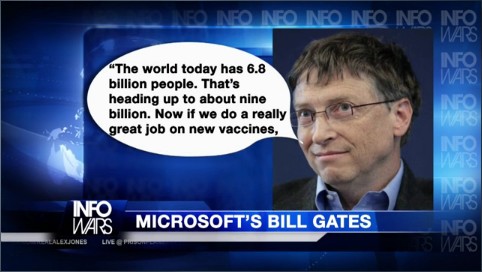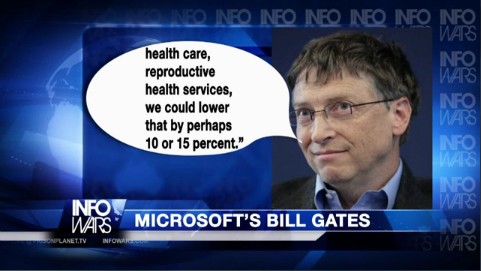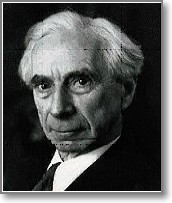 "...impregnation will be regarded in an entirely different manner, more in the light of a surgical operation, so that it will be thought not ladylike to have it performed in the natural manner."
- Bertrand Russell. The Scientific Outlook. 1972

"Isn't the only hope for the planet that the industrialized civilizations collapse? Isn't it our responsibility to bring that about?"
– Maurice Strong, founder of the UN Environment Programme
"A massive campaign must be launched to de-develop the United States. De-development means bringing our
economic system into line with the realities of ecology and the world resource situation."
– Paul Ehrlich, Professor of Population Studies
"The only hope for the world is to make sure there is not another United States. We can't let other countries have the same number of cars, the amount of industrialization, we have in the US. We have to stop these Third World countries right where they are."
– Michael Oppenheimer, Environmental Defense Fund
"Global Sustainability requires the deliberate quest of poverty, reduced resource consumption and set levels of mortality control."
– Professor Maurice King
"We must make this an insecure and inhospitable place for capitalists and their projects. We must reclaim the roads and plowed land, halt dam construction, tear down existing dams, free shackled rivers and return to wilderness millions of acres of presently settled land."
– David Foreman, co-founder of Earth First!
"Complex technology of any sort is an assault on human dignity. It would be little short of disastrous for us to
discover a source of clean, cheap, abundant energy, because of what we might do with it."
– Amory Lovins, Rocky Mountain Institute
"The prospect of cheap fusion energy is the worst thing that could happen to the planet."
– Jeremy Rifkin, Greenhouse Crisis Foundation
"Giving society cheap, abundant energy would be the equivalent of giving an idiot child a machine gun."
– Prof Paul Ehrlich, Stanford University
"Our insatiable drive to rummage deep beneath the surface of the earth is a willful expansion
of our dysfunctional civilization into Nature."
– Al Gore, Earth in the Balance
"The big threat to the planet is people: there are too many, doing too well economically and burning too much oil."
– Sir James Lovelock, BBC Interview
"My three main goals would be to reduce human population to about 100 million worldwide, destroy the industrial infrastructure and see wilderness, with it's full complement of species, returning throughout the world."
-Dave Foreman, co-founder of Earth First!
"Current lifestyles and consumption patterns of the affluent middle class – involving high meat intake,
use of fossil fuels, appliances, air-conditioning, and suburban housing – are not sustainable."
– Maurice Strong, Rio Earth Summit
"All these dangers are caused by human intervention and it is only through changed attitudes and
behaviour that they can be overcome. The real enemy, then, is humanity itself."
– Club of Rome, The First Global Revolution
"Mankind is the most dangerous, destructive, selfish and unethical animal on the earth."
– Michael Fox, vice-president of The Humane Society
"Humans on the Earth behave in some ways like a pathogenic micro-organism, or like the cells of a tumor."
– Sir James Lovelock, Healing Gaia
"The Earth has cancer and the cancer is Man."
– Club of Rome, Mankind at the Turning Point
"A cancer is an uncontrolled multiplication of cells, the population explosion is an uncontrolled multiplication of people. We must shift our efforts from the treatment of the symptoms to the cutting out of the cancer. The operation will demand many apparently brutal and heartless decisions."
– Prof. Paul Ehrlich, The Population Bomb
"A reasonable estimate for an industrialized world society at the present North American material standard of living would be 1 billion. At the more frugal European standard of living, 2 to 3 billion would be possible."
– United Nations, Global Biodiversity Assessment
"A total population of 250-300 million people, a 95% decline from present levels, would be ideal."
– Ted Turner, founder of CNN and major UN donor
"… the resultant ideal sustainable population is hence more than 500 million but less than one billion."
– Club of Rome, Goals for Mankind
"One America burdens the earth much more than twenty Bangladeshes. This is a terrible thing to say in order to stabilize world population, we must eliminate 350,000 people per day. It is a horrible thing to say, but it's just as bad not to say it."
– Jacques Cousteau, UNESCO Courier
"I suspect that eradicating small pox was wrong. It played an important part in balancing ecosystems."
– John Davis, editor of Earth First! Journal
"The extinction of the human species may not only be inevitable but a good thing."
– Christopher Manes, Earth First!
"Childbearing should be a punishable crime against society, unless the parents hold a government license. All potential parents should be required to use contraceptive chemicals, the government issuing antidotes to citizens chosen for childbearing."
– David Brower, first Executive Director of the Sierra Club
"In searching for a new enemy to unite us, we came up with the idea that pollution, the threat of global warming, water shortages, famine and the like would fit the bill."
– Club of Rome, The First Global Revolution
"We need to get some broad based support, to capture the public's imagination… So we have to offer up scary scenarios, make simplified, dramatic statements and make little mention of any doubts… Each of us has to decide what the right balance is between being effective and being honest."
– Stephen Schneider, Stanford Professor of Climatology, lead author of many IPCC reports
"Unless we announce disasters no one will listen."
– Sir John Houghton, first chairman of IPCC
"It doesn't matter what is true, it only matters what people believe is true."
– Paul Watson, co-founder of Greenpeace
"We've got to ride this global warming issue. Even if the theory of global warming is wrong, we will be doing the right thing in terms of economic and environmental policy."
– Timothy Wirth, President of the UN Foundation
"No matter if the science of global warming is all phony, climate change provides the greatest opportunity to bring about justice and equality in the world."
-Christine Stewart, fmr Canadian Minister of the Environment
"The climate crisis is not a political issue, it is a moral and spiritual challenge to all of humanity. It is also our greatest opportunity to lift Global Consciousness to a higher level."
– Al Gore, accepting the Nobel Peace Prize
"The only way to get our society to truly change is to frighten people with the possibility of a catastrophe."
– emeritus professor Daniel Botkin
"We are on the verge of a global transformation. All we need is the right major crisis."
– David Rockefeller, Club of Rome executive manager
"Humanity is sitting on a time bomb. If the vast majority of the world's scientists are right, we have just ten years to avert a major catastrophe that could send out entire planet's climate system into a tail-spin of epic destruction involving extreme weather, floods, droughts, epidemics and killer heat waves beyond anything we have ever experienced – a catastrophe of our own making."
– Al Gore, An Inconvenient Truth
"By the end of this century, climate change will reduce the human population to a few breeding pairs surviving near the Arctic."
– Sir James Lovelock, Revenge of Gaia
"Climate Change will result in a catastrophic, global seal level rise of seven meters. That's bye-bye most of Bangladesh, Netherlands, Florida and would make London the new Atlantis."
– Greenpeace International
"Climate change is real. Not only is it real, it's here, and its effects are giving rise to a frighteningly new global phenomenon – the man-made natural disaster."
– Barack Obama, US Presidential Candidate
"We are close to a time when all of humankind will envision a global agenda that encompasses a kind of Global Marshall Plan to address the causes of poverty and suffering and environmental destruction all over the earth."
– Al Gore, Earth in the Balance
"In Nature organic growth proceeds according to a Master Plan, a Blueprint. Such a 'master plan' is missing from the process of growth and development of the world system. Now is the time to draw up a master plan for sustainable growth and world development based on global allocation of all resources and a new global economic system. Ten or twenty years from today it will probably be too late."
– Club of Rome, Mankind at the Turning Point
"The concept of national sovereignty has been immutable, indeed a sacred principle of international relations. It is a principle which will yield only slowly and reluctantly to the new imperatives of global environmental cooperation."
– UN Commission on Global Governance report
"Democracy is not a panacea. It cannot organize everything and it is unaware of its own limits. These facts must be faced squarely. Sacrilegious though this may sound, democracy is no longer well suited for the tasks ahead. The complexity and the technical nature of many of today's problems do not always allow elected representatives to make competent decisions at the right time."
– Club of Rome, The First Global Revolution
"In my view, after fifty years of service in the United National system, I perceive the utmost urgency and absolute necessity for proper Earth government. There is no shadow of a doubt that the present political and economic systems are no longer appropriate and will lead to the end of life evolution on this planet. We must therefore absolutely and urgently look for new ways."
– Dr. Robert Muller, UN Assistant Secretary General
"Nations are in effect ceding portions of their sovereignty to the international community and beginning to create a new system of international environmental governance as a means of solving otherwise unmanageable crises."
– Lester Brown, WorldWatch Institute
"A keen and anxious awareness is evolving to suggest that fundamental changes will have to take place in the world order and its power structures, in the distribution of wealth and income."
– Club of Rome, Mankind at the Turning Point
"Adopting a central organizing principle means embarking on an all-out effort to use every policy and program, every law and institution, to halt the destruction of the environment."
– Al Gore, Earth in the Balance
"Effective execution of Agenda 21 will require a profound reorientation of all human society, unlike anything the world has ever experienced – a major shift in the priorities of both governments and individuals and an unprecedented redeployment of human and financial resources. This shift will demand that a concern for the environmental consequences of every human action be integrated into individual and collective decision-making at every level."
– UN Agenda 21
"The earth is literally our mother, not only because we depend on her for nurture and shelter but even more because the human sepcies has been shaped by her in the womb of evolution. Our salvation depends upon our ability to create a religion of nature."
– Rene Dubos, board member Planetary Citizens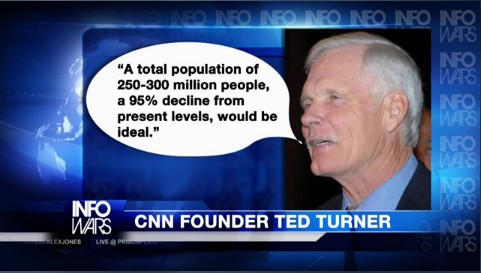 Dead Fetus Cells in Pepsi & other Products
Euthanasia (The Case For Killing Granny)
U.S. Military Killing Its Own Troops!
Genocide by The House of Windsor
The Vampiric Bloodlines of the Royal Family
---
ENDGAME
(FULL MOVIE)
Description
For the New World Order, a world government is just the beginning. Once in place they can engage their plan to exterminate 80% of the world's population, while enabling the elites to live forever with the aid of advanced technology. For the first time, crusading filmmaker Alex Jones reveals their secret plan for humanity's extermination: Operation ENDGAME.
Jones chronicles the history of the global elite's bloody rise to power and reveals how they have funded dictators and financed the bloodiest wars – creating order out of chaos to pave the way for the first true world empire.
Watch as Jones and his team track the elusive Bilderberg Group to Ottawa and Istanbul to document their secret summits, allowing you to witness global kingpins setting the world's agenda and instigating World War III

Learn about the formation of the North America transportation control grid, which will end U.S. sovereignty forever

Discover how the practitioners of the pseudo-science eugenics have taken control of governments worldwide as a means to carry out depopulation

View the progress of the coming collapse of the United States and the formation of the North American Union
Support The Film Makers & Spread The Word : HQ Version
http://www.infowarsshop.com/ENDGAME-Blueprint-for-Global-Enslavement_p_23.html