The Transportation Security Administration

The Transportation Security Administration (TSA) was created in the wake of 9/11 to strengthen the security of the nation's transportation systems while ensuring the freedom of movement for people and commerce. Within a year, TSA assumed responsibility for security at the nation's airports and deployed a Federal workforce to meet Congressional deadlines for screening all commercial airline passengers and baggage. In March 2003, TSA transferred from the Department of Transportation to the Department of Homeland Security.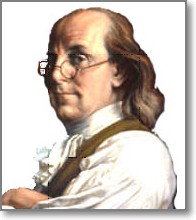 "They who can give up essential liberty to obtain a little temporary safety deserve neither liberty nor safety."
TSA Out Of Control!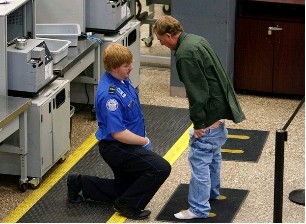 Father: TSA Left My Baby Bleeding
...You Thought It Couldn't Happen?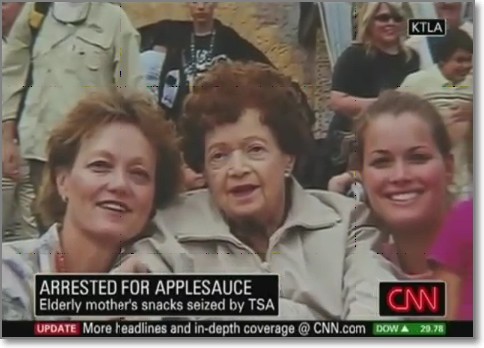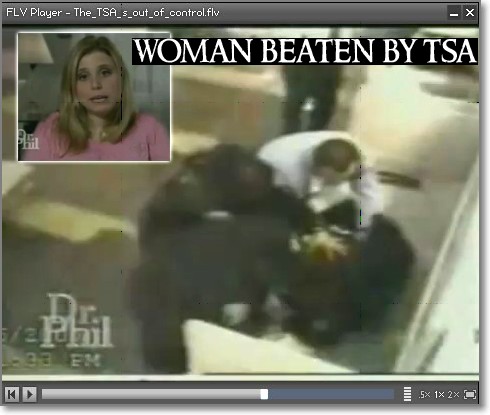 She was forced to remove and show her prosthetic breast to a TSA
Flight attendant and cancer survivor Cathy Bossi of Charlotte, N.C., said she was forced to remove and show her prosthetic breast to a TSA agent during a security pat-down at Charlotte Douglas International Airport. (WBTV)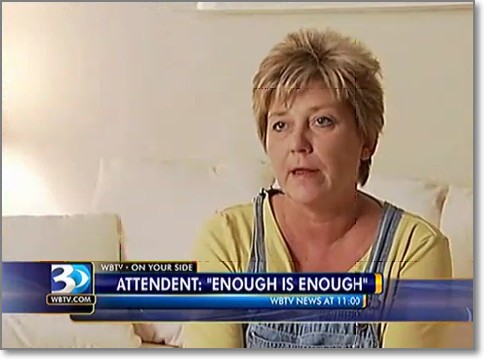 TSA Humiliates Tom Sawyer of Romulus, Mich, a 61-year-old bladder cancer survivor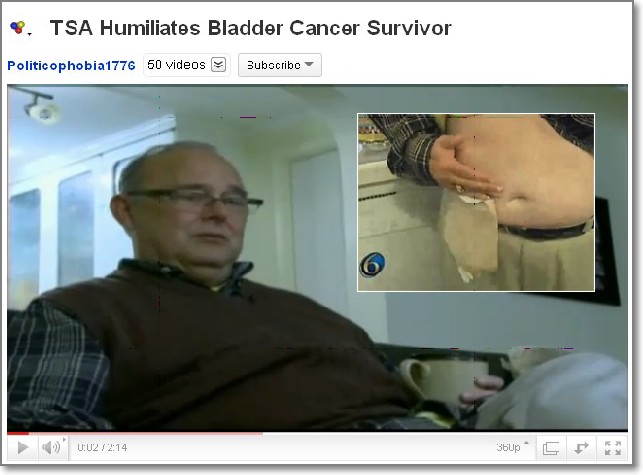 Child Forced To Remove His Shirt And Is Groped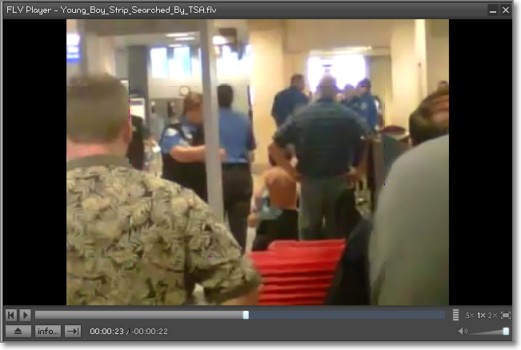 Like 'Being Raped': Elderly Woman Describes TSA Pat Down in St. Louis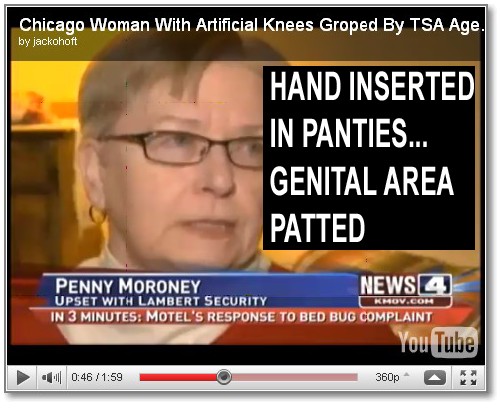 TSA Pull Pants Off 71 Year Old Man with Knee Implant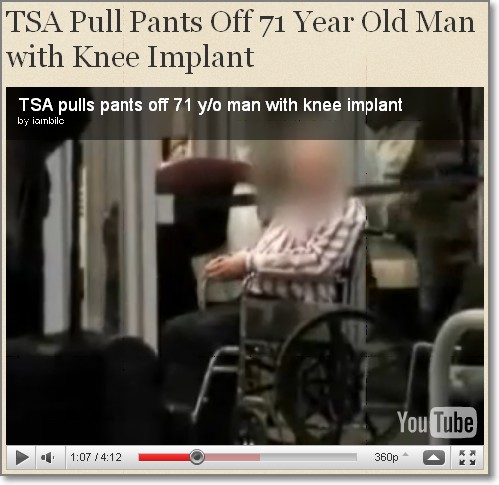 An ABC News employee said she was subject to a "demeaning" search at Newark Liberty International Airport Sunday morning.
"The woman who checked me reached her hands inside my underwear and felt her way around," she said. "It was basically worse than going to the gynecologist. It was embarrassing. It was demeaning. It was inappropriate."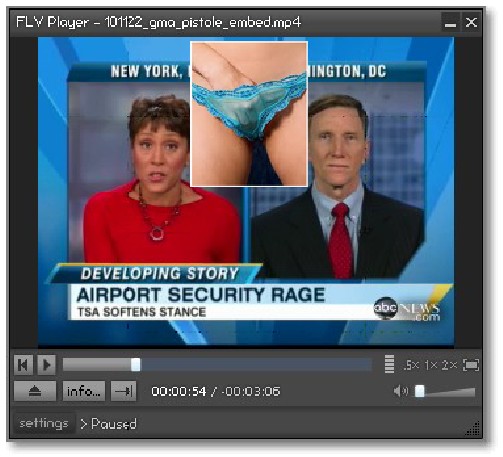 FEAR PROPAGANDA:
Get felt up or fined… The choice is yours.
(
LA Weekly
)
Any passenger who refuse the new TSA gropings may face $11,000 fines and possible arrest
The Sun-Sentinel reported, via Free Republic:
If you don't want to pass through an airport scanner that allows security agents to see an image of your naked body or to undergo the alternative, a thorough manual search, you may have to find another way to travel this holiday season.

The Transportation Security Administration (TSA) is warning that any would-be commercial airline passenger who enters an airport checkpoint and then refuses to undergo the method of inspection designated by TSA will not be allowed to fly and also will not be permitted to simply leave the airport.

That person will have to remain on the premises to be questioned by the TSA and possibly by local law enforcement. Anyone refusing faces fines up to $11,000 and possible arrest.

"Once a person submits to the screening process, they can not just decide to leave that process," says Sari Koshetz, regional TSA spokesperson, based in Miami.

Koshetz said such passengers would be questioned "until it is determined that they don't pose a threat" to the public.

Palm Beach Sheriff's Office spokesperson Teri Barbera said PBSO deputies stationed at the airport would become involved when requested by the TSA.

"We will handle each incident on a case-by-case basis," she said.

No one will be forcibly searched or arrested "just because they refuse to go through the security procedures," Barbera said. "That may rise to the level of suspicious behavior for the TSA, but it wouldn't rise to the level of suspicious behavior for a deputy," she said.

But Barbera said that if a person is judged to be a possible threat, deputies are legally permitted to detain and search that individual. "The deputies will do it at the airport just as they would do it anywhere else," she said.
HANDS IN YOUR PANTS TO DRIVE YOU FROM MOLESTATION TO THE RADIATION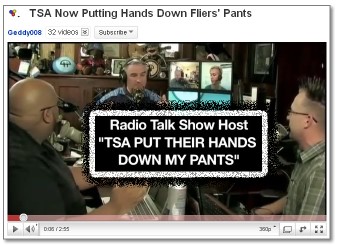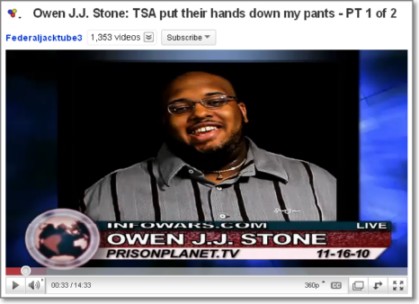 1
2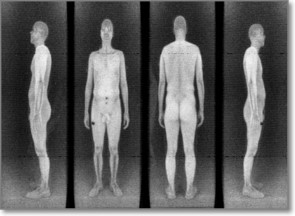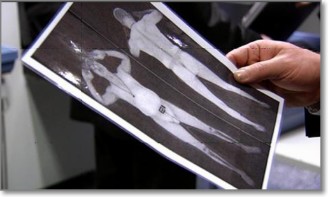 HOWEVER, WHEN IT COMES TO RADIATION, LET'S NOT FORGET THE SHOE-FITING FLUOROSCOPE...HISTORY IS INDEED BEING REPEATED, NEVERTHELESS, HOW MANY WILL HAVE TO SUFFER BEFORE THE EFFECTS ON THE BODY ARE TRULY KNOWN? THE FLOUROSCOPE IS NOW ARCHIVED IN A BOOK TITLED: QUACK, TALES OF MEDICAL FRAUD.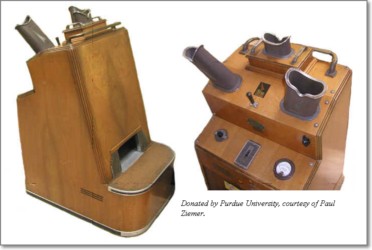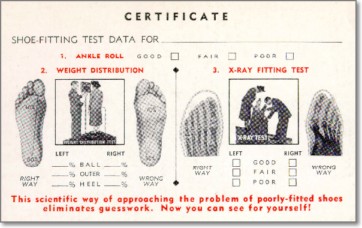 Shoe Fitting X-Ray Device
In the late 1940's and early 1950's, the shoe-fitting x-ray unit was a common shoe store sales promotion device and nearly all stores had one. It was estimated that there were 10,000 of these devices in use. This particular shoe-fitting x-ray unit was produced by the dominant company in the field, the Adrian X-Ray Company of Milwaukee WI, now defunct. Brooks Stevens, a noted industrial designer whose works included the the Milwaukee Road Olympian and an Oscar Meyer Wienermobile, designed this machine. [Large image 27K]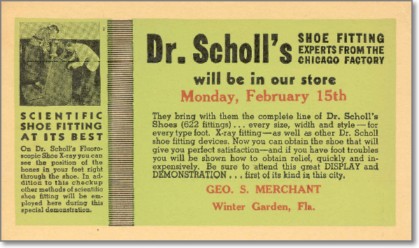 The primary component of a shoe-fitting x-ray unit was the fluoroscope which consisted essentially of an x-ray tube mounted near the floor and wholly or partially enclosed in a shielded box and a fluorescent screen. The x-rays penetrated the shoes and feet and then struck the fluorescent light. This resulted in an image of the feet within the shoes. The fluorescent image was reflected to three viewing ports at the top of the cabinet, where the customer, the salesperson, and a third person (your mother?) could view the image at the same time.
The radiation hazards associated with shoe fitting x-ray units were recognized as early as 1950. The machines were often out of adjustment and were constructed so radiation leaked into the surrounding area.
By 1970, shoe fitting x-ray units had been banned in 33 states including Minnesota and strict regulation in the remaining 17 states made their operation impractical. Believe it or not, this particular shoe-fitting x-ray unit was found in 1981 in a department store in Madison, West Virginia. It was still being used in the store's shoe department! When it was pointed out to the store managers that it was against West Virginia law to operate a shoe-fitting x-ray unit, they donated it to the The U.S. Food and Drug Administration.
Safety Concerns and the Legislative Response
In 1946, the American Standards Association established a "safe standard or tolerance dose," that the feet receive no more than 2 R per 5 second exposure. Children were not to receive more than 12 such exposures in a single year. The State of New York adopted similar requirements in 1948, and other states and major cities began to follow suit. As a result, the manufacturers of shoe fitting fluoroscopes became concerned that their products would have to meet a myriad of standards that varied from location to location, and they asked the American Conference of Governmental Industrial Hygienists (ACGIH) to recommend a uniform set of standards. The ACGIH did so and issued their guidance in 1950, an event that allowed the manufacturers to advertise that they met the ACGIH standards.
By the early 1950s, a number of professional organizations had issued warnings about the continued use of shoe-fitting fluoroscopes, e.g., the ACGIH, American College of Surgeons, New York Academy of Medicine and the American College of Radiology. At the same time, the District of Columbia issued regulations that shoe fitting fluoroscopes could only be operated by a licensed physiotherapist. A few years later, Massachusetts passed regulations requiring that the machines be operated by a licensed physician. In 1957 the State of Pennsylvania became the first jurisdiction to ban the use of shoe fitting fluoroscopes. By 1960, these events, plus pressure from insurance companies, had led to the demise of the shoe-fitting fluoroscope, at least in the U.S. In the end, the shoe stores were probably just as glad to be rid of the things - at least one survey had indicated that the machines were perceived by shoe salesmen a sales gimmick rather than a useful tool.
Attempts to impose regulatory restrictions on the use of shoe fitting fluoroscopes seem to have been limited to the United States . Despite considerable effort, Jacalyn Duffin and Charles Hayter, authors of the aforementioned "Baring the Sole: The Rise and Fall of the Shoe Fitting Fluoroscope," could not find any Canadian or British legislative action pertaining to these devices. In fact, Duffin and Hayter noted that these machines continued to be used in Canada and the UK , albeit to a limited extent, at least until 1970.
Radiation Exposures
While the exposure rates associated with these machines varied considerably, the measurements reported by various authors are reasonably consistent.
According to Moeller (1996), measurements performed during the late 1940s indicated that the doses to the feet ranged from 7 to 14 R for a 20 second exposure. Doses to the pelvis ranged from 30 to 170 mrem. He also noted that surveys at the time indicated that more than 60 percent of inspected machines exceeded the American Standards Association recommendation of 2 R to the feet per five second exposure.
According to Duffin and Hayter (2000), a 1948 survey of x-ray machines in Detroit indicated that the exposure rates at the position of the feet ranged from 16 to 75 R/min.
Measurements performed by Williams (1949) ranged from 0.5 to 5.8 R/second to the feet. He also reported exposure rates that were above 100 mR/hr at a distance of ten feet from the front of the unit.
Bavley (1950) reported measurements of 1 to 175 mR/hr (60 mR/hr average) at a height of 18 inches above the floor and 9 inches away from the sides of the machine. The exposure rates 5 feet in front of the machine and 18 inches above the floor were as high as 65 to 160 mR/hr (average: 114 mR/hr)
Despite these relatively high exposures, there were no reported injuries to shoe store customers. Unfortunately, the same cannot be said for the operators of these machines. Many shoe salespersons put their hands into the x-ray beam to squeeze the shoe during the fitting. As a result, one saleswoman who had operated a shoe fitting fluoroscope 10 to 20 times each day over a ten year period developed dermatitis of the hands. One of the more serious injuries linked to the operation of these machines involved a shoe model who received such a serious radiation burn that her leg had to be amputated (Bavley 1950). http://www.orau.org/ptp/collection/shoefittingfluor/shoe.htm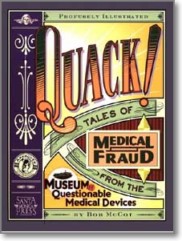 "A stunning testament to the myriad of ways people have tried to make money off the eternal ills of humankind." -New York Times "Snake oil salesmen, beware!" - Time Magazine "An assortment of medical devices that will at once amaze, entertain, and inform you!"
Quack!
Tales of Medical Fraud from
the Museum of Questionable Medical Devices
by Bob McCoy, Curator
The curator of the Museum of Questionable Medical Devices shares his collection of the hilarious, horrifying, and preposterous medical devices that have been foisted upon the public in their quest for good health. Includes the Prostate Gland Warmer, Phrenology Machine, Recto Rotor, Nose Straightener, Wonder Electro Marvel, and hundreds of other quack devices. With period advertisements, promotional literature, and gadget instructions, this book offers a wealth of past-and-present medical fraud.
MONEY BEING MADE OFF OF YOUR FEAR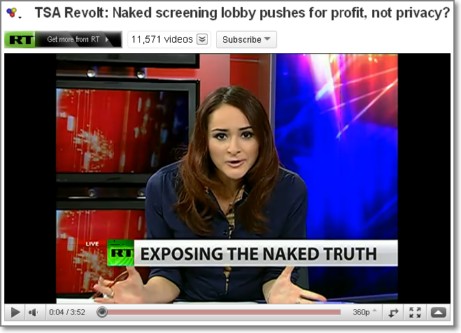 Heading up the renewed push for those controversial, clothes-penetrating scanners at airports is former homeland security secretary Michael Chertoff. His consulting firm represents companies who make the scanners, but you wouldn't know it from reading the papers.
The Underpants Bomber alerted the world to the possibility of terrorists putting bombs in their underpants. So now everyone is debating whether we should deploy scanners which can see through clothes and show bombs nestled close to terrorists' nekkid bodies. Michael Chertoff, who was Bush's homeland security secretary from 2005-2009, is a huge fan! Yesterday he told NPR:
A couple of years ago we began the process of testing them to see, first of all, if they worked and second, if they could be deployed without unduly restricting the flow of traffic. And the good news is that we were able to demonstrate that they were successful. We could use them without slowing up traffic and we could also protect privacy.
But when Chertoff launched into his pitch for full-body scanners on Campbell Brown tonight, we learned that he is paid by the very companies who make the penetrating devices: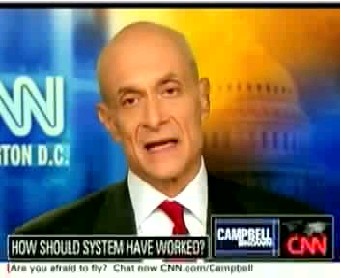 In 2009, Chertoff founded the Chertoff Group, a security consulting agency. The Chertoff Group's client list is unknown—Chertoff refused to talk about it in an interview—but he admits in the clip above that some of his clients manufacture full-body scanners.
Yet when he appears in The New York Times, The Washington Post, and on NPR to advocate for full-body scanning, Chertoff is identified only as a former secretary of homeland security. No mention is made of the Chertoff Group. ("If they'd been deployed, this would pick up this kind of device," he tells the Times.) Did Chertoff 'forget' to tell reporters about his connection to the industry he's pimping in their stories? It didn't look like he was about to volunteer the information on Campbell Brown tonight. (Good catch, though, Campbell. We always knew there had to be some reason you had your own show!)
So, here is a service to all you journalists working on upcoming articles about full-body scanners, which will inevitably feature Chertoff playing the cheerleader. Feel free to copy this sentence and paste it after Chertoff's name:
Chertoff is a former homeland security secretary and the founder of the Chertoff Group, a security consulting firm whose clients include manufacturers of full-body scanners.
SO, HOW MUCH ARE WE WILLING TO PUT-UP WITH?!!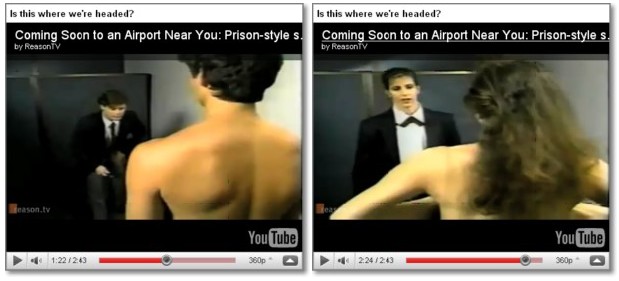 RECOMMENDED LINKS: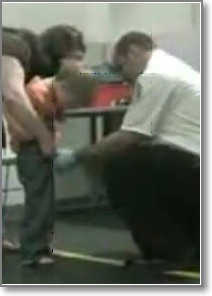 On The Web: http://www.optoutday.com/ http://wewontfly.com/

On This Site:
Mobile Van Radiating the Public
TSA Now Needs False Flag Event
Witness to Government False Flag : Kurt Haskell