Tattle-Tell Articles

According to the driving force behind Big Sis' creepy Wal-Mart spy campaign, if the state encouraging Americans to report each other to the authorities causes you unease, you're insane, similar to how critics of informant programs were also branded mentally ill and persecuted in the former Soviet Union
...At the height of its influence around one in seven of the East German population was an informant for the Stasi. As in Nazi Germany, the creation of an informant system was wholly centered around identifying political dissidents and those with grievances against the state, and had little or nothing to do with genuine security concerns.
---
Given the fact that Palm Beach County Sheriff Ric Bradshaw is set to launch a $1 million dollar program which will encourage Floridians to report on people who "hate government," how long before Palm Beach resident Rush Limbaugh is sent to a Soviet-style mental hospital?
Paul Joseph Watson
Infowars.com
December 8, 2010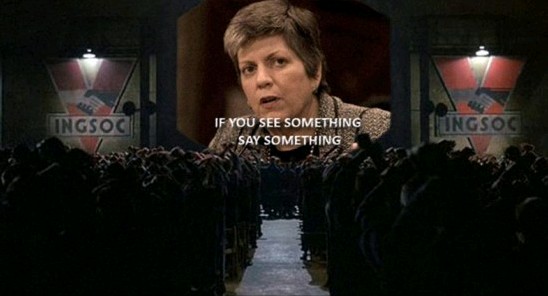 According to the driving force behind Big Sis' creepy Wal-Mart spy campaign, if the state encouraging Americans to report each other to the authorities causes you unease, you're insane, similar to how critics of informant programs were also branded mentally ill and persecuted in the former Soviet Union.
In what has been dubbed "the battle of Wal-Mart" by The New York Observer, the controversy over Big Sis Janet Napolitano's announcement that Homeland Security messages encouraging shoppers to "report suspicious activity," without telling them what constitutes suspicious activity, will play at Wal-Mart checkouts, has "set off a rebellion among the conspiracy-theory crowd, a number of whom are among the store's core customers," writes Aaron Gell.
But the man behind the creepy slogan, "If you see something, say something," claims that the likes of Matt Drudge and Alex Jones' opposition to the campaign is "ridiculous".
"That's absurd. The whole reason for doing it was to save lives, and I think the sane people of the world see it as a positive slogan," said Allen Kay, of Korey Kay & Partners, implying that anyone who perceives the state encouraging citizens to report on each other as a negative move towards an authoritarian society is insane.
Kay's glib justification that the campaign is about saving lives can be demolished from two angles.
Firstly, even if you believe that Muslim terrorists are creeping around every street corner with bombs in their underpants, and it's a legitimate concern given the fact that the FBI is so keen on providing such dimwits with all the explosives they need, then why has the federal government and Homeland Security instead labeled politically aware, patriotic Americans to be the number one domestic terror threat?
As we have seen from the MIAC report, DHS spying on tea Party and second amendment activists in Pennsylvania and a host of other examples in recent years, the federal government has little interest in Muslim extremists and has instead targeted Americans knowledgeable of their rights and critical of big government as the primary domestic terror threat. The feds have defined "terrorist propaganda" as any material critical of the state. The Department of Defense characterizes peaceful protest as "low level terrorism" in its own report.
Given the fact that rhetoric identifying conservative and libertarian Americans as domestic extremists has saturated the news media, don't be surprised when ignorant Wal-Mart shoppers begin to report people who wear t-shirts with political slogans or ones that carry an image of the upside-down American flag, or merely individuals who talk about the Constitution, since federal authorities have identified all these as examples of terrorism in numerous cases over the last several years.
Secondly, no matter where you look, from East Germany, to Communist Russia, to Nazi Germany, historically governments who encourage their own citizens to report on each other do so not for any genuine safety concerns or presumed benefits to security, but in order to create an authoritarian police state that coerces the people into policing each other's behavior and thoughts.
As Robert Gellately of Florida State University has highlighted, Germans under Hitler denounced their neighbors and friends not because they genuinely believed them to be a security threat, but because they expected to selfishly benefit from doing so, both financially, socially and psychologically via a pavlovian need to be rewarded by their masters for their obedience.
At the height of its influence around one in seven of the East German population was an informant for the Stasi. As in Nazi Germany, the creation of an informant system was wholly centered around identifying political dissidents and those with grievances against the state, and had little or nothing to do with genuine security concerns.
Even if you subscribe to the notion that Americans should be spied on, which is completely unconstitutional in and of itself, should that role be entrusted to untrained Wal-Mart shoppers?
If Americans are going to be policed by a 21st century KGB, can the watchers at least be professionally recruited and trained? No, because having fat slobs report on "suspicious activity" that is defined by what they were told on ABC News last night or what they saw in a plot of 24 or CSI Miami makes it a lot easier for Big Sis to chill free speech and frighten Americans away from exercising their rights.
Every example in recent history of a government enlisting its population as a swarming army of spies leads to, at the bare minimum, the evisceration of freedom and the creation of an autocratic dictatorship, and in the worst case, mass political oppression, assassination of political dissidents or outright genocide.
And Allen Kay has the temerity to imply that anyone expressing concern about a similar program arriving in America is insane and that their worries are "ridiculous," ironically echoing how critics of the state were also branded mentally ill and sent to psikhushkas – mental hospitals – in the former Soviet Union.
Judging by Wal-Mart's response in refusing to acknowledge the scale of the backlash they have received in reaction to the announcement on Monday, and their slavish repetition of the glib Orwellian rhetoric that the spy campaign is about safety and security, Americans are outraged, and until Wal-Mart kills this un-American insult to everything that the country stands for, their Christmas is going to be a lot less profitable than expected, with numerous boycotts already on the horizon.
Germans under Hitler denounced their neighbors and friends not because they genuinely believed them to be a security threat, but because they expected to selfishly benefit from doing so, both financially, socially and psychologically via a pavlovian need to be rewarded by their masters for their obedience.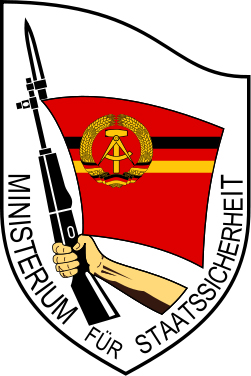 At the height of its influence around one in seven of the East German population was an informant for the Stasi. As in Nazi Germany, the creation of an informant system was wholly centered around identifying political dissidents and those with grievances against the state, and had little or nothing to do with genuine security concerns.
FBI Plants Informant in Mosque to Incite Violence; Muslims Report Him to FBI
cryptogon.com
Dec 6, 2010
FBI Sends Informants to Entrap the Muslim Youth
Via: Washington Post:
Before the sun rose, the informant donned a white Islamic robe. A tiny camera was sewn into a button, and a microphone was buried in a device attached to his keys.
"This is Farouk al-Aziz, code name Oracle," he said into the keys as he sat in his parked car in this quiet community south of Los Angeles. "It's November 13th, 4:30 a.m. And we're hot."
The undercover FBI informant – a convicted forger named Craig Monteilh – then drove off for 5 a.m. prayers at the Islamic Center of Irvine, where he says he spied on dozens of worshipers in a quest for potential terrorists.
…
Worshipers said Monteilh gravitated to Ahmadullah Sais Niazi, an Afghan-born Arabic-language instructor who was a regular at Friday prayers.
In May 2007, Monteilh said he recorded a conversation about jihad during a car ride with Niazi and another man. Monteilh said he suggested an operation to blow up buildings and Niazi agreed. An FBI agent later cited that and other taped conversations between the two in court as evidence that Niazi was a threat.
A few days later, Ayloush got an anguished phone call from Niazi and the other man in the car.
"They said Farouk had told them he had access to weapons and that they should blow up a mall," Ayloush recalled. "They were convinced this man was a terrorist."
Ayloush reported the FBI's own informant to the FBI. He said agents interviewed Niazi, who gave them the same account, but the agency took no action against Monteilh.
Stock up for the Holidays with eFoods Direct and get FREE Shipping!
This article was posted: Monday, December 6, 2010 at 5:21 am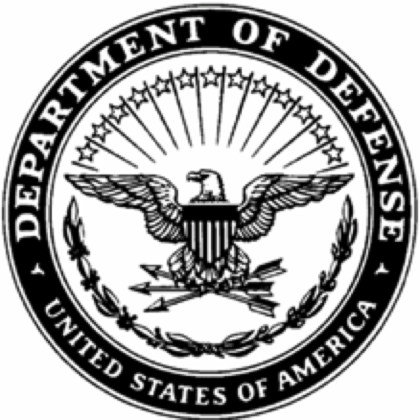 DoD Training Manual Describes Protest As "Low-Level Terrorism"
Current Department of Defense anti-terrorism training course material states that the exercise of First Amendment rights in the U.S. constitutes terrorist activity.
The ACLU has written to the DoD regarding its Antiterrorism and Force Protection Annual Refresher Training Course, which advises personnel that political protest amounts to "low-level terrorism".
"It has come to our attention that the Department of Defense's Annual Level I Antiterrorism (AT) Training for 2009 misinforms Department of Defense (DoD) personnel that certain First Amendment-protected activity may amount to "low level terrorism" The ACLU writes.
"We are writing to ask that you take immediate steps to remedy this situation." the letter to acting Under-Secretary Gail McGinn states.
A PDF of the ACLU's letter also contains print outs of the relevant sections of the course material.
The training introduction reads:
"Anti-terrorism (AT) and Force Protection (FP) are two facets of the Department of Defense (DoD) Mission Assurance Program. It is DoD policy, as found in DoD I 2000.16, that the DoD Components and the DoD elements and personnel shall be protected from terrorist acts through a high priority, comprehensive, AT program. The DoD's AT program shall be all encompassing using an integrated systems approach."
The first question of the Terrorism Threat Factors, "Knowledge Check 1″ section reads:
Which of the following is an example of low-level terrorism activity?

Select the correct answer and then click Check Your Answer.

Attacking the Pentagon
IEDs
Hate crimes against racial groups
Protests
In order to proceed, users must give the "correct" answer as "Protests".
According to the document, all DoD personnel are required to complete the course on a yearly basis.
The ACLU points out that although in and of itself the classification of protest as terrorism is deeply disturbing, it is even more alarming when viewed in the context of the Pentagon's long term efforts to crack down on organized dissent.
[efoods]
The surveillance and pre-emptive arrest of protesters, on charges of "domestic terrorism", at last year's RNC by the FBI is also cited by the ACLU.
Other precedents that the ACLU neglected to mention in it's letter include, most recently, the fact that the FBI were spying on "Tea Party" protesters nationwide.
One week prior to those revelations, we also reported that the Maryland National Guard was put on alert in anticipation of the nationwide protests, while a Homeland Security spokesman refused to deny that protesters would be under surveillance from the DHS.
The Maryland National Guard issued a Force Protection Advisory on April 11 which warned the National Guard to be on alert during the Tea Party protests because Guardsmen and Guard facilities might become "targets of opportunity." The contact point for the document was listed as the Antiterrorism Program Coordinator.
The advisory was almost exactly the same as a United States Army Reserve Command Force Protection Advisory that was issued last November before the nationwide End the Fed protests, warning that protesters were congregating across the country to demonstrate against the private Federal Reserve.
Over the last few years we have seen countless examples of security assessment reports from the likes of the Department of Defense, the Department of Homeland Security and the FBI, as well as police training manuals, which state that anti-war protesters, gun owners, veterans, Ron Paul supporters and those who merely cite the Constitution should be equated with extremists.
The continued surveillance of protesters, in addition to the ongoing agenda to equate dissent with terrorism, highlights the fact that the architecture of the police state, which was massively expanded under George W. Bush, has not been dismantled or relaxed by an Obama administration that promised "change,". If anything, it has only grown bigger.
The Obama administration's announcement that the illegal warrantless surveillance of American citizens, a program initiated under Bush, will continue and in fact intensify under Obama, is another shining example of the fact that – no matter who is in power and no matter the political persuasion of those being watched – all Americans who have the temerity to exercise constitutional rights are considered dangerous and worthy of being targeted by the federal government with surveillance tools supposedly introduced to fight terrorists.
This article was posted: Monday, June 15, 2009 at 6:26 pm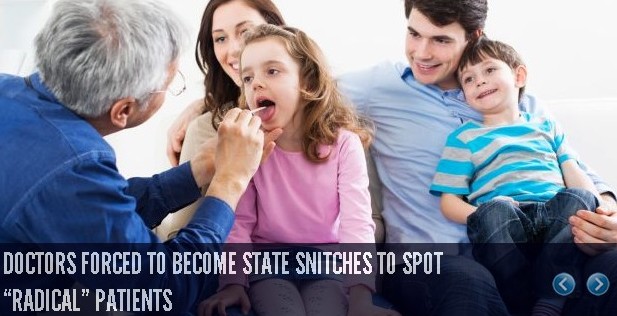 Doctors Forced to Become State Snitches to Spot "Radical" Patients
NHS demands GPs monitor potential extremists
Paul Joseph Watson
Infowars.com
March 10, 2014
Doctors in Britain are being forced to become state snitches and spot "radical" patients under an NHS initiative that threatens to cut funding if a GP practice fails to take part in the program.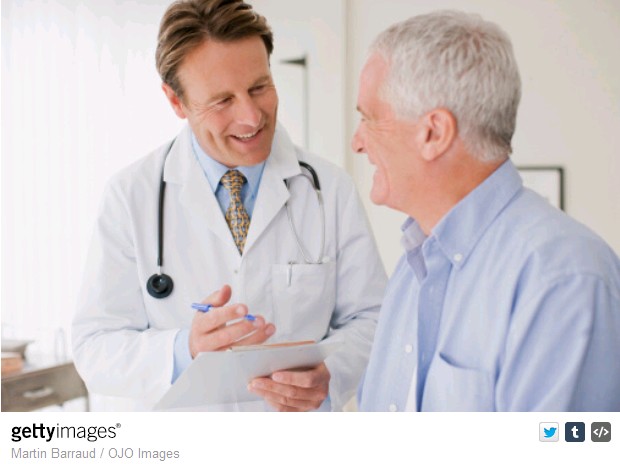 Under the new NHS England policy, every GP practice must send a member of staff on the "Prevent" counter terrorism course, during which they are trained to detect patients who are " vulnerable to radicalization," before notifying authorities.
In addition to the "lead" staff member who takes the course, all employees of the practice must be made aware of the strategy.
Labeling the program "mindless bureaucracy," former GPC chair Dr Laurence Buckman said, "It is so silly and ridiculous that I can't believe NHS England are requiring this or making CCGs responsible for it."
Other doctors raised the issue that forcing GPs to become informants for the state by demanding they monitor "radicalization" of patients would be a clear breach of patient-doctor confidentiality.
"It is completely disproportionate and a poor use of GP resources and time. It is effectively asking GPs to be a government intelligence agency," Dr Maureen Baker, chairwoman of the Royal College of General Practitioners, told the Express.
As we have highlighted, British authorities have cited the need to combat radical political beliefs as a justification for invasive and chilling state interference in the private lives of citizens.
Last week, the Mayor of London Boris Johnson said that parents who teach their children to be "full of hate" should be targeted by social services, with Johnson suggesting that children whose parents are supporters of the British National Party, a right-wing organization that vehemently opposes immigration, may be taken into care in "extreme" circumstances.
However, children are already being taken from parents in much less "extreme" circumstances, such as in the case of a couple who had their foster children removed by the state because they were members of the UK Independence Party, the third largest political party in Britain.
Meanwhile, Scotland recently passed a law that designates a state minder to every child in the country up to the age of 18, a move described by the Christian Institute as a, "dreadful extension of the state's tentacles into family life."
Facebook @ https://www.facebook.com/paul.j.watson.71
FOLLOW Paul Joseph Watson @ https://twitter.com/PrisonPlanet
*********************
Paul Joseph Watson is the editor and writer for Infowars.com and Prison Planet.com. He is the author of Order Out Of Chaos. Watson is also a host for Infowars Nightly News.
This article was posted: Monday, March 10, 2014 at 10:08 am
Tags: domestic news, domestic spying
Alex Jones Joins the Snitch Society
Feel like a healthy bit of gallows humor? Seems like Alex Jones had just gotten a new gig as a Barista when his mind started playing tricks on him. All that "See Something Say Something" dogma might have gone to his head this time. Or maybe the propaganda by Big Sis, Homeland Security, Infra-guard, or those pesky F.B.I. leaflets have finally turned him to the dark side. Tune in and see what kind of trouble the alter-ego mobster style Alex Jones can get himself into when he turns Federal Informant for the Infra-Guard.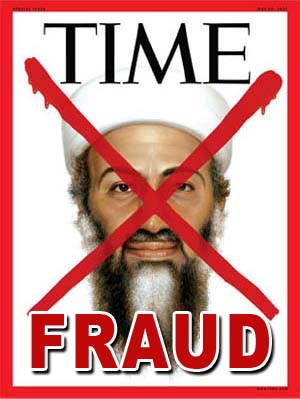 LINK : THE FAKE WAR ON TERROR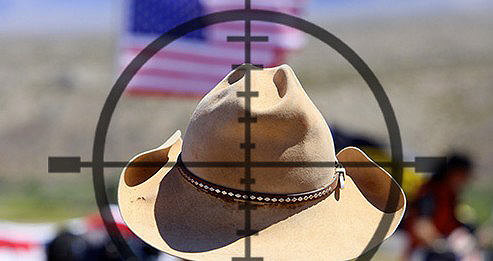 Alex Jones breaks down the bigger picture behind the move to turn the war on terror against American citizens
EVERYONE IS A TERRORIST

White House Tells Parents: Children Could Be Terrorists!
I have told you this was coming. Under the new homeland we are all the enemy in the eyes of the occupiers.
LINKS :
AGENDA 21 Cliven Bundy Case Example
Police Trained That Informed Americans Are Terrorists
Troops Ordered To Kill All Americans Who Do Not Turn In Guns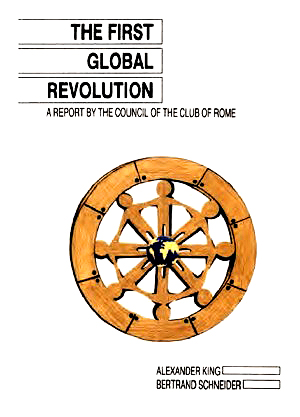 In 1991, the Club published The First Global Revolution. It analyses the problems of humanity, calling these collectively or in essence the 'problematique'. It notes (laments) that, historically, social or political unity has commonly been motivated by enemies in common: "The need for enemies seems to be a common historical factor. Some states have striven to overcome domestic failure and internal contradictions by blaming external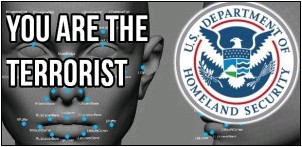 enemies. The ploy of finding a scapegoat is as old as mankind itself - when things become too difficult at home, divert attention to adventure abroad. Bring the divided nation together to face an outside enemy, either a real one, or else one invented for the purpose. With the disappearance of the traditional enemy, the temptation is to use religious or ethnic minorities as scapegoats, especially those whose differences from the majority are disturbing." "Every state has been so used to classifying its neighbours as friend or foe, that the sudden absence of traditional adversaries has left governments and public opinion with a great void to fill. New enemies have to be identified, new strategies imagined, and new weapons devised."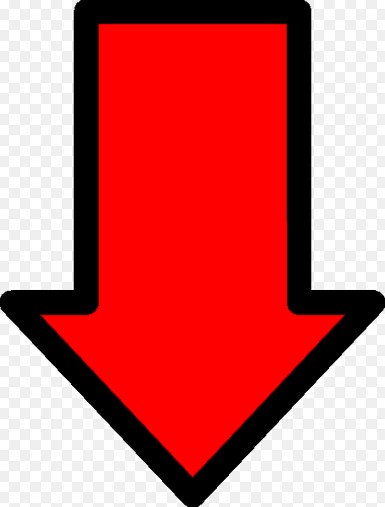 THE GLOBALISTS MOVE FROM THEIR ALQAEDA CREATION, TO FABRICATING HOMEGROWN DOMESTIC TERROR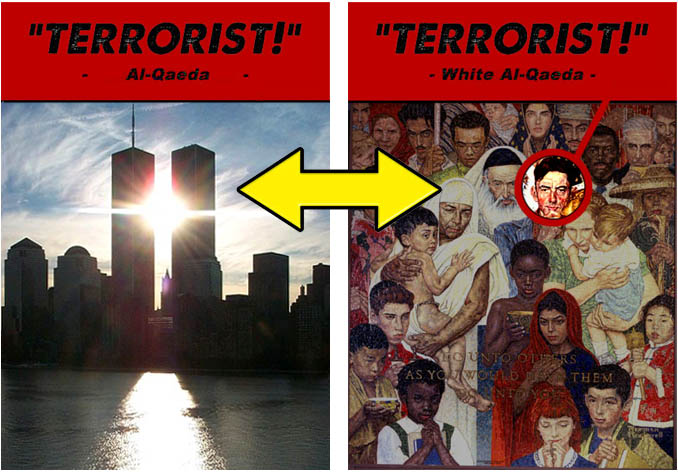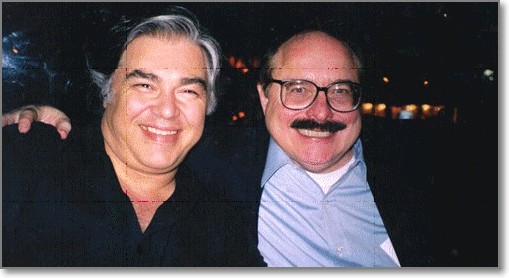 Several years ago, after his popular video "Mad As Hell" was released and Aaron Russo began his campaign to become Governor of Nevada, Russo was noticed by Nicholas Rockefeller and introduced to him by a female attorney. Seeing Russo's passion and ability to affect change, Rockefeller set about on a subtle mission to recruit Russo into the elite's CFR. Watch the full interview here: Reflections and Warnings.
Aaron Russo talks about the CFR...And The Fake War On Terror!
Aaron Russo talks about the CFR...And The Fake War On Terrorism!
LINKS :
Educational System Dismantlement

REACH OUT TO OTHERS
[Help Educate Family And Friends With This Page And The Links Below]
---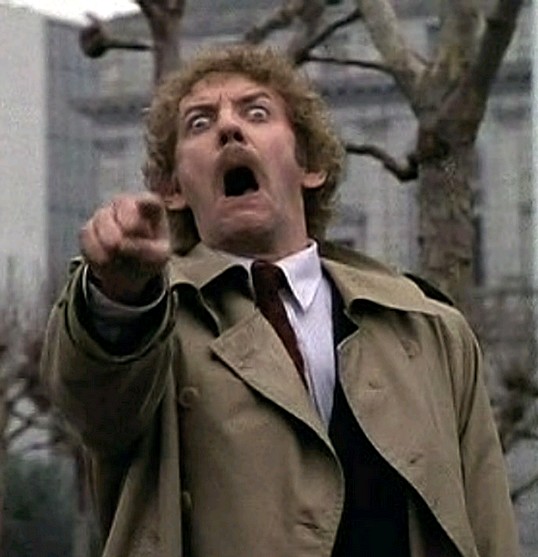 MORE:
Tattle-Tell Squads and Surveillance
Educational System Dismantlement